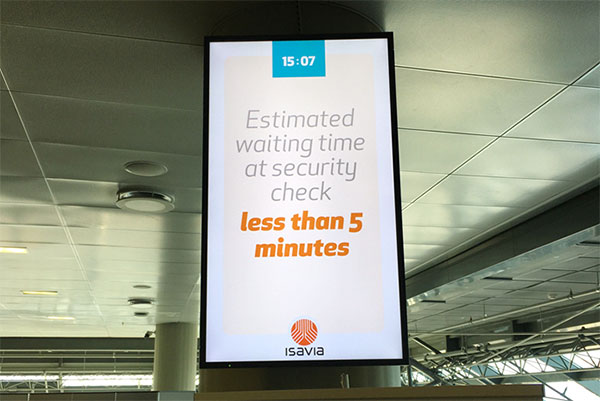 Keflavik Airport has installed Wi-Fi sensors across the airport so it can display real-time queuing times at key passenger touch points and optimise resource allocation during busy periods. The solution monitors passenger queue and dwell times within the terminal, enabling the airport to display accurate waiting times on digital screens and also on its website.
Guðmundur Karl Gautason, Project Manager ­– Operation Research at Keflavik Airport, explained how the solution helps the airport improve efficiency at the security checkpoint. "We use the data to see when levels of service are breached and to find out the reasons. This has helped us to identify the problems we had with our work shifts starting a bit too late. Before installing the solution, we noticed this issue but did not have the valuable information at hand to actually be able to quantify the problem. Now we are able to make more informed decisions in security."
The airport has worked with Lockheed Martin to design and implement the BlipTrack solution from BLIP Systems. Christian Bugislaus Carstens, BLIP Systems' Marketing Manager, said: "The data comes from sensors that monitor passengers' mobile devices as they move through the airport. By measuring individual travel times, from queue entrance to exit, and the number of people in line, measured and predicted wait time for people entering the line can be calculated and displayed.
"The sensors only register each device's unique ID and do not pick up any sensitive personal information. The unique ID is also encrypted in the sensor, making it impossible to identify the mobile device afterwards."