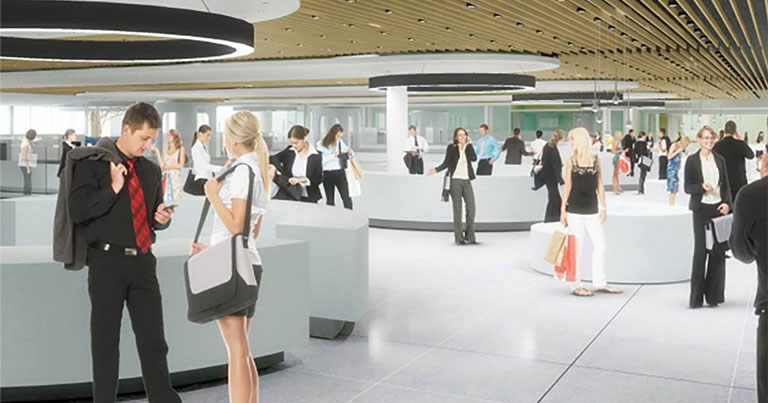 Bristol Airport has completed the first phase of a £24 million terminal extension, which includes a new-look security area featuring state-of-the-art technology.
The first phase includes five new security lanes, with a further five due to come online in the coming weeks. By the end of the project, a total of 12 new security lanes, including a dedicated fast track zone, will be in place.
The security area includes a preparation area, which provides a space for passengers to get their belongings ready for the screening process, while an automated tray return system and extended conveyor belts will help to expedite the process and reduce waiting times.
A 14-metre-long digital wall has also been installed and displays a mixture of destination information and short travel-related films created by local people.
By the end of 2016, an enlarged baggage reclaim area, customs facilities, and a meet and greet area will also be completed. Completion of the current extension will then enable the immigration hall to be developed in 2017, with plans including the installation of up to 10 new e-passport gates.
Robert Sinclair, CEO, Bristol Airport, said: "We want to make Bristol Airport the first choice for passengers across the South West of the UK by combining world class facilities with West Country hospitality. This terminal extension raises the bar for regional airports by combining a spacious feel with the latest technology and a real sense of place."