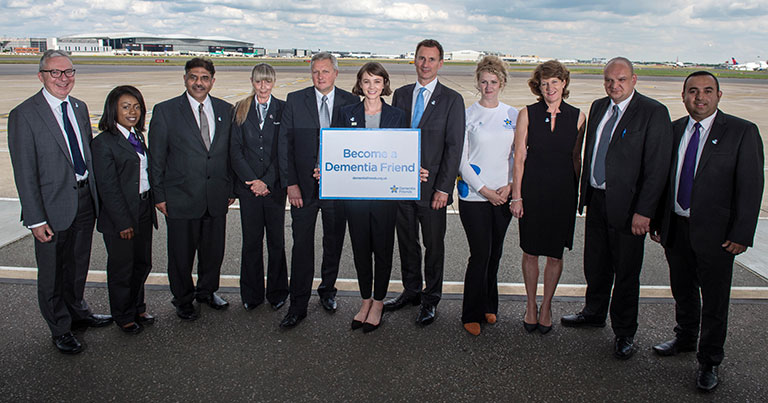 Heathrow Airport is now working with the Alzheimer's Society so it can learn about dementia and offer the best experience for travellers with the illness.
The programme is called 'Dementia Friendly Communities' and is part of the Prime Minister's Challenge on Dementia 2020. The challenge encourages businesses to become more dementia-friendly, so those with the illness can be treated correctly. Heathrow has said all 76,000 staff at the airport will become more aware of the illness through various classes and online resources.
As part of the programme, Heathrow Airport has also been working with Omniserv to bring forward several initiatives:
All staff will undergo training based on the Alzheimer's Society course, to make sure they can provide the best help for passengers with dementia. The frontline Special Assistance team frequently interacts with these people and over 330 members have already been trained as 'Dementia Friends', and the remainder will be trained by the end of next month.
Furthermore, a STAAR (Senior Trained Additional Assistance Role) team has been created, which contains PRM staff. These people have extra training and can deal with passengers with hidden disabilities.
There has also been work with the security guards at the airport, so that help can be provided for passengers with anxiety. Quiet lounge areas are also being provided.
Chief Executive of Heathrow Airport, John Holland-Kaye, said: "Our vision is to give passengers the best airport service in the world. Airports can be particularly stressful for passengers with dementia so we are delighted to be working with the Department of Health and Alzheimer's Society to make sure that they get the support they need. We have started training our colleagues and making improvements so that we can be the world's first dementia-friendly airport."
Jeremy Hughes, Chief Executive of the Alzheimer's Society, said: "Dementia Friends and Dementia Friendly Communities aim to change the way people think, act and talk about dementia. Alzheimer's Society is delighted to be working with Heathrow on their commitment to become the world's first truly global dementia friendly airport.
"We hope their pioneering work will pave the way for all airports the world over to transform the air travel experience for people with dementia and their carers."
Actress, Carey Mulligan, has also been announced as Alzheimer's Society's first Global Dementia Friends Ambassador. She made a special visit to Heathrow with Secretary of State for Health, Jeremy Hunt, and gave a 'Dementia Friends' session to some of the airport's staff.
Hunt said: "We have made great strides in improving diagnosis rates, investing in research and creating the first dementia friendly communities, but we still have much further to go to promise everyone that they will be able to live well with the condition.
"The impact of dementia tears at families and at our social fabric. That's why making progress is a key government priority, and Carey Mulligan will be a great asset both in raising awareness and promoting the benefits of the Dementia Friends programme – at home and globally."