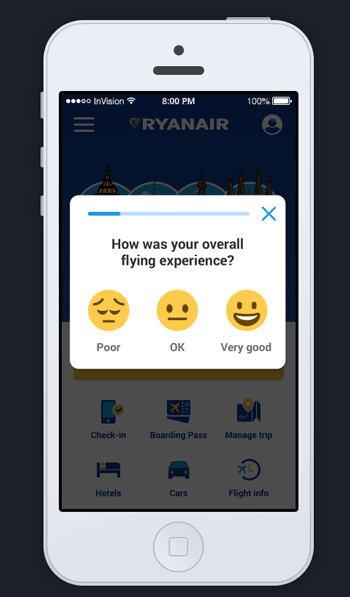 As part of its 'Always Getting Better' customer experience programme, Ryanair added a 'Rate My Flight' function to its app earlier this year, and the carrier has now published the first batch of feedback.
More than 8,800 passengers used the 'Rate My Flight' function during June and July, rating their overall experience, boarding, crew friendliness, service onboard, and range of food and drink.
More than half of respondents (53%) rated their overall experience as 'very good', 36% rated their experience as 'OK' and 11% rated it as 'poor'. Crew friendliness received the highest positive rating, with 63% scoring this 'very good'.
At the other end of the scale, boarding received the highest number of 'poor' responses, with 14% saying they were unhappy with the boarding process. The full scores are shown in the below table.
Robin Kiely, Ryanair's Head of Communications, said: "Rate My Flight is the latest digital initiative launched under Year 3 of our 'Always Getting Better' customer experience improvement programme, which allows customers to provide real-time reviews on their flights via the Ryanair app.
"We welcome all customer feedback so that we can continue to improve all aspects of the Ryanair customer experience. Customers who want to rate their flight should download the Ryanair app, allow for push notifications, and will be sent the survey through the app upon landing."