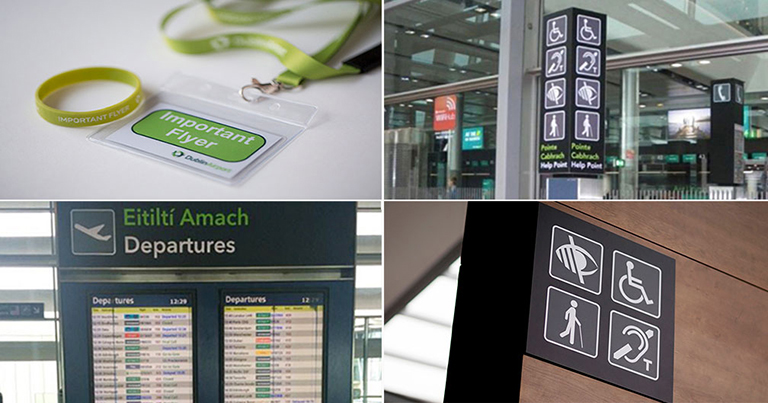 Navigating through a busy airport environment can be a testing experience, especially for travellers with reduced mobility and additional needs. The likes of regulation (EC) No 1107/2006 and DoT 14 CFR Part 382 exist to protect the rights of passengers with disabilities, but service levels still vary from airline to airline, and airport to airport.
Dublin Airport, recently awarded the Accessible Airport Award by ACI EUROPE, stands out as an example of good practice. Throughout the airport process, measures have been taken to simplify the experience for passengers with reduced mobility (PRMs). For instance, all routes from public transport, taxi ranks and car parks are fully accessible, dedicated PRM set down areas are located directly outside both terminals, and tactile paving is in place to guide customers to the PRM service provider reception points. Eighteen help points are strategically located throughout the terminal, PRM service provider reception points are located in the check-in areas in both terminals, and low-level flight information display screens are provided throughout the airport.
In addition, accessible toilets, assistance dog relief facilities, lowered check-in and information desks, privacy rooms, induction loops, dedicated PRM lanes at security, and a variety of boarding and transport equipment are in place.
Helping passengers with 'invisible disabilities'
Liz Kavanagh, Customer Experience Manager at Dublin Airport, explained that the airport works closely with the Irish Wheelchair Association and Inclusion Ireland to ensure that every part of the airport is as accessible as possible.
Another initiative, she explained, is focused on assisting passengers with autism. "We can give a lanyard or wristband to passengers with autism so they can get fast tracked through the facility," Kavanagh explained. "We launched this in autumn 2015 and it's really taken off in the last couple of months during the summer season."
300 miles away in London, Heathrow Airport is also taking steps to help travellers with additional needs. The airport is working with the Alzheimer's Society so it can improve the travel experience for those with the illness. All 76,000 staff members will be offered classes and online resources to help them understand the illness and to teach them how they can help passengers with dementia.
In addition, a Senior Trained Additional Assistance Role (STAAR) team has been created, with members of this team given additional training to empower them to better serve passengers with hidden disabilities.
Assisting visually impaired passengers
Increasingly, technology is being used to improve the air travel experience for passengers with additional needs. At San Francisco International Airport, a dedicated app for passengers with visual impairments has been trialled. The beta test involved the installation of around 500 Bluetooth Low Energy (BLE) beacons in Terminal 2. Once installed, the beacons were correlated to points of interest within the terminal, such as restaurants, water fountains and power outlets, and the app provided audio directions to each point of interest.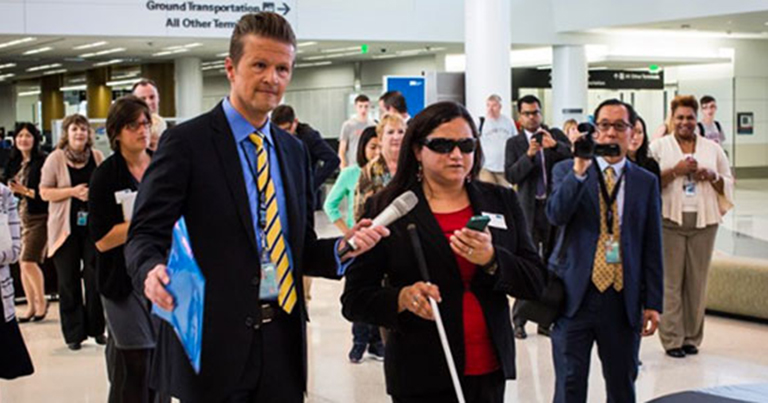 Doug Yakel, Public Information Officer, San Francisco International Airport, told FTE that "initial feedback from beta testers has been very positive".
He added: "Working in partnership with The LightHouse for the Blind, we've received good feedback on the prototype app. We have yet to roll this out to the public, as the goal is to have this available for use at every terminal at SFO."
Helping those with hearing loss
Another organisation that knows all about simplifying the travel experience for passengers with additional needs is Hearing Loop Systems (HLS). The company designs and installs induction loop systems to enable people with t-coil equipped hearing aids and cochlear implants to hear more clearly in large and noisy environments, which is especially useful in busy airport terminals.
HLS has installed induction loop systems in five airports, including Gerald R. Ford International Airport, which was the first airport in the United States to install loop systems in all gates and concourses. Pamela Pflueger, Senior Business Development Consultant in Aviation, explained that several airports – including the likes of Phoenix Sky Harbour and Memphis International Airport – are including the systems in their renovation plans.
Pflueger explained that a combination of technology and customer service can make a big difference for travellers suffering from hearing loss. "I would encourage airports and airlines to recognise the challenges of the noise induced airport/airline environments and investigate many forms of technology and training to meet the needs of all people with disabilities, but especially people with hearing loss, as they have always been the largest population of people with disabilities, and it is unfortunately rapidly growing," she said.
Pflueger also highlighted a "staggering increase" in the number of young people developing sensorineural hearing loss, which is widely attributed to the use of ear buds to listen to music at high decibel levels. "The World Health Organization is now quoting 1.1 billion teens at risk of severe hearing loss," she said, suggesting that the air transport industry should be aware of this concerning fact.
For travellers with disabilities, the airport can be a daunting environment, but a combination of technology and staff training can make a huge difference. As Dublin Airport's Kavanagh said, there has been a "vast improvement" in terms of the industry's efforts to simplify the air travel experience for passengers with disabilities, but there is always scope to do more.
The good news is that airports and their partners are more determined than ever to create accessible and seamless experiences for those with additional needs.