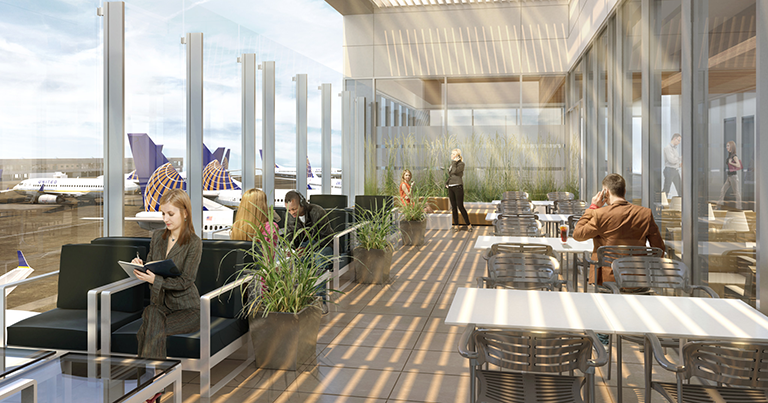 United Airlines has unveiled its new LAX United Club lounge at the top of Terminal 7. The newest United Club has been described by the carrier as the "jewel in the airline's $573 million project" to refresh nearly all of its customer-facing spaces in Terminal 7 and Concourse 8 at Los Angeles International Airport (LAX).
Covering more than 20,000 square feet, the LAX United Club features a gourmet kitchen and bar, seating areas for working and relaxing, and spectacular views of the airport, the Hollywood Hills and the Los Angles skyline.
The design also takes advantage of the city's pleasant year-round climate, with a spacious and scenic outdoor terrace where customers can relax with a cocktail or a meal alfresco.
"When you think of Los Angeles, you think of glamour and sophistication, and this new United Club certainly reflects that," said Julia Haywood, United's Executive Vice President and Chief Commercial Officer.
"LAX is a key piece of our global route network, and we're incredibly proud that it will house one of our finest United Clubs. Aesthetically, it's unlike any other, with panoramic views of the city and an outdoor terrace. These unique amenities – along with fresh food, wine menus, craft cocktails and, most importantly, exceptional service and hospitality for our customers – will elevate the entire experience to something that will truly impress and delight visitors."