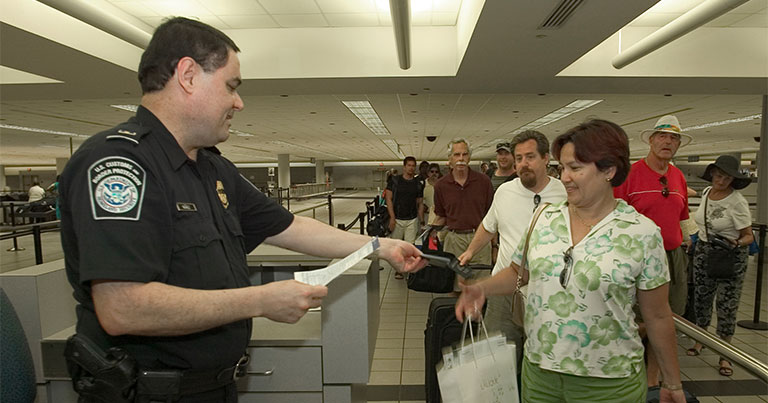 It has been announced that the United States and Sweden have signed an agreement to implement Preclearance operations at Stockholm Arlanda Airport. Meanwhile, the United States' Secretary of Homeland Security, Jeh Johnson, has announced that 11 more airports, located in nine countries, have been selected for possible Preclearance expansion.
The 11 new airports identified for possible Preclearance locations are: El Dorado International Airport; Ministro Pistarini International Airport; Edinburgh Airport; Keflavik International Airport; Mexico City International Airport; Milan-Malpensa Airport; Kansai International Airport; Rio de Janeiro-Galeão International Airport; Rome Fiumicino Airport; São Paulo-Guarulhos International Airport; and Princess Juliana International Airport. More than 10 million travellers fly to the United States from these airports each year.
If Preclearance operations are expanded to these airports, travellers would undergo immigration, customs, and agriculture inspection by U.S. Customs and Border Protection before boarding a flight to the United States rather than upon arrival.
"Expanding Preclearance operations has been a priority of mine as Secretary," stated Secretary Johnson. "Preclearance allows DHS to screen individuals prior to boarding a flight, which means we are able to identify threats long before they arrive in the United States.
"I look forward to the opportunity to grow our Preclearance operations in the Western Hemisphere, particularly into South America where CBP does not currently operate a Preclearance location."
The United States and the host countries may, upon "appropriate authorisations", begin negotiations which could result in an air Preclearance agreement, paving the way for the establishment of new Preclearance facilities.
Preclearance agreed between US and Sweden
In May 2015, the Secretary identified 10 other airports in nine countries for Preclearance expansion after the first open season. Stockholm Arlanda Airport was one of these 10 locations and now the United States and Sweden have signed an agreement to implement Preclearance operations at that airport. The agreement will be brought into force after the governments have completed all necessary internal procedures. Preclearance operations may begin as early as 2019.
Karl Wistrand, President and CEO of Swedavia, commented: "The US is Sweden's most important trading partner after Britain. It feels really good now that the agreement with CPB has been signed. As we await a decision from the Swedish parliament, we will continue our preparatory work so that a decision on a larger investment in US preclearance facilities can be taken immediately once the legal process is completed, which is expected in the summer of 2018."
The other locations prioritised for preclearance during the first open season were: Brussels Airport; Punta Cana Airport; Narita International Airport; Amsterdam Airport Schiphol; Oslo Airport; Madrid-Barajas Airport; Istanbul Ataturk Airport; London Heathrow Airport; and Manchester Airport. CBP says it "continues to engage with many of the host governments and expects to announce additional agreements in the coming months".
CBP Commissioner R. Gil Kerlikowske added: "Preclearance has proven to be a valuable tool for CBP, foreign airports, the aviation industry, and most importantly, the traveller, who benefits from shorter wait times. CBP precleared more travellers than ever before last year, 18 million, accounting for about 15.3% of all commercial air travel to the United States. Not only were those millions of travellers able to immediately leave the airport or directly head to their connecting flight upon landing in the United States, but that's 18 million fewer people waiting in line for CBP officers to process at the nation's busiest airports."