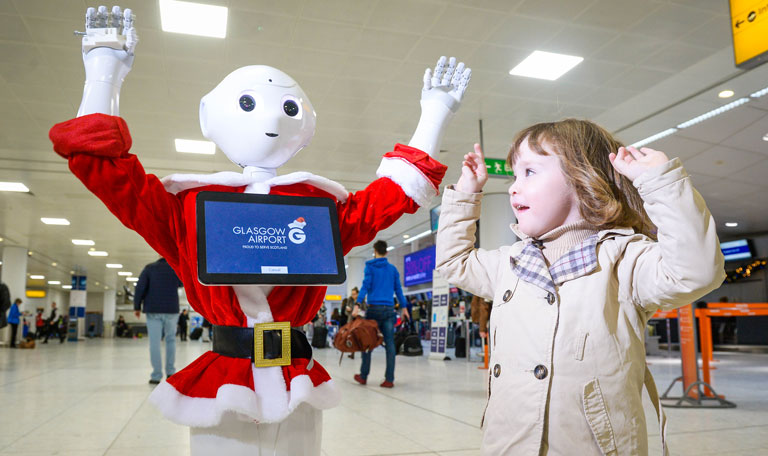 This Christmas, Glasgow Airport has unveiled GLAdys – the UK's first humanoid robot airport ambassador.
GLAdys, whose name comes from Glasgow Airport's International Air Transport Association (IATA) code, will be based in the main departures area and has initially been programmed to entertain passengers of all ages as they pass through the airport.
The robot has been introduced as part of the Glasgow Airport's Digital Passenger Experience Project, a programme which explores how customer engagement and communication can be further enhanced through the use of digital technology.
"Mark Johnston, Operations Director at Glasgow Airport, said: "We are always looking for new and innovative ways in which we can further enhance customer experience at Glasgow and believe the introduction of GLAdys to be a first for a UK airport. Last year, we launched our virtual assistant, affectionately dubbed 'Holly the Hologram', at various points across the airport and she has since proved extremely popular with our passengers."
GLAdys will be escorted by Glasgow Airport's ambassador team and has so far been programmed with three main entertainment functions for passengers to choose from.  As she makes her entrance during the festive period, GLAdys will both sing and dance to three Christmas songs – Santa Claus is Coming to Town, Rocking around the Christmas Tree and Rudolph the Red Nosed Reindeer.
GLAdys will also keep young passengers entertained in the terminal by telling three festive tales – Twas the Night before Christmas, When Santa Claus Comes and Santa's Workshop.
Passengers will also be able to pose for pictures with GLAdys thanks to a hand-mounted selfie camera. When a passenger is happy with the selfie photograph it can be sent to their own email address and/or to Glasgow's digital team for use on the airport's social media social media channel with a #GLAdysRobot hashtag.
"GLAdys will be a fantastic addition to the terminal team and will prove to be an extremely popular feature with passengers commuting through the airport. She's sure to be a firm favourite with our younger passengers this month thanks to her repertoire of festive songs and stories," adds Johnston.