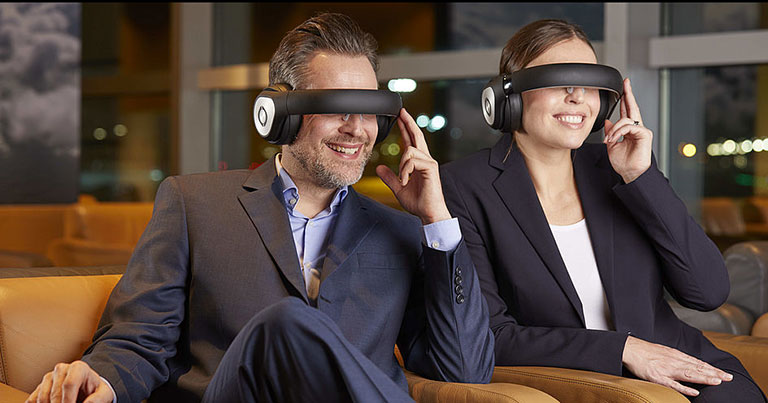 Guests visiting Lufthansa's Business Lounge at Frankfurt Airport can trial Avegant Glyph video glasses, which provide users with a personal cinema experience.
The video glasses can be connected to smartphones, laptops or gaming consoles via a micro-HDMI cable. LEDs project the video signal onto two fields, each of which has two million tiny microscopic mirrors. Lenses focus the light reflection and cast them onto the viewer's retinas. Ten pairs of video glasses and six videos are available in the Business Lounge.
Dr Torsten Wingenter, Senior Director Digital Innovations at Lufthansa, said: "Entertainment electronics play an important role in travel. We have selected an impressive innovation from the incredible amount of new products available. Our guests can try these out informally and in a relaxed atmosphere."
The trial of the Avegant Glyph video glasses follows a recent pilot of virtual reality (VR) headset at a departure gate at Frankfurt Airport. Economy class passengers were given the opportunity to use the VR headset to explore the Premium Economy cabin. Following the immersive experience, they were given the option of upgrading to a Premium Economy seat for a fee.
"We present our guests with digital innovations right along the travel chain and let them test them. This allows us see what travellers enjoy and what is suitable for our regular operation," Wingenter added.
Lufthansa has also hinted at potential in-flight uses cases. A release announcing the launch of the latest trial stated: "The Avegant Glyph does not cover the wearer's complete field of vision like other VR glasses. This means that, on a plane for example, the user can get the attention of the person sitting next to them or the flight attendant."