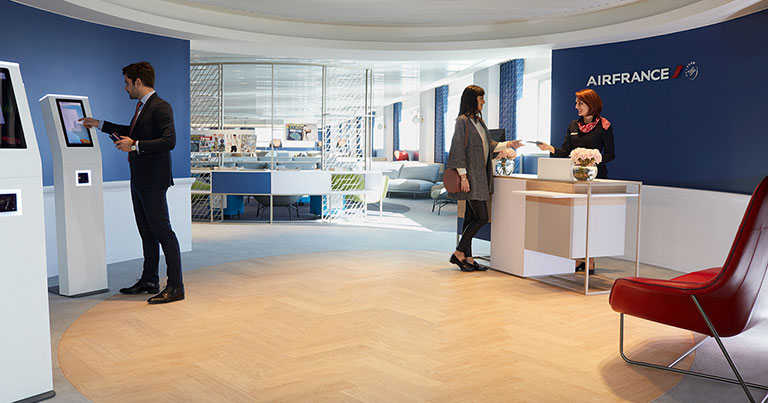 Air France has opened its new-look lounge in Terminal 2G at Paris-Charles de Gaulle Airport (CDG). Open to Air France Business and Elite Plus customers, the lounge combines technology and the human touch to offer guests a choice of what sort of experience they would like.
Upon arrival, guests can either proceed to one of the interactive kiosks or approach one of the Air France agents. Equipped with a tablet, the agents are on hand to help passengers who would like some assistance or would like to make a request.
Inside the lounge, guests will find generously sized sofas and seats, designer cushions and homely lighting and furniture. The shower facilities feature luxury spa products and services, and the Haussmann-inspired decoration adds a sense of place. In addition, guests have access to a Parisian brasserie-style dining area.
"Air France is committed to the move upmarket of its products and services," said Franck Terner, CEO of Air France.
"It was capital for our lounges to accompany these developments, notably on medium-haul routes where customers spend as much time at the airport as on the flight. This has been achieved with this modern and efficient lounge for our customers, offering them fast and easy access, a generous and comfortable space and a selection of fresh dishes."