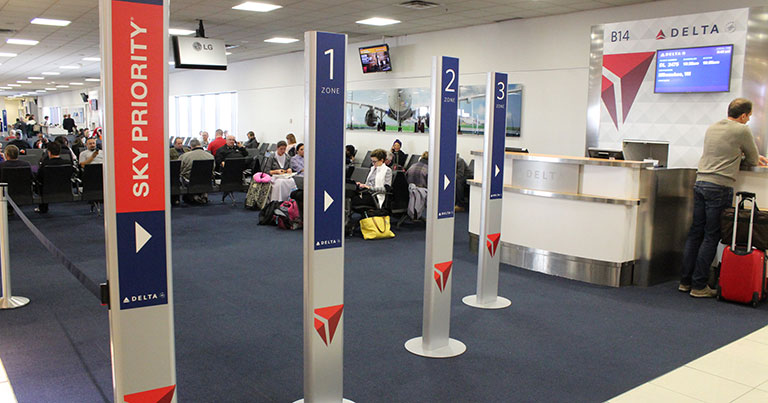 Delta Air Lines has updated the boarding process at five departure gates at Atlanta's Hartsfield-Jackson International Airport.
Five branded pillars have been added to create four parallel lanes. This should help to keep passengers out of the walkway and will provide a separate queuing area for premium customers and those who require special assistance.
If the impact on the customer experience and boarding time in positive, Delta has said it will roll out the solution to other airports.
"We tested a variety of boarding processes, and our customers and employees let us know that this iteration makes their experience better," said Bill Lentsch, Delta's Senior Vice President – Airport Customer Service and Airline Operations.
"We're excited to provide this interim solution, and we'll continue to evaluate new processes and technologies to make the customer experience even better."
Lentsch also explained that other improvements are afoot to improve the passenger experience at departure gates, with an "interactive area full of meaningful distractions that keep customers engaged and entertained" being considered.
Tim Mapes, Delta's Senior Vice President & Chief Marketing Officer, added: "Delta is determined to create the friendliest airport customer experience in the industry," he said. Improving boarding is a major priority for us, and we want it to be as easy as possible for our customers and airport customer service agents.
"As this new boarding process rolls out, our customers will experience less crowding and confusion at the gate, in addition to a more seamless transition when entering the plane."