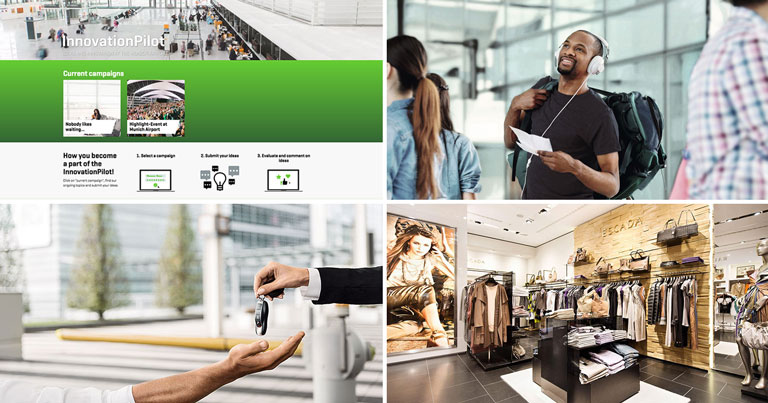 As the Head of Innovation Management at Munich Airport, Sarah Wittlieb is responsible for ensuring that the German hub is on top of the latest technologies and trends, and for delivering solutions that can positively impact the customer experience. From leveraging mobility to empower passengers with real-time information, to helping to increase revenues in duty free and travel retail stores, the Innovation Management team's work brushes a variety of touch-points both within and outside of the airport terminal.
"We are co-creating new products, services and processes together with our customers, B2B partners and start-up companies," Wittlieb explained to FTE. The goals are multi-faceted, she stated. "Of course, we want to earn revenue as it's also about business development for the company, but at the same, with every project we try to create something really unique and new for the customer experience."
The innovation strategy, internally labelled "Strategy 2020", has a broad area of focus. "Our main action field is new mobility, everything connected to what the mobility of tomorrow will look like," Wittlieb said. "The second point is retail and F&B – Munich Airport runs 70% of its own retail and restaurants, so we're really interested in looking at how we can deal with new trends like e-commerce, and how we can further develop our retail business. Then the third one is about the customer and passenger processes."
'Digitalisation and innovation are not the same thing'
It would be easy to assume that Wittlieb and her Innovation Management colleagues focus solely on using the latest technologies to bring about improvements, but this is not necessarily the case. "For me, there are some people who are saying digitalisation and innovation are the same thing. They're not," she said. "Digitalisation is only one part of innovation; there are several other mega trends we are looking at. It's not only a question of digitalisation – it's a combination of digitalisation, and online and offline."
One example of offline innovation can be found in the ongoing trial of the use of sound to improve the experience across Munich Airport. "This is not just about playing music from the charts," Wittlieb stated. The airport is working with a third party, which conducted a three-day audit across the airport to track the sounds and noises in different parts of the terminal. Following this, bespoke music was composed and the soundtracks are now being trialled to gauge what impact they have.
"In one place they said "turn the music down there because at that touch-point it's distracting". In another place, you can relax the customers with music, or even attract them in such a way that they might spend more money in the duty free shop," Wittlieb continued. Close attention is being paid to the effects this has in different areas – from shops to car parks to restrooms – before a decision is made on whether to pursue the project further.
Mobility as a service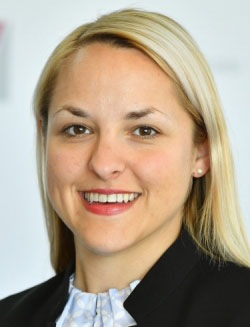 Of course, many of the projects the Innovation Management team works on are technology-focused. One such example is the development of "mobility as a service", with the support of Siemens Mobility.
Travellers arriving in Munich who are not familiar with the airport or the city will soon be able to use this online service to compare transport options between the airport and their hotel, and vice versa. Real-time wait times at airport checkpoints, ranging from security to baggage reclaim, will also be integrated, and made available across a variety of digital channels.
One journey, one ticket
Wittlieb also revealed a vision to create a platform that enables travellers to buy a single ticket for their end-to-end journey, regardless of how many taxis, buses, trains or aircraft are involved.
"I have this vision that customers are no longer willing to buy several tickets for the whole journey from A to B," she explained. "I think in the future customers will just buy one single ticket, but in the background there will have to be several mobility operators, who will have to co-operate in terms of the data. For example, for someone who is on a business trip from Munich to New York, they might first take a car sharing service, then they'll have a ticket for their flight, and a separate ticket to get from the airport to the hotel. This would be three different tickets. In the future, I think people will be more willing to get just one ticket for the whole journey."
Wittlieb explained that Munich Airport already has good relationships with German transport companies, as well as IT companies, which can help all parties share data to enable this vision, so the foundations are already being laid
Start-ups and accelerators
As one would expect, Munich Airport is also working closely with a number of start-ups, and has "really strong co-operation with accelerators". The Silicon Valley approach of creating prototypes, garnering feedback from customers, and then going back to the drawing board before launch is favoured over traditional R&D and implementation approaches. Innovation is very much promoted by Munich Airport's top-level management, who are engaged in the process. The Innovation Management team often pitches new ideas to the decision-makers, who vote on whether or not they think the solutions should be rolled out.
"Bringing together the right people from the right departments at the airport is very important," Wittlieb said. "Not only people from innovation management, but also from other business departments and IT. You need to have people from all departments from the start in order for this to work."
This support from the top is "very important", she explained, and will continue to be as the Innovation Management team expands its focus in the coming months and years. Wittlieb revealed that her team is now "thinking about a new concept, about how we can develop new products in areas not directly linked with aviation, with companies from all around the world".
While the priority is to improve the customer experience for those flying to and from Munich Airport, the ambitions of the Innovation Management team go much further.