Helsinki Airport and SITA Lab have started a research project to explore how the Microsoft HoloLens headset can enhance airport operations by using mixed reality (MR) technology.
HoloLens, which runs Windows 10, enables users to engage with digital content and interact with holograms in the world around them. SITA Lab has been working with Helsinki Airport to use the device to reproduce the airport operational control centre (AOCC) in a mixed reality environment.
In the initial stage of the project, SITA Lab used a feed from SITA's Day of Operations technology, which is used by Helsinki Airport, and created a new way to visualise and interact with the airport's operational data, including aircraft movement, passenger movement and retail analytics. Wearing the HoloLens headset, the operators had a set of screens meshed into a 3D view of the airport, allowing them to correlate events from the data dashboards with an immersive real-time model of the airport.
HoloLens also opens the possibility of being able to access the AOCC environment from any location, on or offsite, allowing experts to provide input to situations remotely.
Combining digital with physical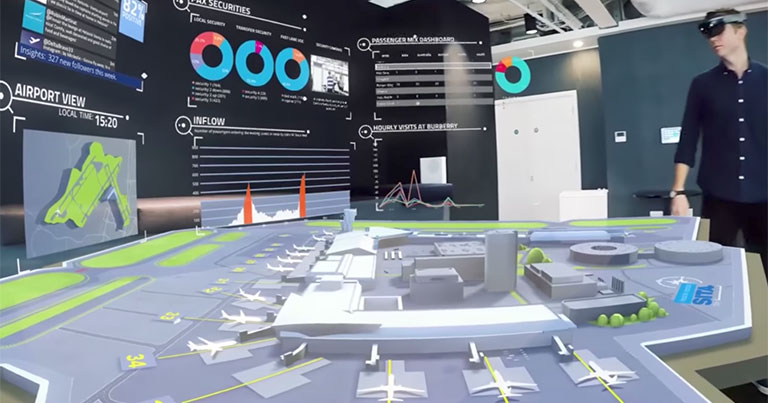 Jim Peters, SITA CTO and head of SITA Lab, said: "Mixed reality, which combines augmented and virtual reality, is more than a new interface, it is a new way of looking at the world and allows things to be done in a new way. It enables digital and physical data to exist together.
"Our early research shows that there are potential uses for airlines and airports – for operations, maintenance and training. We need to learn how to interact in this new environment. In the same way that we moved from computers to smartphones and voice recognition, now we can go beyond the screen."
Greg Jones, Managing Director, Worldwide Hospitality & Travel, Microsoft Corporation, stated: "HoloLens is now being used across various enterprises from healthcare to engineering. SITA's work is an example of how to extend HoloLens capabilities to manage the complexity of data and decision-making in an airport environment. It shows how this new technology can be harnessed for the air transport industry and add value in areas from training to complex operational management."
Speaking at the SITA Air Transport IT Summit this week, Jones labelled SITA's use of HoloLens "one of the most compelling use cases" to date. Other use cases include Japan Airlines' use of the MR headset to train aircraft engine mechanics and flight crew. Air New Zealand has also used the device to explore if it can enhance in-flight service and provide the foundations for more personalised interactions with passengers.