Delta is the first airline to partner with US Customs and Border Protection (CBP) to test a new one-step biometric exit immigration procedure and technology.
Travellers departing Hartsfield-Jackson Atlanta and New York-JFK airports for international destinations this summer are part of a test that captures customers' biometrics upon exiting the US at the same time they self-scan their boarding pass. The aim is to give CBP enhanced ability to record when visitors depart the country.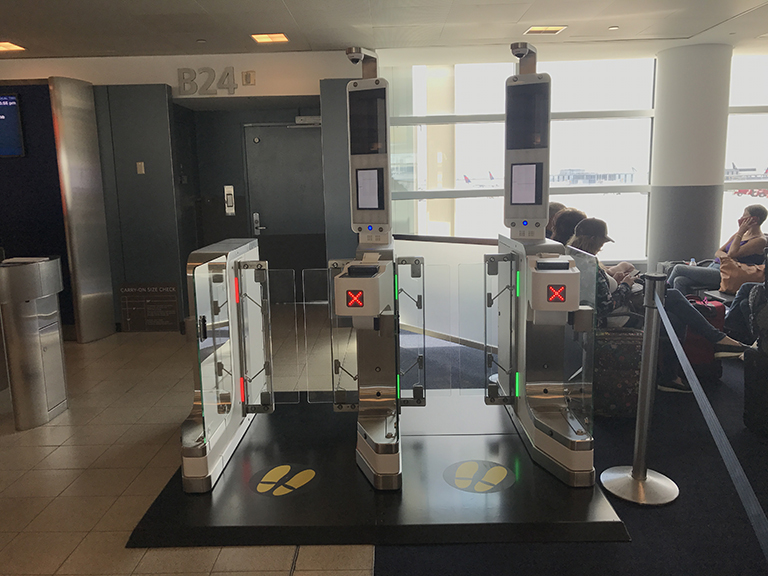 The tests are powered by Vision-Box at New York-JFK and NEC Corporation of America at Hartsfield-Jackson Atlanta, and confirm passenger identity using advanced facial recognition technology and Delta ticketing information.
On successful screening at JFK, the eGate opens for individual customers to pass into the boarding area. Meanwhile, in Atlanta a self-contained unit captures and verifies the traveller's identity before they continue on to boarding. All data is securely managed by CBP.
"Delta is always willing to partner with the CBP as it continues testing new technologies to improve its processes," says Gil West, Delta's Chief Operating Officer. "Its spirit of innovation aligns with Delta's as we continue pioneering our own biometric customer experience solutions to enhance the airport travel experience for customers while giving employees the ability to focus on higher-touch customer needs."
Delta's JFK test launched on 12 June at gate B24, while customers will start experiencing the one-step process in Atlanta at gates E10 and E12 later this summer. The Atlanta pilot will build on a year-long collaboration between Delta, NEC and CBP that has been testing facial recognition and boarding technology for exit screening on ATL gates F6 and F9.
"CBP has been working with our stakeholders to build a simplified, but secure travel process that not only meets the biometric exit mandate, but also aligns with CBP's and the travel industry's modernisation efforts," says John Wagner, Deputy Executive Assistant Commissioner, Office of Field Operations, CBP. "We are happy to be working with partners, like Delta, to expand the use of facial biometric technology to create an innovative, more efficient travel experience for passengers."
Delta has also been pioneering its own customer service solutions designed to create a frictionless travel experience, like its biometric boarding pass at Reagan National Airport, and self-service bag drop programme at Minneapolis-St Paul that uses facial recognition biometrics.