Düsseldorf is an airport on the rise. Building on a seventh consecutive annual traffic record in 2016, it experienced 14% growth in the first five months of this year and forecasts 25 million passengers for the year as a whole.
Against this backdrop, Thomas Schnalke, Chairman of the Management Board, emphasises that Düsseldorf Airport is committed to making "a perfect travel experience possible for all passenger groups".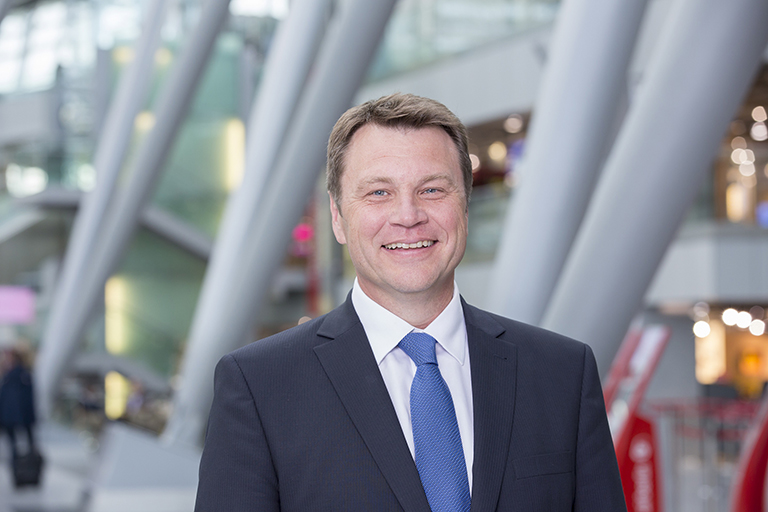 In the age of the connected traveller, Düsseldorf is a beacon of digital innovation. Already, 83% of passengers carry smartphones, while 60% of travellers use social media on their journey. Tech-savvy Millennials, and subsequently Generation Z (those born from 1995 onwards), expect a more personalised travel experience with digital communication at its heart.
"Digital communication channels for travellers are already extremely important today, and will become even more important in the future," says Schnalke. "That is why we are currently working on many new digital products. Our website dus.com is a source of information for travellers, their friends and family, and other target groups. We're already successful in this area today."
The airport is particularly proactive across social media, and has accumulated 117,000 'likes' on Facebook, 1,500 followers on Twitter, and 5,200 followers on Instagram. "We are also looking at beacons as a very important technology, which we will use more in the retail areas in future," Schnalke adds.
Indeed, these digital developments are just part of a wider emphasis on enhancing the passenger journey through the airport.
"Düsseldorf Airport's lifeblood is its proximity," Schnalke comments. "What generally creates a special customer experience for our passengers is easy access, short distances onsite, extensive flight options from our partners for optimised connections, and a high quality of stay as experienced in the architecture, shopping and culinary options. Of course, there is always room for improvement. That's what we work on every day – successfully."
The main focus right now is on the peak summer travel season. "We want everyone who uses the airport for their vacation travel this summer to enjoy their time with us. Moreover, expanding our moving capacities is essential for us. That's the only way for us to develop in the future. Just as importantly, we will move our airport into the digital age more and more. There's a lot to be done – but it's fun," Schnalke concludes.