As the air transport industry comes to terms with the fact that it must disrupt or be disrupted, hackathons have become a popular way to develop pioneering solutions in a short timeframe. Last month, Hack Horizon, together with partners including Heathrow Airport, Hong Kong International Airport (HKIA) and British Airways, took this idea to the extreme with a 72-hour travel tech hackathon, in which 32 participants (who were whittled down from more than 700 applicants) developed and delivered eight prototypes while travelling 9,500 kilometres between Hong Kong and London.
The eight teams lived and breathed the end-to-end air travel experience during the three days, while developing products with the aim of making the travel process more simple, seamless and enjoyable.
The event was the brainchild of Kristy Hart, Johannes Jaeger, Kosta Kolev and Sandra Sobańska. "The four of us came together 18 months ago around a crazy idea that combined our immense love for travel and our passion for technology," Hart explained to FTE.
"As millennials, travel is really at the core of who we are and so using our experiences from over 40 hackathons collectively, creating a unique hackathon that focused on improving the end-to-end customer experience in travel made a lot of sense to us."
Stephen Glenfield, Interim Head of Digital at Heathrow Airport, was actively involved as a mentor during the hackathon. He told FTE: "We'd never done an external hackathon before but given the pedigree of the people involved and how they were going to approach it, it was something that we agreed around the table at Heathrow was a worthy cause to pursue. It made sense for us to try to do this."
Breaking down barriers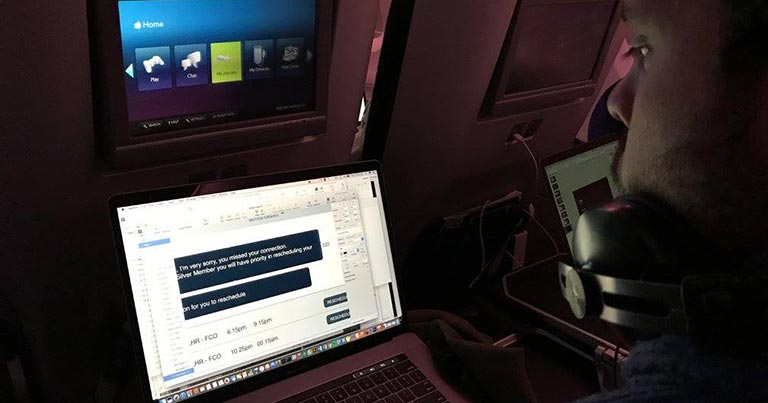 The BA-operated Hong Kong to Heathrow route made perfect sense as the two airports last year signed a "collaborative partnership" to share expertise and experience, while British Airways is the biggest airline client at Heathrow. The 72-hour hackathon also had the support of a number of other big-name travel technology companies, including the likes of Travelport, Skyscanner and SITA.
In just three days, the eight teams built a diverse range of prototypes designed to solve the various pain points throughout the travel experience. Ideas ranged from an end-to-end security luggage transfer service powered by blockchain and a smartwatch that leverages deep learning to personalise the passenger experience at airports, to a chatbot that enables groups to collaborate on trips and bookings. The winner, though, was "Destination", an in-flight entertainment to mobile retail solution that allows passengers to book activities at their destination whilst on a flight.
As Hart explained, the aim of the initiative was "to create a hackathon that didn't end the moment that the winners were announced". She said: "We wanted to tear down the barriers to entry into the travel industry for our participants by putting them in the same room as key decision makers within some of the leading industry players in travel.
"Unlike some other industries, more often than not if you want to work in travel you have to work with the airports, the GDSs, the airlines in order to launch your idea. Not having those initial connections with the right people increases the mortality rate of travel tech start-ups quite substantially.
"For Hack Horizon, our participants had access to mentors from our partner organisations which meant two very important things. It allowed them to work with them and ground their ideas in the realities of the travel industry. And it also meant that they formed connections with them right off the bat. This has meant that our partners have expressed a lot of interest in continuing to work with some of the ideas and potentially launch trials within their existing infrastructure."
Redefining the travel experience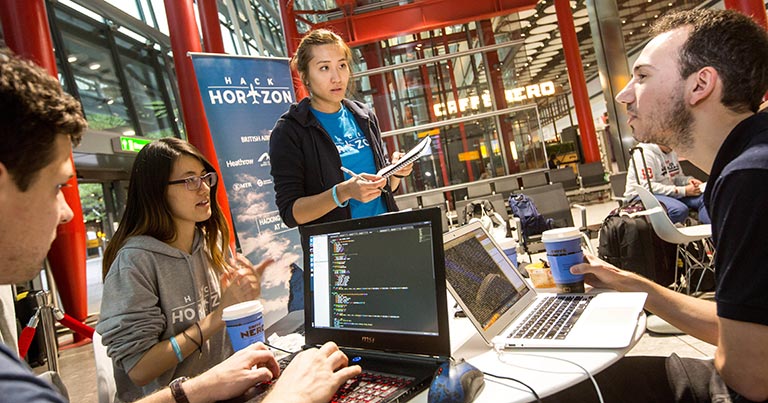 Heathrow's Glenfield told FTE that the hackathon has helped to highlight the importance of embracing innovation and welcoming input from outside of the immediate air transport sector. "Heathrow is 71 years young, which is no mean feat, but to keep on top of our game we have to innovate and these ideas, these hackathons, are great ways of doing that," he said.
"I think start-ups will, in time, have a massive impact (on the air transport industry), whether they continue on their own or work with other larger organisations to realise their potential," he continued. "The good thing is they come from an outside-in perspective. There are no barriers and they're redefining travel from a different perspective. We have to disrupt or be disrupted in this industry, and it's the talent coming in from this area that's helping us redefine travel."
Hack Horizon's Hart agreed with this sentiment, and stated: "Start-ups will have a profound impact on redefining the end-to-end travel experience." She added: "I think many airlines and airports are realising that the market is too competitive for them to afford the luxury of not paying attention to technology and how this is driving customer experience.
"Airlines in particular are trying a variety of models, from working with an entirely external organisation like easyJet is doing, to opening up innovation labs like Lufthansa or Cathay that have varying interactions with the rest of the business."
Creating a culture of innovation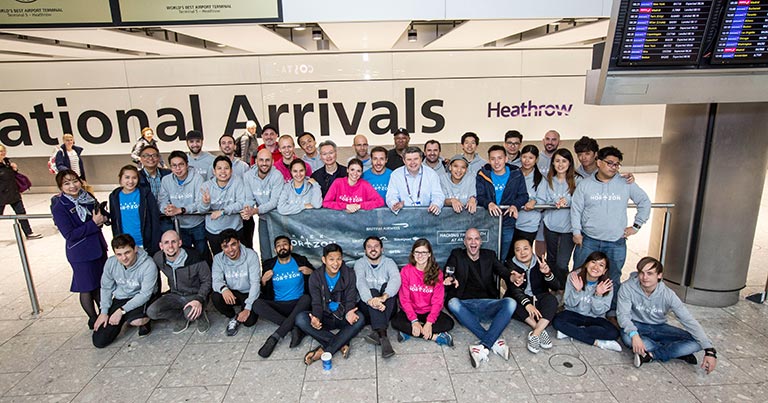 Hart did, however, offer a word of warning to those airlines and airports that are taking their first steps into the start-up space. "Fundamentally, one of the biggest mistakes you can make is to jump into it with a huge investment in opening an innovation lab or building a similar initiative before you have full buy-in from the rest of the business and before you understand how this is going to feed into the larger structures," she stated.
"Innovation is not just "something you do"; it's a mentality and a culture, which requires a shift in understanding and a creation of new KPIs. Therefore, like everything, you should start small and look to iterate fast as you scale."
As the first Hack Horizon event has proved, airlines, airports and other travel and air transport industry corporates have a lot to gain by immersing themselves in the world of start-ups and entrepreneurs. Hart explained that the Hack Horizon team had hoped to "bring these guys together and have a holistic conversation" about what all parties can achieve collaboratively. With this in mind, Hack Horizon's first mission has been accomplished.