JetBlue Vacations and Utrip have announced a partnership that helps travellers create a personalised, hour-by-hour vacation itinerary, including JetBlue flights, hotels and other amenities – online in just a few minutes. The trip planning portal, available through JetBlue Vacations, uses artificial intelligence and locally curated recommendations.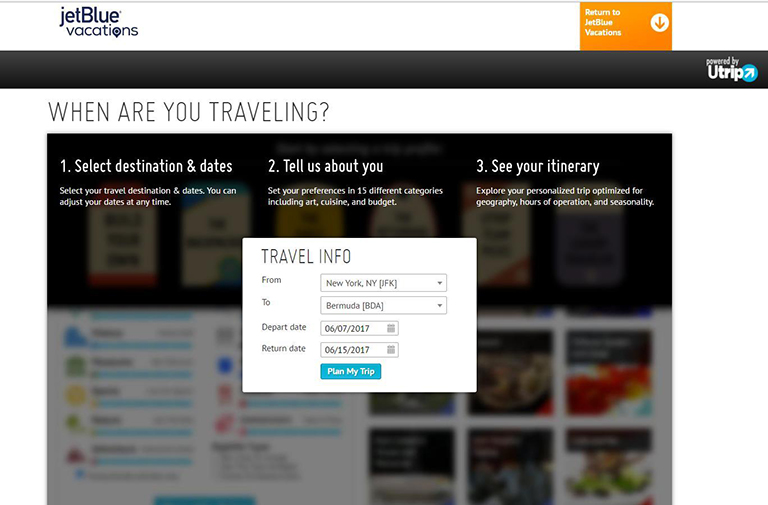 The new feature is a step forward for JetBlue Vacations (formerly JetBlue Getaways) and its evolution to offer more personalised trip experiences. The aim is to create a one-stop vacation shop and seamless travel journey.
"When you hear artificial intelligence, it's easy to envision a far-off future seen in the movies," says Umang Gupta, President, JetBlue Vacations. "But AI is ready to change how we now plan travel. Our partnership with Utrip demonstrates that we can transform the vacation experience using both technology and a human touch."
Through the partnership, travellers using the Utrip feature can book a JetBlue Vacations package and create an itinerary with a curated list of local recommendations.
"At Utrip, we are always striving to make travel an unforgettable experience," comments Gilad Berenstein, CEO and founder of Utrip. "By collaborating with JetBlue Vacations, we're excited to further our commitment to help our partners enhance their relationships with travellers, empowering them to discover new destinations and create lasting memories."
Enhancing its service to include a more vibrant and dynamic online portal, JetBlue Vacations offers seamless booking, and tailored recommendations and experiences. JetBlue Vacations is collaborating with JetBlue Technology Ventures, the venture capital subsidiary of JetBlue, to identify innovative companies in artificial intelligence, predictive analytics, targeted customer support and other leading edge technologies.