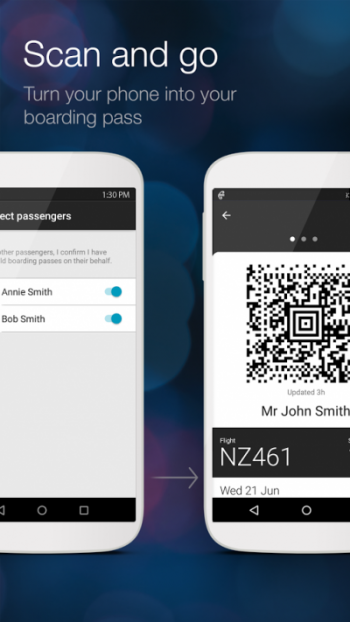 Air New Zealand has introduced a new smart passport scan feature, which provides passengers with the ability to use the airport's mobile app to scan and save passport information.
By saving the passport detail in Air New Zealand's app, errors such as typing passenger information incorrectly, can be reduced.
The app also triggers an expiry reminder when it is time to renew the passport and provides click-through links to renew New Zealand, Australian, British and American passports.
Other improvements to the app include a new multiple boarding pass function. Passengers travelling as a family or a group can download up to nine boarding passes for their group to the app.
Air New Zealand is also planning to introduce more digital features, including adding secure credit card scanning to its booking system, as well as longer term developments such as selfie-boarding, using biometrics and facial recognition to verify passengers at the gate.
Air New Zealand's Chief Digital Officer Avi Golan says customer feedback is driving the rollout of time-saving tools such as this and customers can look forward to an increasingly smarter digital travel experience – not just on the day of travel, but in the dreaming and planning phase.
"Customers consistently tell us time is the biggest stress factor when travelling, so prioritising features that offer genuine benefits and convenience on the go is key," explains Golan. "Integrating smartphone camera technology to our app paves the way for adding secure credit card scanning to our booking system, as well as longer term developments such as selfie-boarding – using biometrics and facial recognition to verify customers at the gate."