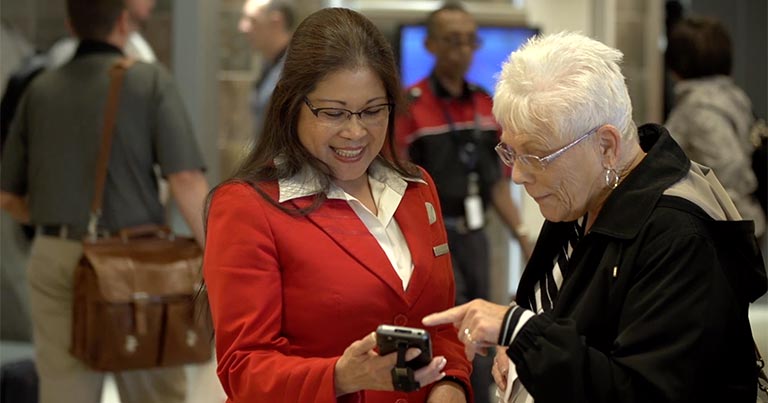 Delta Air Lines has rolled out 100 handheld devices to help gate agents drive more personal engagements with customers at Hartsfield-Jackson Atlanta International Airport.
The so-called "Nomad" tool is the size of a cell phone and gives agents the ability to make seat changes, rebook customers, check bag status, board or check-in customers, and print bag tags and boarding passes.
The devices have been introduced to help cut queuing times, and help Delta better adjust staffing during disruption situations.
Gareth Joyce, Senior Vice President – Airport Customer Service, Delta Air Lines, explained that thanks to the new devices, "agents can be more proactive in providing solutions to customers no matter where they are in the airport". He added: "As we evolve this technology, the opportunities are endless for agents to leverage innovative thinking to create engaging moments while helping customers along their journey."
Delta says it plans to continue to source employee and customer feedback to learn what other capabilities these devices should have, all while expanding the test to other hub markets. Delta first piloted the mobile customer service device concept in Miami where agents shared their thoughts on what functionality would be most useful on blue sky days and when bad weather impacts the operation.
"We loved having this tech in Miami," said Roger Williams, Delta Operations Service Manager. "Agents would carry it right out of the break room and on to the concourse, and were immediately ready to help customers. Our feedback drove real change – we suggested they add this or improve that and updates were made to the device, including simple touches like adding a seat map view."