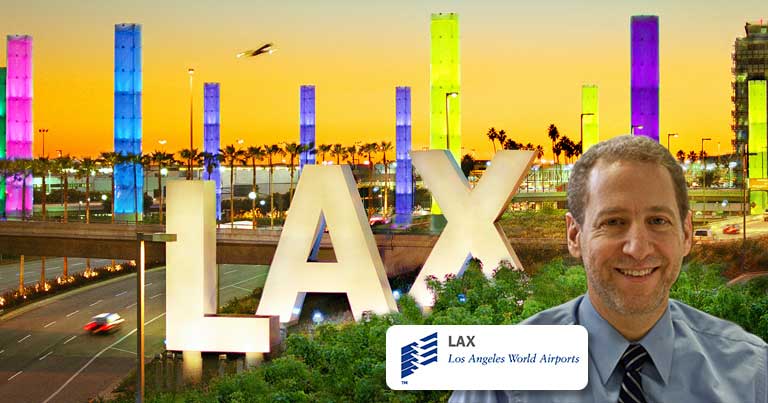 Thanks to a multi-billion dollar redevelopment programme, Los Angeles International Airport (LAX) is in the midst of a major transformation. As part of this, Los Angeles World Airports (LAWA), the city's aviation authority, is considering the role that technology can play in improving airport operations and simplifying the passenger experience.
Justin Erbacci, who joined LAWA as Deputy Executive Director and Chief Innovation & Technology Officer in October 2016, revealed to FTE that a self-service common use bag drop pilot and a biometric exit pilot with U.S. Customs and Border Protection (CBP) are in the pipeline for the near term. This, however, is just the beginning.
"This airport has been a late adopter of technology and innovation up until the last couple of years," Erbacci said. "Now we want to be out at the forefront, and the leaders and testers of technology and innovation."
Aside from bag drop and biometrics, another big area of focus for Erbacci and his team is to develop a single airport operational database (AODB) to provide a holistic view of how the airport is operating at any moment in time. At present, a number of different AODBs are operated by the major airlines that serve LAX, creating numerous data silos.
This plan is part of an aim to collaborate more closely with the airlines to "develop a holistic view and approach towards the airport, as opposed to the terminal by terminal approach that happens now". Erbacci added: "We're excited about our continually improving relationship with our airlines, because we cannot make the large-scale, airport wide changes that we need without buy-in from and collaboration with all of our partners."
On this front, Erbacci has established an IT & Innovation Forum to foster closer collaboration between LAX and airline stakeholders, and to encourage the widespread adoption of technology to improve the passenger experience and optimise operations.
Data, analytics and a new digital strategy
LAWA is also investing in a data management and analytics strategy in an effort to make the most of the vast pools of data it has access to. "Now is the time for LAX to reimagine how we use data, so we can find more efficient ways to move people, use resources, improve our safety, and create an overall better guest experience. To do this, we're putting new tools in place and changing how we collect, use and analyse our data," Erbacci said.
A new digital plan is also being developed, which will see LAWA enhance LAX's website, mobile product, and other digital channels. New interactive kiosks will also be piloted in the near future and the aim is for all of these digital channels to be served from a single platform to bring consistency to the digital offer.
As for other technologies, Erbacci revealed to FTE that LAWA is currently trialling a selection of operational tools at LAX in an effort to identify which ones can help to optimise operational efficiency, and capacity and scenario planning. In addition, these tools are helping to bring more transparency to the passenger experience by displaying real-time wait times at the security and immigration checkpoints. "We're also looking at asset management and how we can use the Internet of Things to deliver improvements," Erbacci revealed.
Promoting innovation
Ten months on from joining LAWA, Erbacci has ambitious plans when it comes to technology and innovation. He stressed that CEO Deborah Flint, who joined LAWA a little over two years ago, is doing a great job of moving things forward and promoting innovation, as well as helping to realise the bold vision put forth by Los Angeles Mayor Eric Garcetti on how the city looks at data, innovation and technology. Erbacci added that changing mindsets across an organisation of this size and structure can take some time.
"You have to make people think it's okay to do things differently, to pilot things and try new things," Erbacci said. "If it works, move forward. If it doesn't, try something else."
Clearly, the challenge ahead is sizeable and the technology-focused plans are grand for an organisation that has shirked innovation in the past. There is no doubt, however, that LAWA's new approach to innovation is a big step in the right direction.