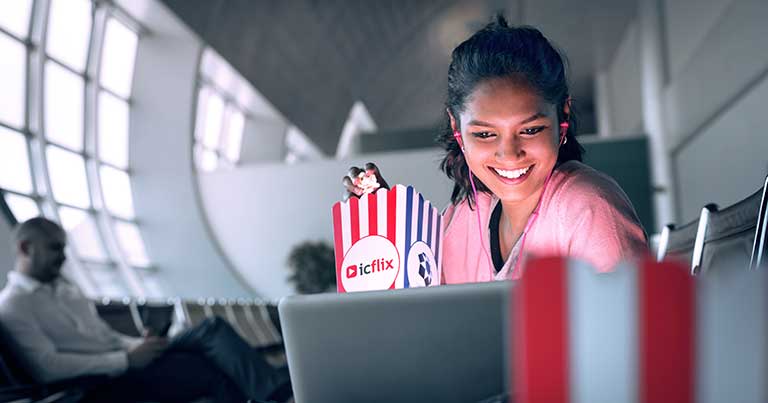 Dubai International (DXB) has announced a partnership with ICFLIX, a regional content streaming platform, which enables passengers to stream movies and TV shows on their own devices while waiting for their flights.
The initiative makes use of the 'Wow-Fi' service, which DXB says is the fastest free airport Wi-Fi service in the world. After connecting to Wow-Fi, passengers can now access ICFLIX, which includes Hollywood, Bollywood and Jazwood (Arabic) content.
Content on ICFLIX is available in three languages: Arabic, English and French. The service is complimentary to all DXB passengers for an initial trial period of two months.
"Dubai Airports is on a mission to engage more directly with our customers, and transform the airport experience for millions of travellers each month," said Eugene Barry, Executive Vice President of Dubai Airports' Commercial and Communications Group. "We intend to lead the practical application of available digital tools to exceed customer expectations, across multiple points of their journey at our airports, and including demands for more variety within the airport experience. Our continued investment in a superior Wi-Fi product (Wow-Fi) has ensured that our customers are connected with a free and fast service, and now we aim to enrich that platform with managed content and relevant messaging.
"Thanks to our partnership with ICFLIX, travellers at Dubai International can now enjoy a wide range of streamed entertainment before and between flights, and this is a service which is completely free of charge to users. We are delighted with this new addition to our consumer strategy, and look forward to evaluating its impact."
'Wow-Fi' at DXB
Speaking to FTE following the announcement of the partnership with ICFLIX, Dubai Airports' EVP, Technology and Infrastructure, Michael Ibbitson, revealed more about the initiative. To access the streaming content, passengers must download the ICFLIX app and they are then entitled to 24 hours of free streaming. As well as watching content while at DXB, they can continue to watch content on board Wi-Fi connected aircraft and when they arrive at their destination, which is especially useful for those who have to board their flight before they have finished watching a movie.
Ibbitson explained that as the world's busiest international airport, "people on immense journeys across the globe come to Dubai International and we are the centre of that journey". He continued: "For those critical few hours on the ground, passengers can have a video call with their loved ones, download their emails in seconds, and then watch some movies on ICFLIX."
Ibbitson stressed the fact that this is possible thanks to the Wow-Fi service, which has been painstakingly tested to guarantee a consistent performance across the airport. "One of the things that Paul Griffiths (CEO of Dubai Airports) said to me before I joined 18 months or so ago was that he wanted technology to drive the customer experience, and also drive the capacity and throughput at the airport in the future," he explained.
"We've been working towards those two primary goals and one of the first things we identified when I joined was, based on previous customer research, Wi-Fi had become the biggest driver of overall customer satisfaction for airports by quite a significant margin…if you've got great Wi-Fi, passengers are likely to rate your airport better. So we said, 'if that's the case we've got to try and make the best airport Wi-Fi that anyone has come across'."
The default position, Ibbitson said, was "everybody in the airport should be able to stream HD movies". With this in mind, the entire wireless network infrastructure was upgraded across the airport and during the 2016 European Championships the Wi-Fi was tested by logging on to live streams of football matches during busy periods. Also, the whole Wi-Fi infrastructure was closely monitored and staff were alerted when the level of service dropped below that required to stream full HD content. This enabled Ibbitson and his colleagues to identify weak spots and improve those areas.
Clearly, the hard work has paid off and passengers can now enjoy connection speeds of up to 100mbps; more than enough to enable HD streaming. While the partnership with ICFLIX is for an initial period of two months, it could be just the start of a much bigger trend at DXB. Customer feedback will be assessed after the trial period and Ibbitson revealed to FTE that offering passengers live sports streaming is also on Dubai Airports' wish list for the future.