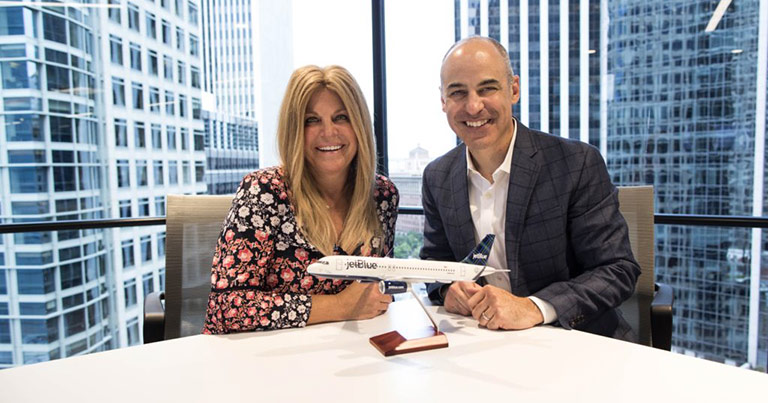 JetBlue has announced a partnership with customer service platform Gladly in a move that will enable travellers to have one continuous conversation with JetBlue's customer support team across multiple communication channels.
Gladly gives customer support representatives a single view of all conversations with the customer, unlike legacy systems that put each communications channel into its own silo. This allows customers to move from one communication channel – such as phone, text, chat, email, Tweet or even Facebook message – to the next without taking valuable time to repeat and recap their previous conversations. Gladly will be implemented in JetBlue's customer support centre.
"We've always taken an innovative approach to customer service and this partnership will further advance our leadership," said Frankie Littleford, Vice President Customer Support, JetBlue.
"We started JetBlue with the idea that we could bring humanity back to air travel but the customer support technology hasn't kept up with the increasing number of ways customers want to interact with us. Gladly gives us the tools to deliver on our mission in today's environment."
Once implemented, JetBlue customers will be able to have continuous, real-time conversations through whichever channel they prefer. They will also be able to switch communication channels mid-conversation and JetBlue agents will be able to pick up where they left off by accessing the full history of conversations with the customer from both current and previous flights.
For example, a customer can tweet that they are looking forward to an upcoming family vacation, then on the day of travel text JetBlue that they're running late to the airport and might miss their flight. In one screen, JetBlue will be able to view the tweet and text to quickly understand the stress of that situation, text back rebooking options, and send an email confirmation of the change while the family is still in transit.
Gladly was brought to JetBlue by JetBlue Technology Ventures, the airline's venture capital subsidiary, which incubates, invests in and partners with early stage start-ups at the intersection of travel and technology.