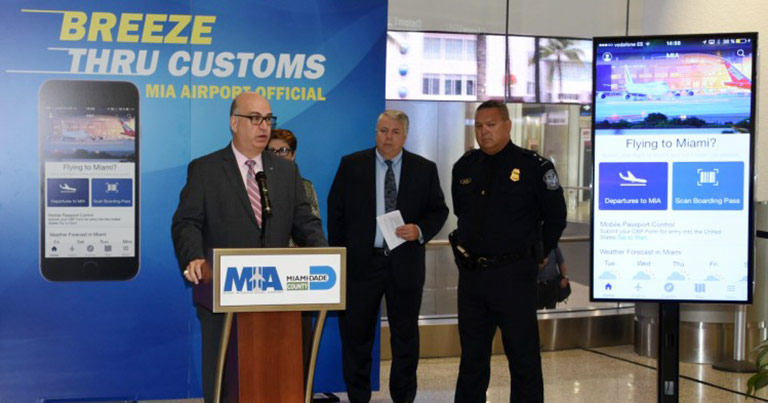 Miami International Airport has achieved the feat of becoming the first airport to integrate the U.S. Customs and Border Protection's (CBP) Mobile Passport Control into its own mobile app.
This means US citizens and Canadian visitors can use the airport's app to expedite the passport control process at Miami International Airport. Up until now, travellers have had to download a separate Mobile Passport Control app.
After first-time users of the MIA Airport Official app create and save a traveller profile, those travelling with family will have the option to create multiple traveller profiles and include them in their submission to CBP. Once the desired number of travellers is selected, users will be asked to provide airline information and answer five questions about their travel itinerary.
Upon submitting the answers, the app provides users with a digital receipt to be used at dedicated Mobile Passport Control entry lanes. The expedited service does not require pre-approval and is free of charge.
Miami-Dade Aviation Director Emilio T. González said: "The goal of our mobile app has always been to put as many services as possible in the palm of the traveller's hand. Now, in addition to easily finding their way to all they need at MIA, US citizens and Canadian visitors can also breeze through passport control with the same customer-friendly travel app."
This mobile service has been developed by SITA and certified by CBP for Mobile Passport Control. "We are very pleased to be a technology partner with MIA as they become the first to incorporate the convenience of US CBP Mobile Passport Control into their airport application," said Randy Pizzi, SITA President, America. "Passenger satisfaction increases when technology solutions like SITA's make it easy for passengers to manage their journey using just one convenient application on their own smartphone or tablet."
In addition to Mobile Passport Control, Miami International Airport's mobile app offers a number of inventive features, including blue-dot navigation thanks to integration with Bluetooth beacons across the airport, and a location-specific user experience.