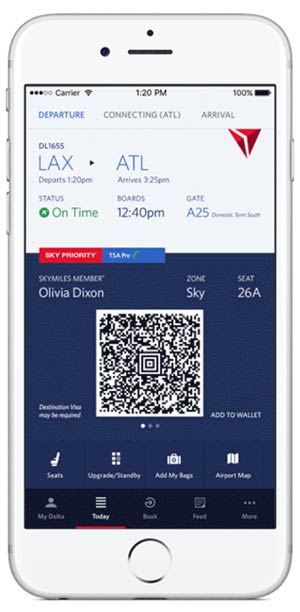 Passengers flying on domestic services with Delta Air Lines can now be checked in automatically via the carrier's iOS and Android apps.
The new functionality is available on the latest version of the app. Eligible customers can be automatically checked in 24 hours ahead to their scheduled departure.
After receiving an alert via email or push notification, they must open the app and acknowledge the federal government mandate for restricted items, and their boarding pass is then displayed.
Rhonda Crawford, Vice President – Global Distribution & Digital Strategy, Delta Air Lines, said: "Our customers have told us Delta can eliminate some of their stress associated with upcoming travel if they know their boarding pass is ready and can see their seat assignment.
"Auto check-in provides that peace of mind in a simple, automated solution that also saves valuable time."
Auto check-in is available to customers with domestic-only itineraries who already have a seat assignment or are auto-assigned a seat at check-in.
Those who require assistance with special requests like travelling with a pet in the cabin or travelling as an unaccompanied minor must still check-in with an agent.