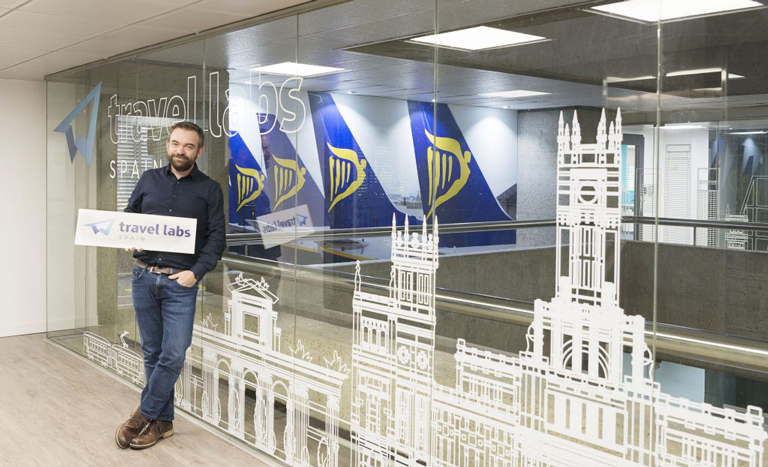 Ryanair has opened a new state-of-the art digital and IT innovation hub, Travel Lab Spain, based in Madrid, as part of its digital initiatives under Year 4 of its 'Always Getting Better' programme.
John Hurley, Chief Technology Officer, Ryanair, said: "Labs continues to deliver the core digital improvements under Ryanair's 'Always Getting Better' programme with Ryanair.com now the world's largest airline website, our mobile app having over 25m downloads and more than 30m customers signing up for the 'My Ryanair' customer registration service, as we continue on our journey to becoming the 'Amazon of travel'. We are keen to hear from new talent and to welcome even more tech stars on board Travel Labs Spain."
Travel Labs Spain is the airline's third digital innovation hub following Dublin and Wroclaw. Labs has allowed Ryanair to roll out a number of digital initiatives under Year 4 of its 'Always Getting Better' programme, including a personalised Ryanair.com website, a new Ryanair Rooms website, a dedicated Chinese Ryanair website, Ryanair Tickets for concerts and events, Apple Pay integration, long-haul Air Europa flights on sale on Ryanair.com and new partnership with Erasmus Student Network.
Ryanair's Chief Marketing Officer, Kenny Jacobs added: "As the largest airline in Spain, we are excited to open Travel Labs Spain in the heart of Madrid, where we have already recruited 50 of the best and brightest talent to join our online travel revolution. We will continue to grow Spanish employment by delivering a total of 250 new jobs and we look forward to building our team."
Travel Labs Madrid will hold a 'Hackathon' on 20th and 21st January and will be inviting Madrid's best talent to take part and build an app that solves real world corporate challenges. Further details of the 'Hackathon' will be published on the Ryanair.com website.
Ryanair has already filled 50 of the 250 positions across a range of roles in back-end and front-end development, testing, data analysis, digital experience and social media. Recruitment is continuing for front-end developers, C# developers, full stack developers, data engineers, QA engineers and insight analysts.