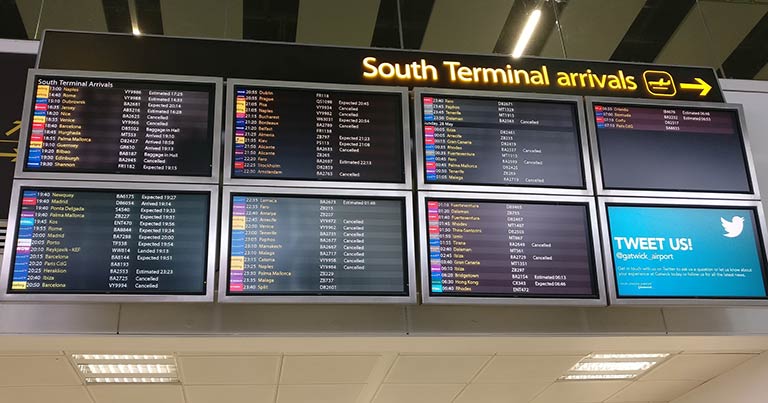 Gatwick Airport has become the first major airport in the world to complete the rollout of a cloud-based flight information display system (FIDS).
The project started back in 2015, when Gatwick Airport engaged AirportLabs to develop a cloud-based FIDS in line with its cloud migration strategy. The vision was to develop a new generation system for flight information, which is reliable, accessible from anywhere, scalable and resilient.
The new system, VisionAir, has a redundant, fault tolerant and geographically distributed architecture, and it optimises the data transfer required to keep the screens up to date.
The deployment at Gatwick, which covers 1,200 screens, only takes up around 3mbps of bandwidth on average. The VisionAir system can run natively on some smart TVs and it doesn't require a PC behind the screen to control the display.
The cloud-based FIDS has a number of other advanced features. The system can run from an internet browser and it doesn't require any local software installation; screen layouts and content can be enabled for specific zones within the airport, from a mobile device or from a control room; it has capability to control backlight for some screen models, which could help in reducing the carbon footprint of the system; content management can be governed collaboratively, giving some control to the airline or ground handler in certain zones; and different types of content (advertising, emergency messaging, weather, operational status and flight information) can be managed from the same cloud-based system.
Gatwick started the replacement of its legacy FIDS with VisionAir in 2016 and the deployment is now complete across the airport. In addition to powering all of the passenger-facing flight information screens at the airport, the system also powers remote display screens over 4G, as well as screens at nearby hotels over the internet.