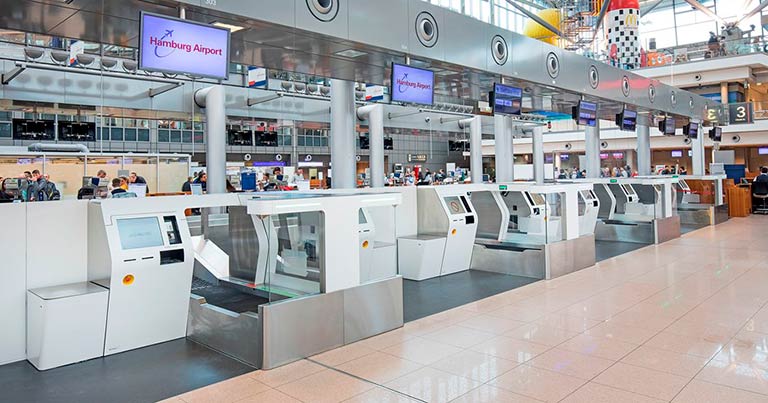 Hamburg Airport has held a special event to mark the official opening of its self-service bag drop system. The 10 self bag drop units have been in operation since November 2017 but the airport held its official event on 23 January 2018.
Passengers flying with Air France, KLM and easyJet can make use of the Materna-supplied self-service units, and other airlines are expected to be added to this list in the future.
"Already after just a short period of operation, we can see that our passengers are not having any problems with the new equipment," said Johannes Scharnberg, Director of Aviation at Hamburg Airport.
"We are very happy with the system's stability. Many of our passengers have already discovered the benefits of the kiosks for themselves and given us very positive feedback. We have hardly encountered any technical anxiety on the part of our passengers. The system is straightforward and self-explanatory." Scharnberg also explained that staff are always on hand to provide assistance if needed.
Hamburg Airport first introduced self-service bag drop three years ago but the new common use system includes additional features such as baggage classification. "The kiosks immediately detect items that shouldn't be conveyed using the automated baggage transportation system," explained Reinhard Augustin, Sales Director at Materna.
"The passenger is then informed via the display that the item is to be checked as oversized baggage. This applies, for example, to folded strollers and prams, as well as to trekking backpacks with dangling shoulder straps that could block the conveyor system."
Also, all checked items are automatically photographed. "In the event of damage or loss, for example, this makes it easier for the passenger to prove that the baggage was in good condition when it was checked in," Augustin added.