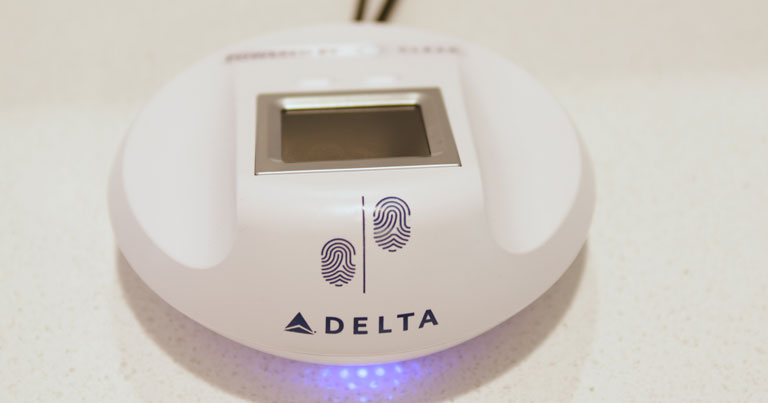 Delta Sky Club members who have signed up for CLEAR's biometric service can now use their fingerprints to enter all 50 US Delta Sky Club locations.
The experience is made possible through Delta's new biometrics programme – Delta Biometrics powered by CLEAR – which is free for Delta Sky Club members who are US citizens or permanent residents, and has the potential to streamline check-in for millions of lounge visits each year.
"From unlocking our phones to entering the workplace, more and more people have the option to use biometrics and a form of identity verification for daily activities," said Gil West, COO, Delta. "Having that option is quickly becoming an expectation that we are working hard to meet through this programme."
The consistent and seamless Delta Biometrics experience is made possible through CLEAR, which allows eligible customers to forego a paper or mobile boarding pass, or Club membership card, by securely verifying customer identity when they place two fingers on the designated fingerprint reader.
Delta Sky Club members with CLEAR can take advantage of this new touch point immediately. For Delta Sky Club members without a CLEAR membership who are US citizens or permanent residents, enrolling in Delta Biometrics is easy, free and optional by visiting a CLEAR enrolment kiosk located in the 14 Delta Sky Club locations across the country.
Launching Delta Biometrics across a single touch point is a natural extension of the airline's ongoing, optional biometric testing over the past year, including Delta Sky Club check-in and boarding at Ronald Reagan Washington National Airport, check-in at Atlanta International Airport B Concourse, and bag drop at Minneapolis–Saint Paul International Airport.
US-based Delta SkyMiles members also enjoy exclusive rates for CLEAR membership, including complimentary membership for Diamond Medallion Members, since June 2016, enabling them to speed through security at more than 20 US airports.
"Delta Biometrics and our work to make this kind of programme available across Delta touch points is part of our ongoing commitment to finding secure, innovative solutions that actually improve the customer experience while giving our employees tools that help them engage more meaningfully with customers. We will continue to gauge employee and customer feedback to refine the offering, and evaluate additional touch points where biometrics can make travel seamless," West continued.
Delta Biometrics features a new, enhanced scanner that was designed in response to employee and customer feedback throughout the testing phase. The scanner includes the following features:
Ergonomic finger supports and angled fingerprint reader to optimise hand angle and promote successful scans.
Intuitive sound and lighting check-in response for customers and ambassadors, so the processing signals are easier to understand.
Redesigned, sleeker device that was custom-built around the encrypted fingerprint reader.
"CLEAR is thrilled to continue partnering with Delta to help facilitate a frictionless travel experience through this new check-in option powered by CLEAR's secure, proven technology," said Caryn Seidman-Becker, CLEAR's co-founder and CEO.