Here at Future Travel Experience, through our events, media and thought leadership efforts we like to stay focused on the future, but as part of our ongoing efforts to help airports and airlines keep on top of the latest products in the marketplace, we were on-site at Passenger Terminal Expo in Stockholm last week, where we were on the lookout for solutions that can improve today's airport experience.
Before arriving in Sweden we expected some key trends to dominate the expo – including biometric-enabled processing and the use of mobile technology and apps to simplify the passenger experience – and we weren't disappointed. Here we highlight a selection of the most eye-catching products and services that we found around the show.
Vanderlande's baggage handling revolution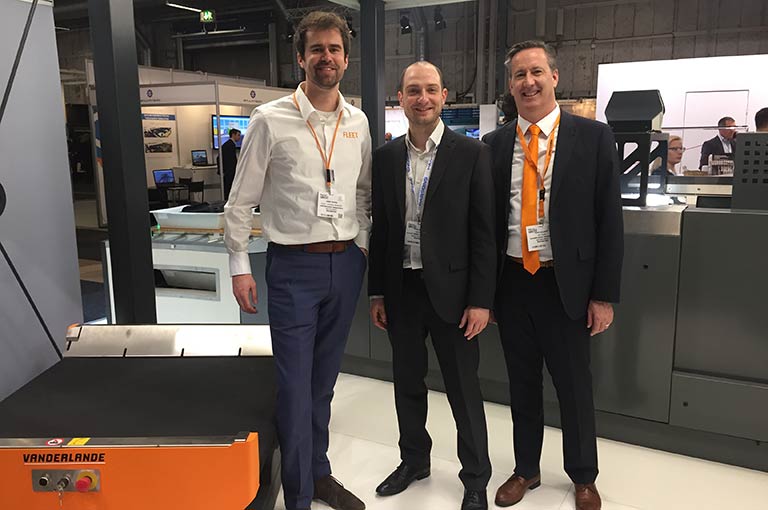 Future-proofing baggage handling is a hot topic for airports, especially as the number of passengers and bags being processed continues to rise. Vanderlande has a revolutionary (and we don't use that term lightly) solution: FLEET. The flexible baggage logistics solution utilises intelligent automated guided vehicle (AGV) technology, which replaces the need for fixed conveyors and sorting systems. Each vehicle within the fleet carries a single bag and determines the most optimal route through the airport for that piece of luggage. A vehicle can also be given priority, which can help to guarantee the on-time delivery of bags to where they need to be.
Here at FTE, we are always on the lookout for solutions that can redefine the way passengers and bags are processed through the airport and FLEET certainly grabbed our attention. Rather than making minor upgrades to existing legacy airport infrastructure, Vanderlande is proposing nothing short of a re-write of the baggage handling rulebook to support the demands of 21st century airport operations. FLEET is already starting to gain buy-in from airports. In fact, Rotterdam The Hague Airport and Vanderlande have just announced a joint innovation project, which will see the Dutch airport host the first live FLEET baggage handling operation.
Huawei's ICT expertise to support smart digital transformation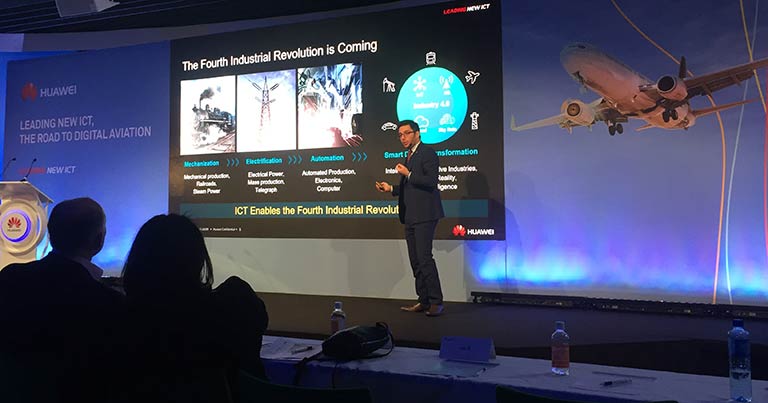 "Huawei wants to bring digital innovation to this industry," declared Yuan Xilin, President of the Transportation Sector, Huawei. The Chinese company, which has joined IATA's Strategic Partnerships Program, outlined how it will use its advanced ICT innovations and expertise to help develop smart airports and airlines. Huawei, whose ICT products and services have already been adopted by more than 50 airports, airlines and ATC authorities, clearly has big ambitions in the airport/airline sector. During a dedicated briefing the company disclosed its plans to become the "best partner for aviation digital transformation by providing one-stop ICT solutions to help customers enhance services and create a seamless passenger experience". Huawei showcased its full suite of ICT solutions, covering aviation hybrid cloud, airport agile network, and airport visualised operations. Rachad Nassar, Business Development and Marketing Manager, added: "We are an enabler…we are providing the nervous system for the smart digital transformation."
Airport security advancements – brainwave scanning technology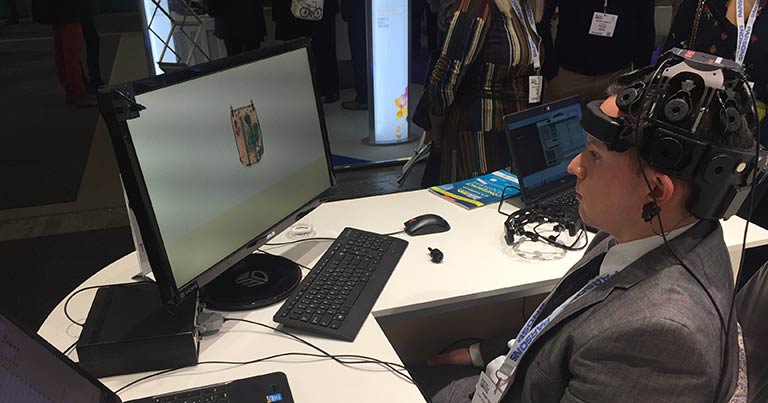 Providing the highest level of security while keeping queues as short as possible is a conundrum that every airport can relate to. During a visit to the ICTS Europe booth, FTE had the opportunity to preview InnerEye – a unique EEG (electroencephalogram) solution designed to facilitate real-time threat analysis of visual data by analysing the brainwave activity of X-ray screeners. InnerEye allows screening staff to view up to three images per second – 15 to 20 times more than current screening methods, explained Uri Antman, CEO of InnerEye. This combination of human visual perception, classification of brainwaves and computer vision algorithms speeds up the process of viewing X-ray images and identifying potential threats, and can therefore significantly enhance efficiency at the airport security checkpoint.
Biometric bag drop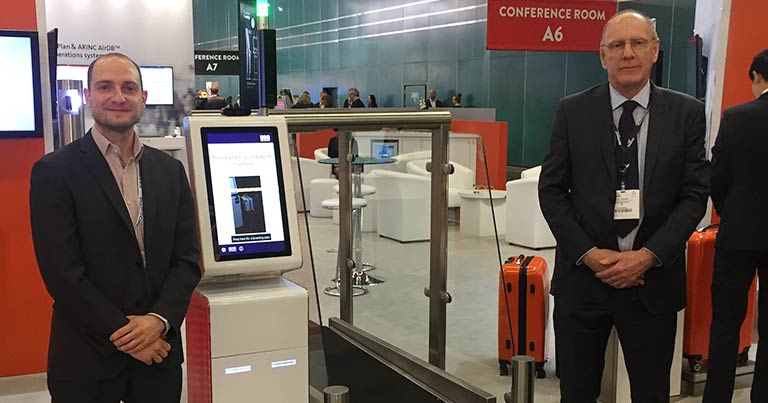 Biometrics was also a key theme on the Rockwell Collins stand, where the company was showcasing its own biometric-enabled bag drop solution, as Tony Chapman, Senior Director Marketing, Product Management and Strategy, demonstrated. He explained that interest in biometric processing has spiked, largely because the company can now provide tangible use cases. "With the biometric-enabled bag drop, there's an immediate use case there – we're doing passport validation on the kiosk and then facial validation on the bag drop so it's completely self-service. I think everybody's woken up to the fact that there is a real, immediate use case there," he said. Chapman and the Rockwell Collins team also revealed that the company has renewed its long-standing partnership with Las Vegas McCarran International Airport. The agreement focuses on Terminal 1 and covers the refresh of more than 170 common use self-service kiosks, self-boarding gates, a local departure control system and ARINC BagLink. A trial of self-service bag drop including RFID bag tag activation is also ongoing.
McCarran International Airport to host FTE Global 2018 – 10-12 September, Las Vegas. Find out more >>
Beacons, biometrics and more
From biometrics to beacons, SITA showed FTE a raft of products and technologies that can make a positive impact in the airport terminal. Biometric-enabled, self-service bag drop – integrated into the wider single token travel experience – was on show, and Stephen Challis, Product Development Lead, provided FTE with a live demo. "Airlines and airports around the world have invested in self-service and now they can see how they can upgrade to this new level of capability," he said. The integration of biometrics into self-service touchpoints can help to make air travel more "simple, fast and secure", he explained. SITA was also showcasing the capabilities of beacons, which could track passengers (who have opted in) in the airport environment and help deliver efficiency benefits to airports and airlines. For example, if a gate is due to close and the airline can see that the passenger is still 20 minutes away, the carrier can make an informed decision as to whether to wait for the passenger or unload their bag and close the flight.
Vision-Box: consistency and modularity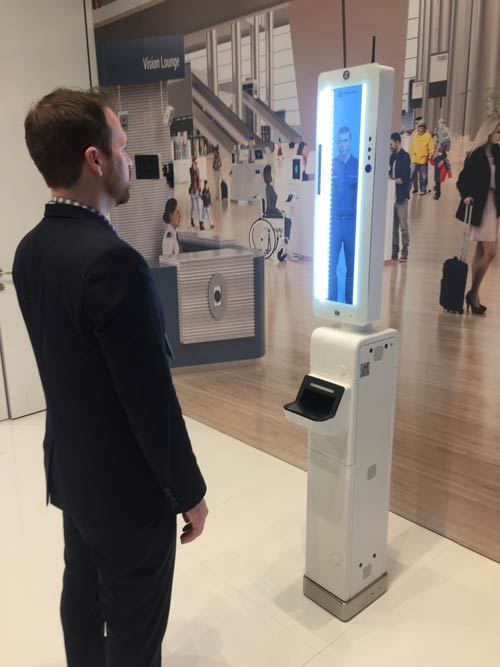 Vision-Box's portfolio of self-service, biometric processing solutions now features virtual assistants, which have been developed to help simplify the passenger journey and bring a level of consistency and familiarity to the airport experience. The touchpoints feature digital screens with specially designed characters that can help to guide passengers through the document/biometric check process. "Modularity" is also an important term for the Vision-Box team. A handful of standardised modules can now be freely combined to build versatile biometric touchpoints for any passenger processing purpose, from check-in and bag drop to border control and boarding. "This modularity is very important in order to easily support future updates and upgrades for our customers," said Aaron Beeson, Director Business Solutions.
Virtual reality airport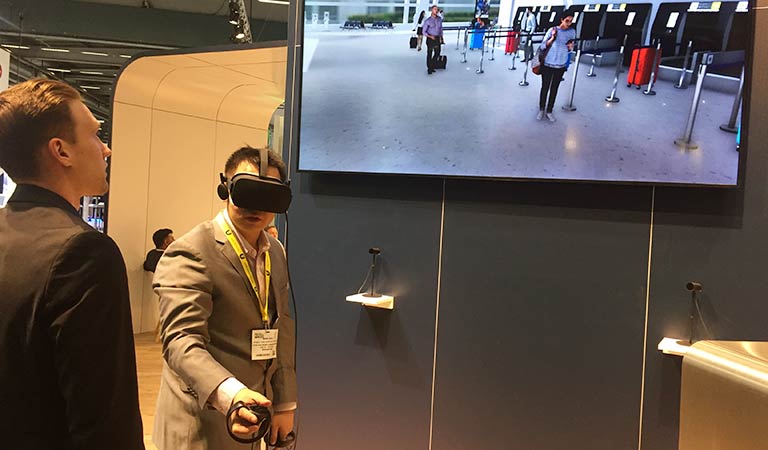 Selecting new equipment for an airport terminal is one thing, but envisioning what it will look like and how it will affect the passenger experience is a rather different matter. To address this, Materna now offers a virtual reality (VR) showcase, which allows people to experience its self-service solutions in a virtual airport environment and experiment with different options. For instance, you can experience the difference between a one-step and two-step bag drop process, and experiment with various scanning and printing options. As Jana Eull, Senior Marketing Manager, explained, the customisable VR solution can be tailored to the needs of any airline or airport. During our visit to the Materna booth, we also got to experience a new self-service bag tag printer that is being trialled by Lufthansa and is successfully speeding up the bag tag printing process. Also on show was "on the move" biometric technology, which speeds up biometric checks and removes the need for passengers to be stationary while the validation process is undertaken.
Robot concierge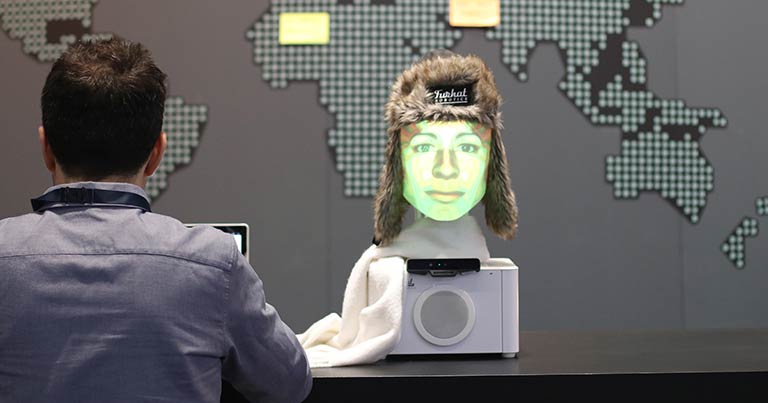 On the Scarabee booth, Swedish robotics startup Furhat Robotics introduced FTE to its social robot, which can provide assistance to passengers in the airport terminal. The multi-lingual "robot concierge" can provide information on things like departure times and directions to specific areas within the airport. In fact, the company has just announced a partnership with Deutsche Bahn and Fraport to trial "FRAnny" the robot concierge at Frankfurt Airport. Alexandra van Rijn, Brand Manager, Scarabee Aviation Group, explained that Scarabee sees potential in the solution, which could also bring some value to the airport security experience, where travellers often have questions about the process.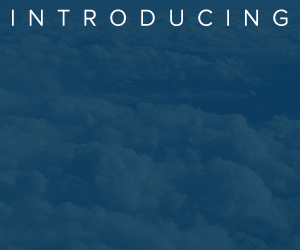 Augmented reality airport applications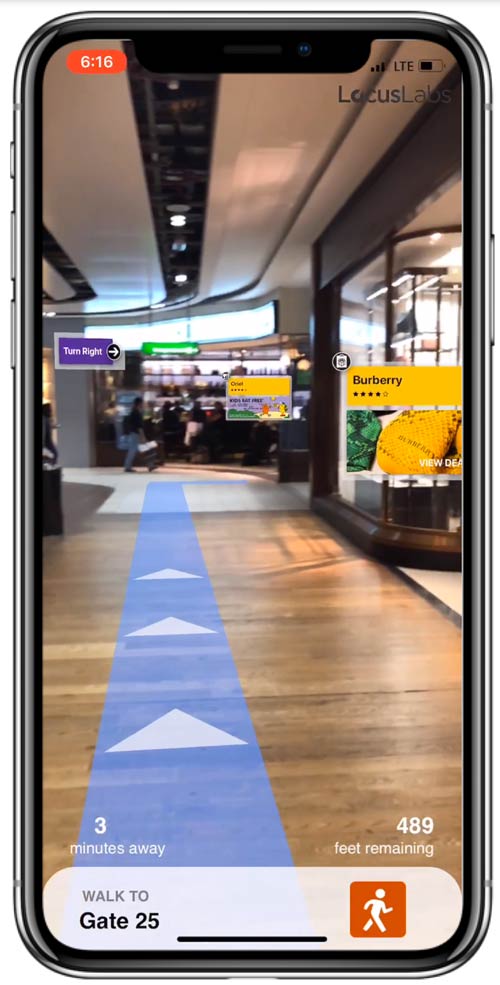 LocusLabs, whose information-rich indoor location platform is already in use in over 100 transit hubs, highlighted the benefits of augmented reality (AR) technology to FTE. The first use case relates to wayfinding and involves using AR to provide passengers with turn-by-turn directions through the airport. Campbell Kennedy, CEO and Co-founder, revealed that LocusLab's AR wayfinding is currently being trialled in major international airports. The second use case is signage translation. The technology allows passengers to view a translated version of airport signage simply by holding their smartphone camera up to the sign – a great tool for passengers who don't speak the local language.
AR continued…
Cherrypicks also highlighted to FTE how the use of beacons and augmented reality technology can simplify the passenger experience in the airport environment. As Hollie Yeung, Business Analyst, demonstrated, the Starbeacon solution, which has already been deployed at Hong Kong International Airport, allows passengers to navigate their way through the airport with the help of turn-by-turn, augmented reality-enabled wayfinding using their smartphone. Travellers can also translate airport signage into their native language in real-time, thanks to the use of AR technology.
All-in-one app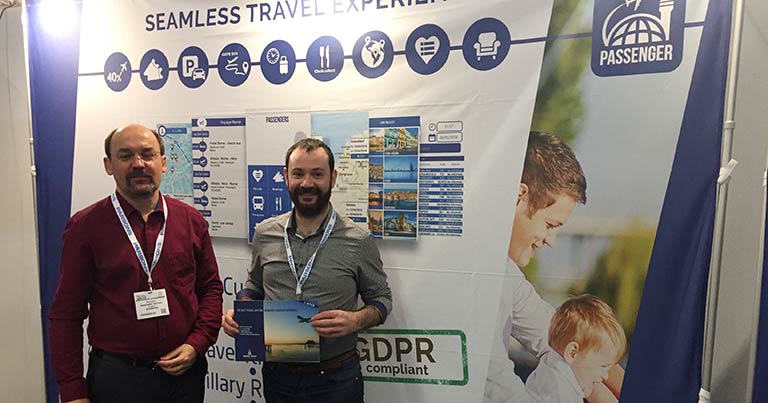 Today's travellers expect an airport app to provide more than just the latest flight information. With this in mind, Monument Tracker, which is already working with Paris Aéroport, provides airport information, city guides, and booking functionality for everything from airport lounges to destination tours in a single app. The Paris Worldwide app, developed for the operator of Paris-CDG and Orly airports, allows travellers to plan their trip, shortlist places of interest in the city, book tickets for activities like the theatre and city tours, and reserve airport parking, for instance. As Jean-Jacques Lottermoser, CEO of Monument Tracker, explained, the company already offers destination-specific content for 200 cities around the world.
Introducing MYVIA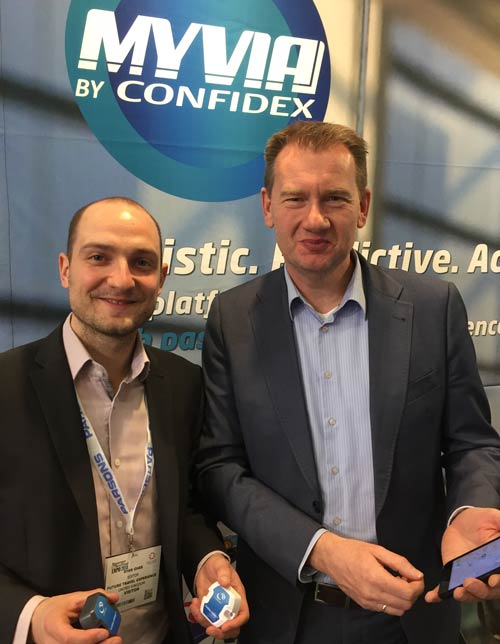 Following the official launch of MYVIA by Confidex, FTE caught up with Paul Broekhuizen, VP Sales & Marketing and Head of MYVIA, to find out how the platform can deliver benefits to passengers and staff. The solution, which makes use of Bluetooth Low Energy (BLE) beacons, provides passengers with wayfinding guidance and supports proximity marketing in the airport terminal. Airports can also benefit from real-time tracking of passengers and assets across the airport. Broekhuizen explained to FTE that MYVIA is a win-win solution because it provides a platform to deliver a more personalised passenger experience and can also boost concession revenues and enhance operational efficiency.
Sleeping solution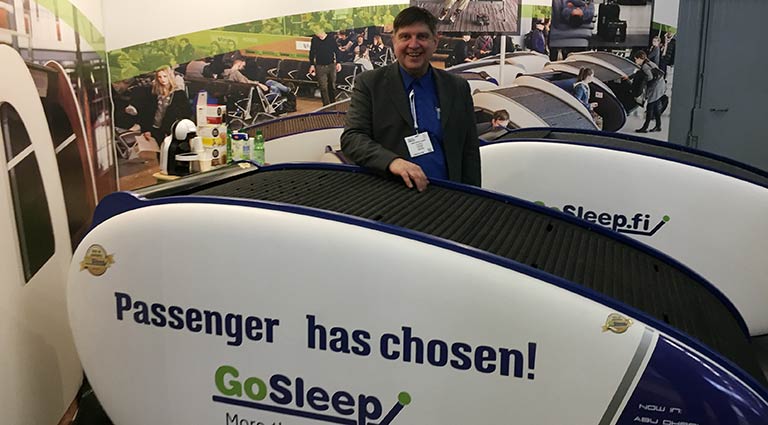 Buoyed by the news that it will receive over €1 million from the European Innovation Council's fund to support entrepreneurs and small companies, the GoSleep team explained to FTE how its sleeping pods are helping to improve passenger comfort at airports around the world – from Amsterdam to Xi'an. The GoSleep pod provides a private space for passengers to get some rest in the busy airport environment. Travellers can pay by the hour for access to a pod, which provides a fully flat bed, space to store hand luggage, USB port, and a retractable shade to keep out the light and sound from the surrounding environment. "I love the fact that our product can help everyday passengers," said Esko Koikkalainen, CFO and Founder of GoSleep.
'Amazon of airport services'
National Aviation Services' (NAS) Information Technology Project Manager, Mohammed Kettaneh, told FTE that the company has plans for its FastTrack.aero platform to become "the Amazon of airport services". The platform allows travellers to purchase fast track services at airports around the world, book Meet & Assist, and pre-pay for lounge access. Kettaneh explained that services can be booked at more than 100 airports already – including the likes of Abu Dhabi and Dubai International – and discussions are ongoing to add more airports to the network. For airports, the platform provides a double boost in the sense that it can provide passengers with easy access to services that can improve their experience, while generating revenue from services that passengers may otherwise have overlooked.
One look, two biometrics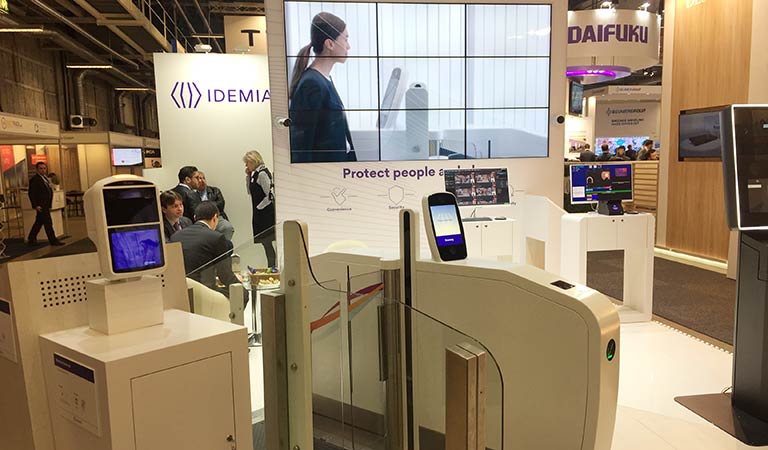 Idemia, whose trusted biometric identification and authentication solutions can be found in Changi Airport's self-service-centric Terminal 4, highlighted its new OneLook solution. OneLook enables seamless face and iris capture on the spot, providing fast, two-pronged biometric trusted identification. "One look, two biometrics" is how Idemia's Pierre Bonjour summarised the product to FTE. Also on show were the MorphoWave and MorphoFace solutions, which use fingerprint and facial recognition technology respectively to secure and expedite passenger processing.
DIY processing
FTE caught up with the ICM Airport Technics team, who off the back of the recent announcement that its self-service bag drop system is now live in Sydney Airport's Terminal 1 International, were showcasing the bag drop portfolio. During the show, Heathrow Airport revealed its own plans around self-service bag drop, for which it has also partnered with ICM. The London hub will deploy as many as 255 self-service bag drop units across terminals 2, 3, 4 and 5, as well as more than 350 self-boarding gates.
Digital revenue streams
Heathrow also revealed that AOE's OM³, or Omnichannel Multi-Merchant Marketplace, platform is now live. This allows the airport to digitalise its non-aeronautical revenue streams, and 300 luxury brands can now share their products with Heathrow's passengers, providing greater choice within the current Reserve and Collect service. The OM³ platform is also being utilised by Frankfurt and Auckland airports, as well as Singapore Airlines.