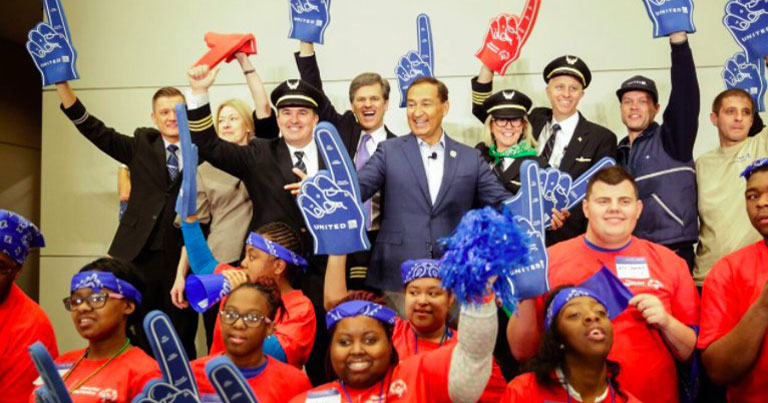 United Airlines has announced that it is strengthening its global relationship with Special Olympics International, celebrating their shared vision to end discrimination against people with intellectual disabilities. This marks the next step in United's relationship with Special Olympics that represents a continued effort to break down barriers and further build on the organisation's efforts to be inclusive.
"We are honoured to evolve our relationship with Special Olympics, an organisation that embodies United's spirit of inclusion and connecting the world," said Oscar Munoz, Chief Executive Officer at United Airlines. "Special Olympics has always been near and dear to many United employees in many of the cities we serve."
As part of the partnership, United will implement new employee training scenarios to make travelling a positive experience for individuals with intellectual disabilities. By the end of 2018, more than 60,000 frontline employees will participate in new training modules that reflect Special Olympics' insights as the airline takes steps to lead in inclusion.
"At Special Olympics we believe everyone has a role to play in ensuring inclusion," said Timothy Shriver, Chairman of Special Olympics International. "Expanding our relationship with United will help provide a platform to drive inclusion throughout its network aiding us in our efforts to create a more inclusive world."
Through this commitment, United will also support Special Olympics 50th Anniversary celebrations in Chicago and the 2018 Special Olympics USA Games in Seattle. In other parts of the US, United will be represented at Special Olympics events where customers and employees live and work including San Francisco, Los Angeles, Denver, Houston, Chicago, Virginia, New York and New Jersey.