In recent years, airline innovation labs have gained increasing popularity, thanks largely to their use of cutting-edge technology to help drive the industry forward. If utilised correctly, labs can be positioned at the core of a company, constantly experimenting and coming up with new ways to improve operations and enhance the customer experience. FTE speaks with Sveinn Akerlie, CIO at WOW air and Head of WOW labs, about the airline's innovation strategy and taking full control of its data.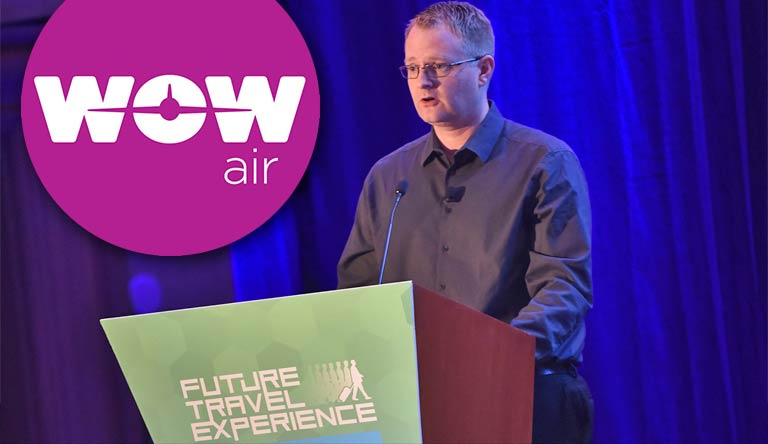 WOW air has grown rapidly since its inaugural flight in 2012. In fact, the airline nearly doubled in size over the past 12 months, growing seat capacity from 1.52 million in 2016 to 2.98 million in 2017.
Offering affordable flights and providing a good level of service, however, requires a strong innovation-driven approach to optimising operations. Iceland's ultra-low-cost carrier has certainly recognised this need and at the forefront of its strategy is WOW labs, WOW air's innovation centre.
2017 was an eventful year for the carrier, also because it tripled the number of people working in WOW labs to 40, released a new Internet Booking Engine (IBE), embarked on a mission to gain full control of its data, and started work on a crew application to increase communication with crew members and an Electronic Flight Bag (EFB).
"In need of disruption"
Akerlie, who will be participating in the FTE Tech Download Think Thank, which will be exclusively unveiled at the co-located FTE Europe and FTE Ancillary events in June 2018, explains: "Innovation has been focused on user experience and rightfully so. Massive friction still exists in the passenger experience, which can still be greatly improved. This is all built on top of legacy infrastructure, which is significantly slowing down innovation for airlines. There are no two ways about it – this industry is in dire need of disruption!"
Indeed, the challenge of legacy systems in travel is a growing issue, and WOW air has found a way to tackle this by implementing a mission to take full control of its data. Akerlie explains: "By taking control of our own data, we make sure all vendors connect to us, rather than creating a labyrinth of connections between vendors where we might even be left out of the loop. If you succeed at this mission, you can replace modules and better yet you are in full control of your data. Where the vendors fall short in delivering solutions we can build the logic at our end."
"The very beginning of operational transformation"
As the year unfolds, WOW air will be channeling innovation to improve operations. Particularly, the airline is currently in the process of integrating real-time sources of data to further increase its OTP (on-time performance). Akerlie continues: "Operations have been left decades behind in terms of innovation. I would say even though we have seen some positive first steps here, we are just seeing the very beginning of operational transformation. Every airline will eventually be forced to focus some of their innovation efforts on operations."
As a young airline, WOW air has proven that it is dedicated to innovation. In terms of new technology, Akerlie, who is a member of the FTE Advisory Board, believes that the New Distribution Capability (NDC) is "finally breaking through and is something everybody should be moving towards".
"WOW air is always experimenting with new products and being able to expose those products using NDC through all sales channels is very important. I think NDC is also a positive sign that the industry can evolve." He adds: "Although it's not groundbreaking to provide XML via API but rather something you would expect as a bare minimum, it is something that has not existed and therefore we should be happy about that. It also opens the industry up for startups and we have already seen some interesting innovations."
Looking ahead, apart from striving to constantly integrate new technology, WOW air will also focus on continuing to recruit qualified people to join the team. As Akerlie says: "Bright minds spark bright ideas."