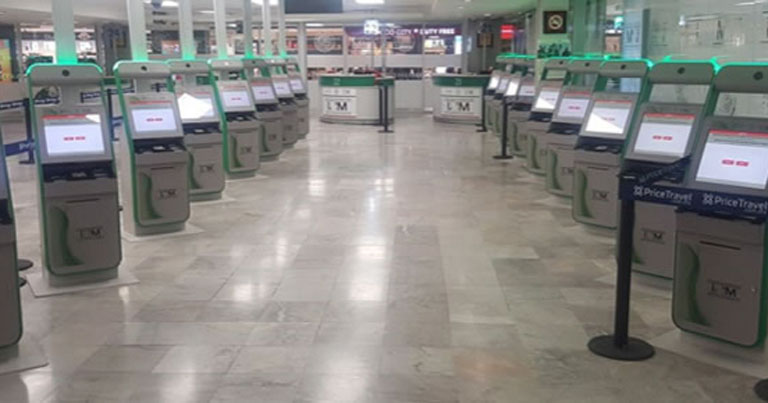 The Federal Government of Mexico is strengthening border control by automating the entry process with the introduction of SITA's Automated Border Control kiosks. The new kiosks, which have been rolled out across three major airports – Mexico City, Cancun and Los Cabos – will use biometric technology to capture fingerprints to verify passengers' identities and improve national security.
Initially, the automated border control kiosks will be used to securely identify passengers as they enter the country. Later on, they will facilitate the full admission process for Mexican citizens and those non-citizens who do not require a visa for entry. Arriving passengers will use the kiosks to provide standard travel information to the authorities, place their hand to be scanned for fingerprints, and once their identity is verified against the INM (National Institute of Immigration) database they will be given the all clear to enter the country.
Enrique De la Madrid, Secretary General, SECTUR, the Mexican Ministry of Tourism, said: "As visitor numbers at international airports grow, the need for migration agents grows as well, but we have the technology to help us overcoming that challenge. This automation will ensure security and facilitate the arrival of visitors to the country."
Elbson Quadros, SITA Vice President, Latin America, added: "This is an exciting development in Mexico. The country is well known for its tourism and our automated border control kiosks will improve the experience for passengers at these key airports. As with most border management operations, making this improvement involves many government agencies working together with various airport operators. SITA is the integrator working with all parties, drawing on our decades of border automation experience with more than 40 governments worldwide, to deliver a secure and seamless passenger journey in Mexico."
Automating the entry process will help speed up passenger processing while maintaining high levels of security. The full rollout across Mexico City, Cancun and Los Cabos International airports is now complete and the 100 SITA kiosks are expected to securely process close to eight million arrivals in the first year.