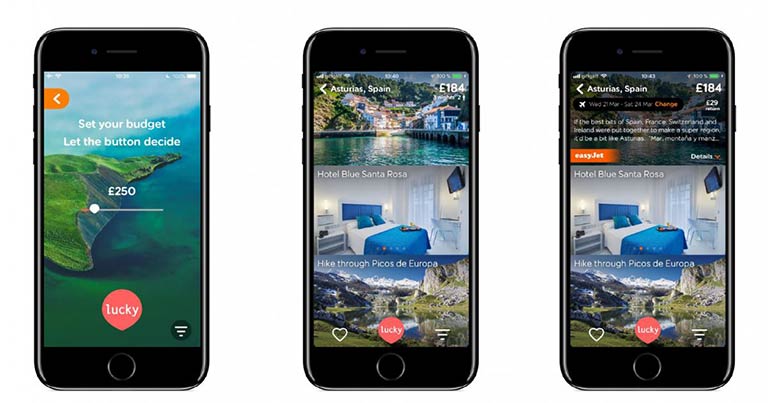 easyJet has integrated LuckyTrip into its iOS mobile app, making it easier for travellers to find their ideal trip.
LuckyTrip enables travellers to find a unique trip tailored to their needs with just one tap, applying filters to fit their preferences such as a relaxing beach holiday or an active city break, and letting the app recommend the ideal flights, destination, hotel and even activity. If the traveller is looking for inspiration, they can simply select their budget and tap 'Lucky' to see one of hundreds of trips across Europe.
LuckyTrip is one of a number of portfolio companies from corporate backed accelerator and incubator, Founders Factory, which easyJet partnered with in 2016.
James Millett, Director of Digital, Marketing and Brand at easyJet, said: "easyJet is really excited to have launched LuckyTrip on our iOS mobile app, providing a brand new and innovative experience for our customers to book their perfect trips.
"LuckyTrip is one of the fantastic companies Founders Factory and easyJet are supporting as it addresses strategic opportunities within the travel industry, helping to keep easyJet at the forefront of travel tech."
Tiff Burns, CEO at LuckyTrip, added: "We started LuckyTrip in the kitchen of our flat in Hackney just a couple of years ago – we're now the fastest growing travel inspiration app in Europe. Our mission is to inspire people to see the worlds hidden gems in the tap of a button.
"The more unique the better – think pink beaches, haunted forests, secret lagoons, that's what LuckyTrip is all about. Partnering with easyJet is a big milestone for us and we're excited to bring the LuckyTrip experience to millions of new customers."