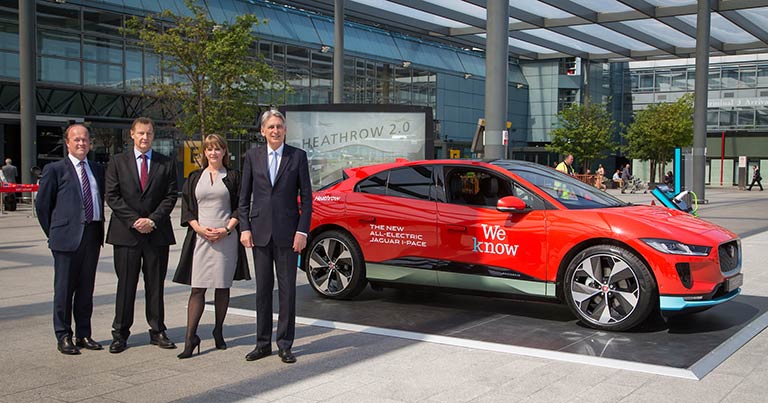 Heathrow Airport, Jaguar and travel services company WeKnowGroup have signed a deal that will see a fleet of up to 200 fully-electric Jaguar I-PACE vehicles made available to passengers for travel to and from Heathrow.
The service, which will go live in summer 2018, will create the largest chauffeur-driven fleet of electric vehicles in the UK and support Heathrow's commitment to improving air quality around the airport.
Initially the fleet will be made up of 50 I-PACEs, with the option to add a further 150 cars in the next 12 months. This fleet will support up to 1,000 electric vehicle journeys to and from Heathrow each day – saving over eight tonnes of nitrogen oxides (NOx) emissions each year. To support the service, WeKnowGroup will be installing a dedicated charging hub at Heathrow, which will be the largest in the UK.
Designed and engineered by Jaguar Land Rover in the UK, the all-electric I-PACE carries a state-of-the-art 90kWh Lithium-ion battery and is capable of a range of 298 miles.
Emma Gilthorpe, Executive Director at Heathrow, said: "We are thrilled to be working with two British companies on this landmark initiative to support more sustainable transportation choices for our passengers.
"We will not compromise on our commitments to the environment and our local community and we remain focused on addressing the impact road vehicles have on air quality on the roads around the airport. These I-PACEs are the latest in a long line of initiatives we are taking to ensure that we do not force a choice between the economy and the environment – and that we can deliver benefits for both."
Heathrow already has a large corporate electric vehicle fleet and the highest density of charging infrastructure in Europe, and is taking further action to promote the take-up of electric vehicles in and around the airport.
This includes a year-on-year increase in more electric vehicle charging points through a £5m investment, the trial of electric buses for airside passengers, and plans for an ultra-low emission zone airside. Heathrow has also signed up to EV100, a global initiative bringing together forward-looking companies committed to accelerating the transition to electric vehicles.