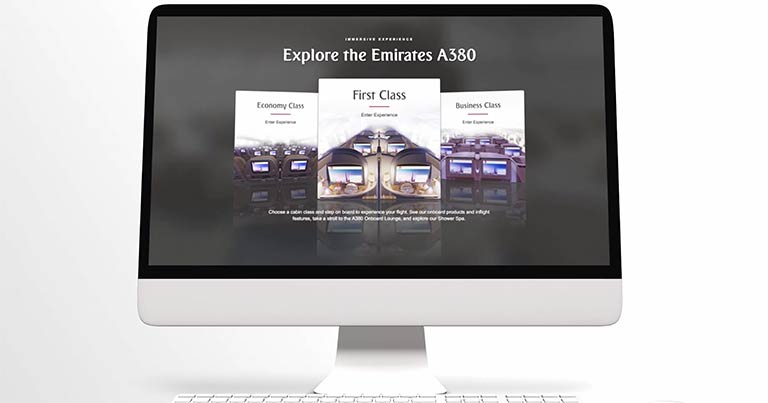 Emirates has introduced 3D seat models on emirates.com, becoming the first airline to introduce web virtual reality (VR) technology on its website. The 3D seat model is a visualisation engine that displays an immersive 3D 360-degree view of the interior of the airline's Airbus A380 and Boeing 777, allowing passengers to explore their seats, the cabin and the Emirates onboard product ahead of their flight.
This new feature allows users to navigate through the Economy, Business and First Class cabins, as well as the iconic Onboard Lounge and Shower Spa on the Emirates A380 using navigational hotspots. Emirates has partnered with Renacen/3D SeatMapVR – an FTE Europe & Ancillary exhibitor – to deliver this benefit to its customers.
Alex Knigge, Emirates' Senior Vice President, Corporate Communications, Marketing and Brand (Digital), said: "As we continually invest to provide our customers with an unmatched travel experience onboard and on the ground, we also work very hard to give our customers a world-class digital experience. We are pleased to be the world's first airline to introduce this cutting edge web VR technology, which offers our customers an immersive opportunity to learn more about the fantastic Emirates experience before they step on board. In our usability tests with customers, we found that they particularly appreciated the 3D seat and cabin models when selecting their seats."
The immersive experience is now available for the three-class Emirates A380 but will soon include renderings of Emirates' entire fleet including all configurations of the A380 and Boeing 777 aircraft.
The 3D 360-degree views of the cabins also feature a virtual reality element for a more immersive experience. Users can enjoy hands-free cabin navigation and seat selection by using any VR headset like Google Cardboard. This technology is compatible with all devices without the need for external applications or plugins.
Customers accessing emirates.com via their mobile devices or the Emirates app for iOS and Android will also be able to explore their seats before checking in online with the 3D seat map. The tool allows customers to navigate from one seat to another, and even allows users to book their preferred seats from within the 3D environment.