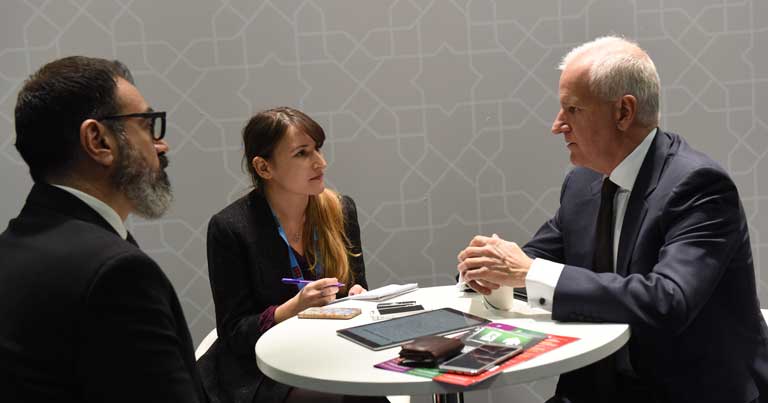 Correction: This article has been updated to reflect the fact that the 12 self-service bag drops have been provided by CCM Airports Interiors.
Hamad International Airport (HIA) has experienced a substantial increase in passenger traffic this year. In Q3, the airport served a total of 9.68 million passengers, making it the busiest quarter of the year so far with a 10.6% increase in passenger traffic year-on-year.
The growing number of passengers is testament to HIA's resilience since the operational blockade in June 2017.
"Our main ambition now is to keep up with the growth. After last year's situation we are growing again, so of course, the challenge is to manage our capacity while expanding," says Ioannis Metsovitis, VP Operations, Hamad International Airport.
And while traffic is growing, HIA has taken up a strategy that is placing technological innovation in the centre of its efforts to provide the best possible passenger experience during the FIFA 2022 World Cup and beyond.
HIA's Smart Airport programme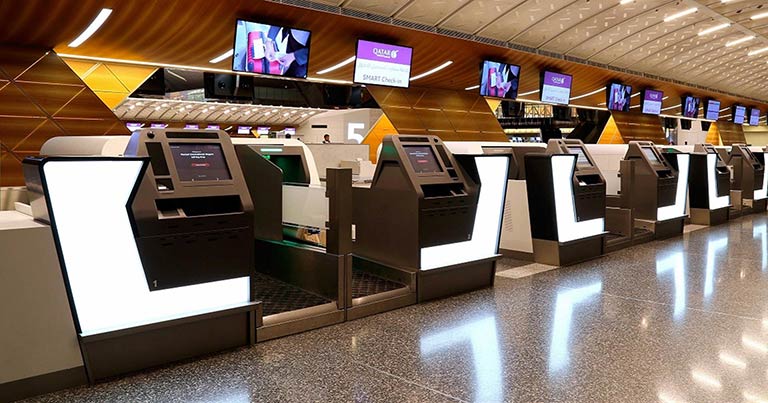 In fact, the airport very recently announced the successful completion of the first major phase of its Smart Airport programme, which enables its home carrier Qatar Airways to process more than 25% of its passengers using self-service check-in and bag drop facilities.
The airport has successfully commissioned 62 next-generation self-check-in kiosks, provided by SITA, and 12 unique self-service bag drops, provided by CCM Airports Interiors. Hamad International Airport and CCM have been jointly designing an innovative passenger experience in line with the Smart Airport paradigm, helping to place Hamad International Airport at the forefront of cutting-edge technology and smart solutions.
The "Hybrid Check-in Counter" concept was designed by CCM for Hamad International Airport's iconic terminal. CCM was able to deploy the hybrid self-service bag drop with an appearance matching the contemporary and sleek design concept provided by architects HOK for the existing Economy Check-in Area, including the incorporation of the back illuminated Onyx Stone.
Meanwhile, the self-service check-in kiosks are spread across the departures check-in hall and enable passengers to check-in, print boarding passes and bag tags, before tagging their bags and proceeding to the self-service bag drop.
A mobile Automated Visa Document Check, which is the first of its kind in any major airport worldwide, has also been implemented, which enables ground service agents to check a passenger's visa documentation before continuing their journey.
The airport has revealed that high quality and homogeneity of the check-in counters and self-service bag drops were key criteria, resulting in a unique and luxurious design of the new self-service facilities, which reflects the contemporary and sleek design concept of the terminal.
"In terms of the design, the feeling is that the passengers can flow through the terminal. So, from the moment they arrive at the airport and go to the terminal, it's a natural flow through the facility without any interruptions – it's something that is intuitive."
Although the check-in kiosks and self-service bag drop facilities are currently exclusive to Qatar Airways passengers, Metsovitis shares that the plan is to extend these services to other airlines in the future.
It is estimated that the processing of passengers will ultimately be up to 40% faster, vastly improving customer experience. This could, ultimately, prove to be the answer to allowing more passengers to be processed without the need for physical expansion of check-in facilities.
Biometrics and mobile technologies
So, what's next? Further exploring the use of biometrics is a continuous ambition for the airport. "We really want to look into biometrics and also mobile technologies. Technically speaking, biometrics will allow us to do everything – from the moment people check in at home, to the time they check in and board the aircraft, it will all be a single biometric system. In terms of mobile technology, we have these devices from the minute we wake up to the moment we go to sleep, so there is a lot of data potential to implement them in our processes. So, our ambition is to merge these two technologies into one."
The airport is also recognising passengers' trends towards a more independent way of travel, and is currently initiating new trials aimed at evaluating the effectiveness of robotics for passenger facilitation, and of blockchain technology for rapid and secure sharing of data across multiple stakeholders. Moreover, its Memorandum of Understanding (MoU) with SITA, signed in October 2017, provides a key framework to trial augmented reality (AR) and virtual reality (VR) technology solutions to further strengthen customer satisfaction.
The airport has also joined IATA's Smart Security initiative (SSMG) with the intent of developing a concept for a next-generation, state-of-the-art screening checkpoint design. HIA has been involved in organising a number of operational trials with different equipment to explore the best concept for future screening checkpoints and the deployment of new technologies.
50 million passengers in 2022
As Qatar is expecting to receive thousands of visitors during the FIFA World Cup in 2022, boosting airport capacity and reducing queues is a necessity. To help prepare Qatar for the World Cup, HIA is set to increase its passenger capacity from 30 million passengers to a target of more than 50 million per year.
"Of course, preparing for 2022 is our main goal. All eyes are on us now to be a successful operator and to be managing and doing our fair share of the effort that the whole country of Qatar is putting into the World Cup."
Looking ahead, Metsovitis also added: "Hamad Airport opened in 2014, so in airport age terms, we are very young. We are still growing and of course, now we have a stable operation, the plan for us is to basically up-scale the operations for the 30 days of the event itself, but also for the future. We don't want to build too much capacity only for a month. We know how to improve the processes to ensure that everybody who comes into the country experiences great service and passenger experience. We have the will and the ability to implement new technologies."