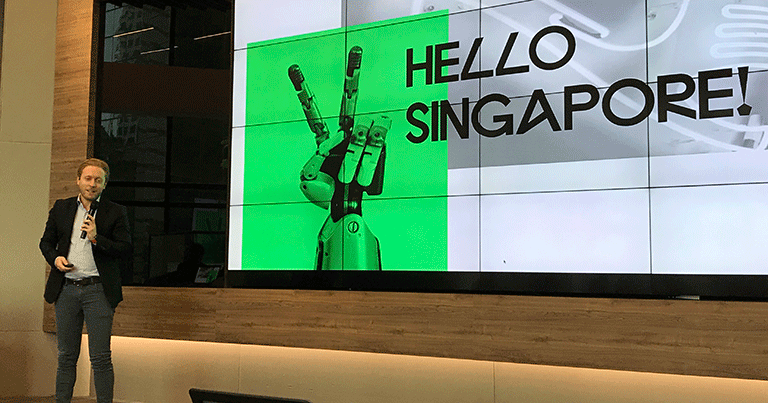 Future Travel Experience was onsite in Singapore this week to mark the official unveiling of a new Lufthansa Innovation Hub (LIH) office. It is LIH's second permanent presence and its opening will be swiftly followed by the introduction of a further office in Shanghai later this year as Lufthansa Group's innovation unit embarks on an ambitious expansion into Asia.
In Singapore, LIH, which opened its Berlin office in 2014, will focus on digitalisation and the latest travel and mobility technology and trends, while also establishing a network of relevant tech players and forging strategic partnerships.
Dr Christian Langer, Chief Digital Officer, Lufthansa Group and Co-Managing Director of Lufthansa Innovation Hub, explained that the expansion of LIH into Asia-Pacific, where Lufthansa Group itself already has a strong presence, is an important part of the Group's overall strategy as it "rethinks how our business might look in the future".
Digitalisation, product development and new business models
This strategy, he explained, is based around three "horizons". The first is the digitalisation of the Group's core; the second is to work to enhance the Group's own products; and the third is to create new business models. The third horizon, the focus on new business models, is where Lufthansa Innovation Hub is delivering significant value.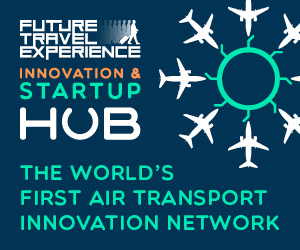 Gleb Tritus, Managing Director of LIH, explained the thinking behind the selection of Singapore as the location for the Hub's second office. He described Singapore as the "perfect starting point" for LIH to tap into the Asian market, explained that Lufthansa Group's existing presence in the Asia-Pacific region provides solid foundations, and identified the city-state's culture of innovation and the strong corporate, startup and academic scenes as key factors. Singapore is a "super-receptive test-bed for innovation", he added.
Looking at Asia as a whole, Tritus explained that 17 of the 34 travel and mobility tech unicorns (companies valued at more than $1 billion) are based in Asia, highlighting the region's role as a powerhouse in this space. "Our mission is to expand the Group's footprint along the travel chain to systematically create and capture value beyond flying," he said.
Tritus also outlined three strategic goals for the LIH Singapore office for the year ahead. The team will work to understand the specifics of the Asian travel and mobility tech ecosystem by systematically focusing on trend and market research; it will explore concrete opportunities and validate projects in Asia with local partners; and it will also leverage the expertise of Lufthansa Group colleagues in the digital context.
Lufthansa Innovation Hub partners with INSEAD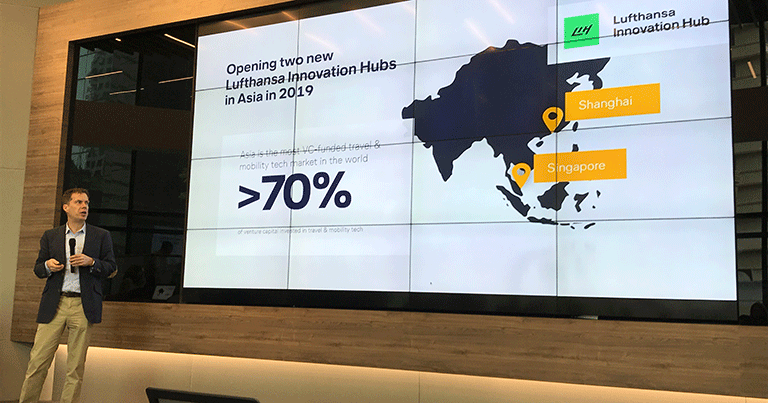 Collaboration with local partners is already well underway. LIH and INSEAD, one of the world's leading business schools, have announced a research alliance on the topic of "The Future of Work" with a focus on its relevance to the transformation of business travel. Under the same theme, a collaboration is currently being explored with WeWork, a worldwide supplier of co-working spaces. The research initiatives on the future of business travel shall lead to pilot projects at airports and online touch-points. In fact, LIH is in discussions with Changi Airport and Munich Airport regarding the hosting of some of these pilot projects.
With the opening of the third Lufthansa Innovation Hub office in Shanghai just months away, there can be no doubting Lufthansa Group's dedication to playing a leading role in driving innovation in Asia.
Stay tuned for our in-depth interview with Dr Christian Langer, Chief Digital Officer, Lufthansa Group; Gleb Tritus, Managing Director, Lufthansa Innovation Hub; and Lennart Dobravsky, Trend & Market Research Analyst, Lufthansa Innovation Hub, which will be published in the coming days.