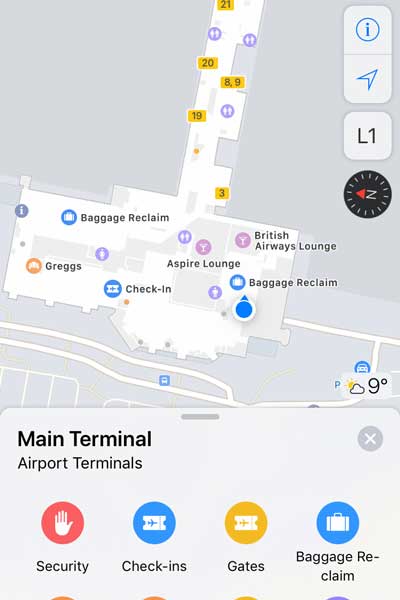 Newcastle International Airport has become the first regional airport in England to bring detailed terminal maps to Apple Maps, providing passengers with a new tool to navigate through the airport.
Using Apple Maps on their iPhone or iPad, passengers can plan their journey through the airport in advance of their flight, including finding shops and food & beverage outlets.
The map also shows important points of interest, such as baggage claim, security checkpoints, and toilets. The indoor positioning function gives passengers an instant view of where they are within the terminal, helping them get to where they need to go next.
Users will also be able to switch between all three of the airport's floors. The airport's terminal in Apple Maps will be updated regularly to ensure accuracy including when new stores and locations open.
Kate Hall, Marketing and Communications Manager at Newcastle Airport, said: "It is absolutely brilliant that this service is now available at our airport ahead of other regional airports across the country.
"With Apple Maps at Newcastle, our passengers will be able to move more quickly and efficiently though the airport which will add to the overall customer experience.
"It will also provide a useful tool for passengers who are more nervous about their journey – as they will be able to have a look around the building before their day of travel.
"We hope that our passengers will use this exciting new piece of technology to its full potential."
In July last year, the airport also unveiled its very own mobile application in a bid to enhance the passenger experience.