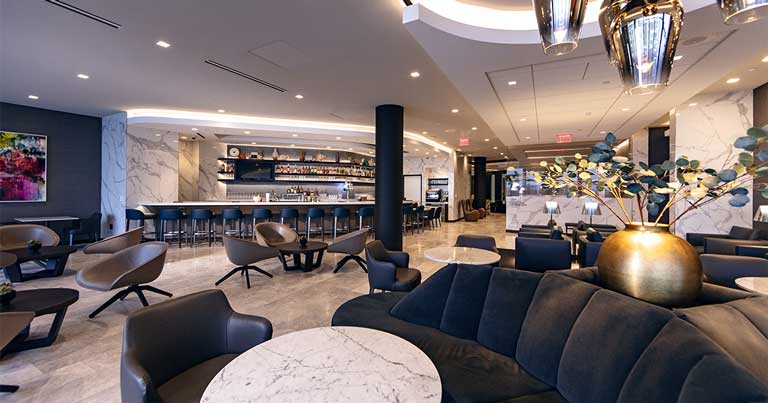 United Airlines has opened a new Polaris lounge at Los Angeles International Airport (LAX) for passengers travelling in United Polaris business class. The Southern-California style lounge is conveniently located in Terminal 7 between Gates 73 and 75A.
The United Polaris lounge is the most recent investment United has made at LAX, where the airline recently completed a $573 million renovation of Terminal 7. In addition to the Polaris lounge, United recently opened a new United Club in Terminal 7, and offers customers who want a more upscale experience access to The Private Suite.
"Los Angeles is one of United's most important gateways, particularly to Asia and Australia, and this lounge provides our customers with a best-in-class experience before they board their flights, especially for those customers with late-night departures and early-morning arrivals," said Janet Lamkin, California President at United Airlines. "We continue to expand our presence in Los Angeles connecting customers from all over California and the US to our global network. The addition of the United Polaris lounge is yet another way we provide customers with the best possible travel experience at LAX."
The 12,000 sq ft lounge features 140 seats with a variety of seating areas for productivity, privacy and dining; 272 power outlets and 120 USB ports; luxurious shower suites, featuring rainfall showerheads and Soho House & Co's Cowshed Spa products; as well as private daybeds outfitted with Saks Fifth Avenue bedding.
Customers are invited to enjoy a full restaurant-quality experience in The Dining Room, developed by Los Angeles native Chef Tritia Gestuvo, as well as signature cocktails typical for the innovative cocktail culture in Los Angeles.
The award-winning Polaris lounge experience builds on the airline's concept to be uniquely United while embracing the energy and distinct culture of Southern California and the exciting destinations United serves from LAX.
The United Polaris lounge at Los Angeles International Airport is the fifth Polaris lounge to open, following other locations including Chicago O'Hare International Airport, George Bush Intercontinental, Newark Liberty International Airport and San Francisco International Airport.
Recently, the airline's newest aircraft, the Boeing 787-10 Dreamliner, officially entered service, featuring the Polaris business class seat as well as the airline's new United Premium Plus seat.