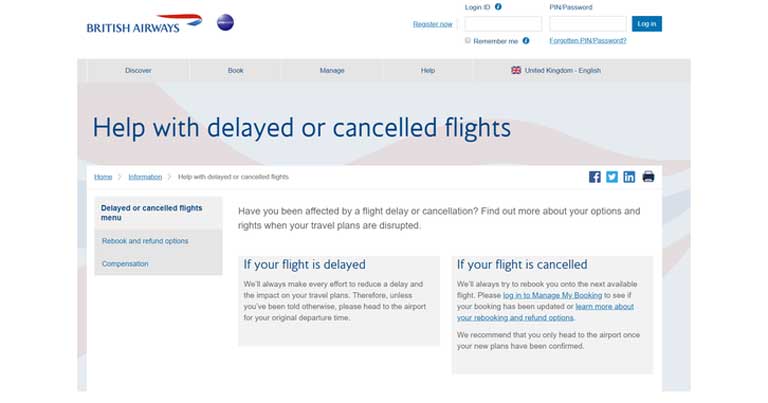 British Airways has launched a new section of its website to help customers change their bookings and find out more about their consumer rights if their flight is delayed or cancelled.
The platform assists customers with managing their bookings, re-booking, refunding or changing their flights, as well as linking travellers to the specific customer relations teams able to help them request special assistance, claim compensation, locate their bags or apply for reimbursement if they've paid extra to reserve special meals or seating.
This new approach speeds up the resolution time by immediately connecting customers with the relevant department, rather than the general customer relations team.
Finola O'Sullivan, General Manager, Global Customer Care at British Airways, said: "We know that when our customers have experienced an issue they expect us to respond quickly. They also want us to give them more control over their journeys. The new section of the website means our customers can clearly identify where to send their enquiry, and, as it is immediately delivered to the appropriate team, we are able to deal with it faster. This is just one of many customer service enhancements we're making this year."
As part of British Airways' commitment to invest in its customer experience, the airline is also rolling out a multi-million pounds investment in training for its staff at Heathrow Airport.
The investment is part of the airline's plan to make sure customers receive the best customer service. British Airways' customer service agents at the airport have traditionally helped customers with one aspect of their journey. As part of a new approach every representative is being trained to help customers across a range of different areas – from ticketing, to re-booking, changing reservations, finding delayed luggage or providing up to date flight information. It means that the first agent a customer meets will be the person that resolves their issue.
Moreover, as part of the overall £6.5 billion investment, British Airways is aiming to improve its customer experience over the next five years, through new aircraft, new cabins, new catering, new lounges, Wi-Fi, and new routes.