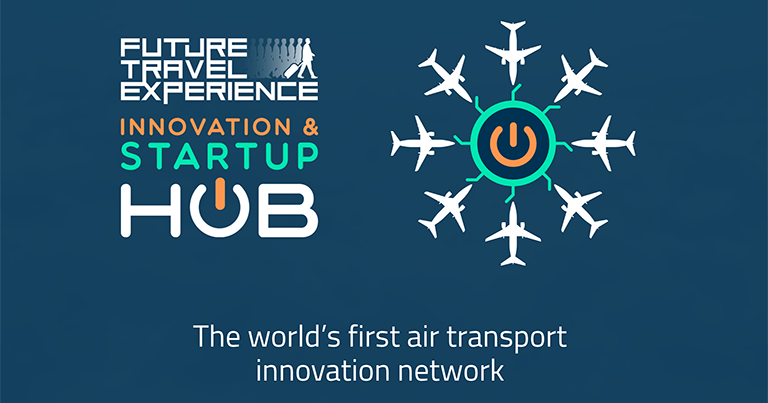 Future Travel Experience (FTE) has unveiled the FTE Innovation & Startup Hub as part of its ongoing efforts to play a central role in driving innovation within the air transport industry.
Following its successful launch in 2018, the FTE Startup Hub has been expanded and rebranded as the FTE Innovation & Startup Hub. In short, the Hub now consists of two key pillars; the Startup Hub makes it as easy as possible for air transport industry corporates to discover and engage with high-potential startups and scaleups, while the Innovation Hub is the world's first air transport innovation network. Corporates – including airlines and airports – can choose whether to join only the Innovation Hub, or both the Innovation Hub and Startup Hub.
The FTE Innovation & Startup Hub already has a number of Corporates Partners – including Gatwick Airport, Hamad International Airport, Hong Kong International Airport, JetBlue Technology Ventures, Vantage Airport Group and WOW air – as well as more than 190 startup and scaleup members.
The Corporate Partners can search for and contact relevant, early-stage companies via the world's only online database of air transport-specific startups, as well as attend pitch sessions and meet with startups at dedicated FTE Startup Hub Live events, which will be co-located with the FTE EMEA, FTE Ancillary, FTE Global and FTE Asia EXPO conferences and expos in 2019. Members can also attend FTE Innovation Hub Live events, which include VIP guest speakers, interactive workshops and co-creation roundtables. In addition, they can participate in regular innovation-focused video calls with fellow Corporate Partners, and share ideas, expertise and advice via the WhatsApp-hosted FTE Innovation Hub Forum.
"Following the successful introduction of the FTE Startup Hub in 2018, during which we hosted FTE Startup Hub Live events on three continents to bring high-potential air transport industry startups together with our Corporate Partners, we are excited to unveil the new-look FTE Innovation & Startup Hub," said Ryan Ghee, Head of Strategy, Engagement & Content, Future Travel Experience.
"Here at Future Travel Experience, it has been an ambition of ours for some time to facilitate a more open style of innovation, which involves a willingness among airlines, airports and their partners to share learnings, knowledge, expertise and advice, and to create a network of the most pioneering people and organisations for the benefit of the industry. We are excited to already have seven forward-thinking Corporate Partners committed to the initiative and look forward to welcoming more on board in the coming weeks."
Sveinn Akerlie, CIO & Head of WOW labs at WOW air, which was among the first airlines to join the Hub, commented: "Thanks to our membership, we have engaged with a number of excellent startups that we are now planning to work with to help give our airline a competitive edge. In addition to the startup engagement, it has been invaluable to build relationships and share insights with other airlines and airports around the world who are driving innovation agendas, too. I'm looking forward to meeting many new members of the programme as it scales in 2019."
Airlines, airports and other air transport industry corporates can join the FTE Innovation Hub only, or both the FTE Innovation Hub and FTE Startup Hub. Visit www.FTE-Hub.com or contact the FTE team today to find out more.
Originally posted on www.FTE-Hub.com.