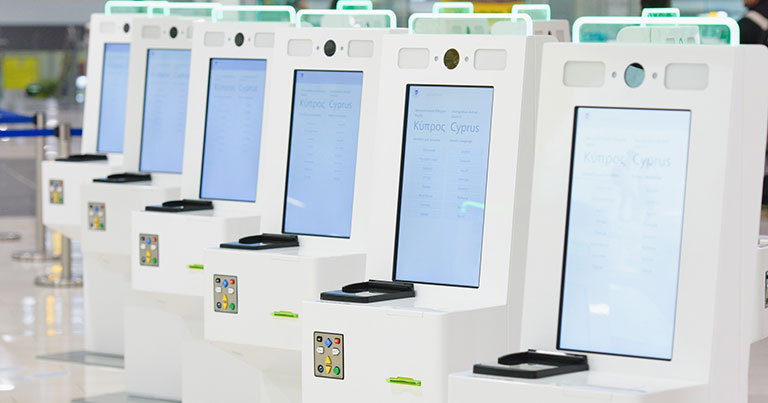 Vancouver Airport Authority and the Canada Border Services Agency (CBSA) have announced the implementation of fingerprint verification at Primary Inspection Kiosks at Vancouver International Airport (YVR).
YVR's self-service border control solution, BORDERXPRESS, is the first in Canada to be updated to meet the Government of Canada's expanded biometric screening requirements, coming into effect on 31 March 2019.
Under this expansion, all Primary Inspection Kiosks at major Canadian airports will require fingerprint verification for international travellers. Primary Inspection Kiosks are biometric-enabled kiosks that automate the border clearance process.
The Government of Canada is now using fingerprint verification technology through its Primary Inspection Kiosks to verify whether a person seeking entry into Canada is the same person that was issued their visa, permit or permanent residence documentation.
Canadian citizens and citizenship applicants are not required to provide biometrics and are therefore not required to complete fingerprint verification while seeking entry to Canada.
Biometric enrolment became a requirement for new visa and permit applicants from Europe, Africa and the Middle East effective 31 July, 2018, while applicants from Asia, Asia Pacific and the Americas became subject to the same requirements starting 31 December, 2018.
All temporary resident visa, work permit, study permit, and temporary resident permit applicants (excluding US citizens) and all permanent resident applicants are required to provide biometrics in the form of fingerprints and digital photograph when submitting an application to Immigration, Refugees and Citizenship Canada or to the CBSA.
Fingerprint verification with Primary Inspection Kiosks will be phased in at all major Canadian airports throughout 2019, with the first in Canada having been implemented at YVR.
"The Government of Canada has stated that the collection of biometrics is a critical aspect of their immigration programme and one that allows for accuracy in establishing a traveller's identity," says Steve Hankinson, Vice President, Innovation and Planning, Vancouver Airport Authority. "Our BORDERXPRESS Primary Inspection Kiosks are the first to be adapted to accommodate the needs of the Canadian government while also providing a border control solution that unites security, efficiency and innovation to transform the passenger experience, which is ultimately what drives our team forward."
Hankinson adds: "As countries look for solutions to best handle passenger processing amidst increased traffic flow, they are placing increased importance on modernising border management through biometrics. Each country has its own immigration requirements and BORDERXPRESS can be configured to meet those specific needs – not only with respect to air travel, but also sea and rail travel, where border management is also critically important."