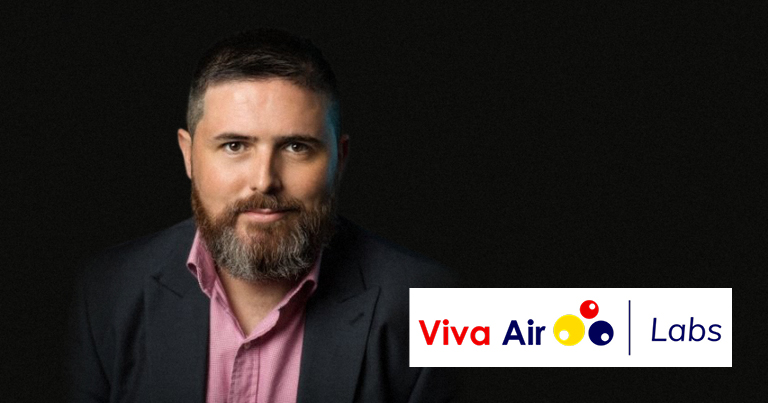 The aviation industry in Latin America is booming and it is expected to contribute $322 billion to the regional GDP by 2034. Viva Air Colombia, Colombia's first low-cost airline, is one of the main vehicles behind this growth. Launched in 2012 as VivaColombia, in a short period of time the airline has drastically improved connectivity in the region, and in 2017 its continued growth was marked with the introduction of a sister airline in Peru, Viva Air Peru. The Viva Air brand has become a catalyst for innovation in Latin America.
Speaking to FTE, Clyde Hutchinson, Head of Viva Air Labs, shares: "Our biggest achievement has been the democratisation of air travel in Latin America. It is now possible to travel affordably, quickly and safely between cities across Colombia and Peru. We are opening up air travel to a whole new audience. In fact, up to a third of our passengers had never flown before they stepped onto a Viva Air aircraft."
He adds: "With the addition of a further 50 new aircraft to our fleet, this will allow us to fly to a host of new destinations and do so more often. As someone who is focused on innovation and entrepreneurship, I'm really excited by the potentially enormous impact this will have on the business environment, empowering startups and small business owners in the region to scale their companies right across Latin America."
The airline's ambition to be a leading innovator in Latin America is already taking shape in the form of Viva Air Labs – South America's first aviation startup and innovation ecosystem. Launched in September 2018, the lab's mission is to "pursue modernisation and digital advances in Latin America's aviation and tourism sector".
As the head of Viva Air Labs, Hutchinson describes his main role as "solution finder" and "innovation engager". He explains: "I'm working with my colleagues to discover what our challenges are, and we are seeking solutions both internally and externally to the organisation. Externally, we are working hard to make life easier for entrepreneurs to get their product or service trialled or implemented within the airline. We are working with universities to engage and activate the future talent required in aviation as we seek to inspire the next generation of entrepreneurs. We have an open door for innovators looking to solve the challenges which we, and the wider aviation and travel sectors, face."
Payment, personalisation and big data
Hutchinson, who will be speaking at Future Travel Experience EMEA, 18-20 June 2019, explains that the airline has big ambitions for the future, however the initial focus is on three key priorities – payment, personalisation and big data. One of the first projects that the lab is working on is to develop WhatsApp as a payment mechanism for passengers. In fact, the app is widely popular in Latin America – similar to the appeal of WeChat in China. To respond to this trend, the airline is currently working on a new partnership to deliver this payment method.
Another focus for the lab is finding ways to provide much more personalised content for current and future passengers. Viva Air Labs is working in collaboration with partners such as ProColombia to deliver new types of personalised content and create traffic to new destinations. Hutchinson explains: "Content strategy is integrated into this as the development of authentic, novel, digital content on destinations and experiences, and it is vital in the delivery of our rapid growth plans."
At the core of personalisation, of course, lays data, and making better use of data is currently a huge challenge for any airline. To address this, Viva Air Labs has already partnered with Dublin-based software company Boxever to deliver new insights with the aim of enhancing the passenger experience on a more personal level.
In the grand scheme of things, Viva Air's ambition is to become the world's first open data airline. "We recognise this is a significant task, but we are already developing systems internally to support making this project a reality, as well as partnering with universities such as Universidad de los Andes and Dublin City University to develop data driven projects," says Hutchinson.
"We have now entered into an era where data can be used as resource to increase revenue, improve passenger experience and drive operational efficiencies. No airline has perfected this yet, but there are several airlines actively moving towards this goal. Despite many of these having much more resources than us, we want to be a leading proponent of this and drive even more effective decision making with the insights that we gain."
Startups and the Viva Air Labs ethos
Viva Air Labs is looking to create an ecosystem of innovation in Latin America by engaging startups, innovators, and entrepreneurs. "Airlines' core business is in the safe and efficient transportation of people and goods, and we do that excellently, but sometimes you need an entirely new perspective to make you think differently about what you do. We are trying to work harder with startups to be their first customer to trial their innovation. There is a big need for startups to create the infrastructure required to service the needs of this industry. We hope to help the next generation of entrepreneurs to develop products and services to meet the needs of the industry."
Thanks to Viva Air Labs, Hutchinson and his team now have the perfect platform to drive innovation from within the airline, but also through strategic partnerships with major tech companies and startups, while revolutionising the low-cost model in Latin America. He says: "Many people see innovation as sitting back and dreaming of what may be. I take a very different view as, to me, there is no innovation unless an idea is acted upon. So now our priority is to work tirelessly to deliver these projects. If they don't work, we will learn. If they do, then we'll benefit commercially and make the experience of flying with Viva Air even better for our passengers. It's a very exciting time and one that we are relishing the challenge of delivering on."
You can hear more from Viva Air Labs' Clyde Hutchinson at Future Travel Experience EMEA, which will be co-located with FTE Ancillary in Istanbul, 18-20 June. Visit the website for more information.