In our efforts to find innovation in every corner of the air transport industry, Future Travel Experience visited last week's PTE show in London, where we explored some of the solutions that can help to improve the airport terminal.
Defined by a strong focus on new biometric-enabled, self-service and data-driven solutions to enhance operational efficiency and improve the passenger experience, here we present a selection of some of the cutting-edge products and services that have the potential to deliver positive change.
Elenium and Etihad Airways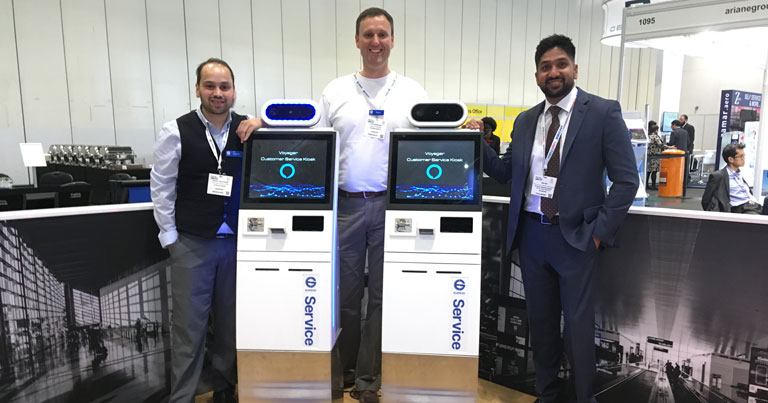 Etihad Airways and automation technology solutions provider Elenium demonstrated how the newly developed voice-activated self-service kiosk, bag drop and boarding gate facility can revolutionise the travel experience by taking facial recognition technology to the next level. Rico Barandun, Head of Strategy, Elenium Automation, explained that when passengers check-in for their flight they can register their biometric data on their mobile device before arriving at the airport, which means they won't have to queue at the airport. Using AI, the new baggage-drop terminals scan and memorise each suitcase placed on the belt through a unique camera system, potentially removing the need for tagged luggage. Using biometrics, passengers are identified and offered a personalised duty-free shopping experience through an interactive display with integrated voice technology. The new biometric-enabled boarding gate concept is such that the gates are always open, which welcomes passengers to go through, unless the passenger hasn't registered his/her biometric data. "The whole concept is about how travel can look in the next two to five years from now. Our aim is to take some pieces of the whole project and deploy them in a live environment in the next six to nine months." Abe Dev, Head of Technology & Innovation Airline Operations, Etihad Aviation Group, added: "From an Etihad perspective, this partnership fits with our vision to create a seamless and frictionless journey for our passengers. We wanted to go one step further by using Elenium and Amazon Web Services to commercialise the entire process, and also integrating it with Etihad's technology that we are working on in-house."
Collins Aerospace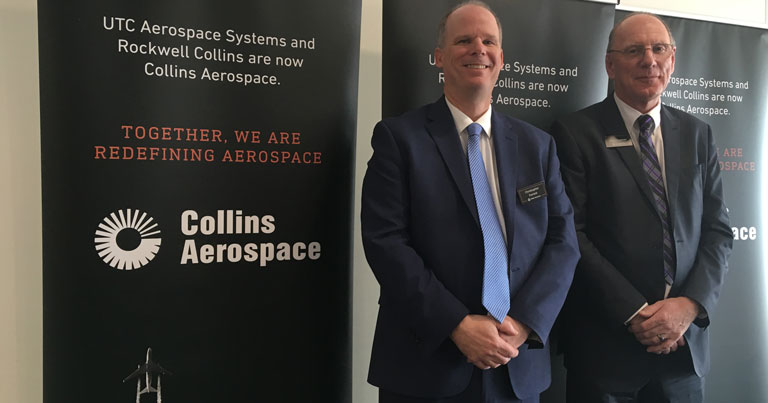 Biometrics has been high on the agenda of most airports, airlines and technology providers over the past few years, and this year has already seen a number of initiatives coming to fruition. FTE was invited to Collins Aerospace's exclusive press briefing announcing the launch of the SelfPass biometric-based identity management solution. Collins Aerospace's Tony Chapman, Director of Global Product Management and Strategy, Information Management Services, and Christopher Forrest, Vice President of Global Airport Systems, revealed several new partnerships, including a trial by JetBlue at JFK, as well as trials at Bristol and Dublin airports. "We believe it is one of the world's first total end-to-end solutions that covers not just one airport but multiple airports, multiple journeys, multiple airlines and multiple countries," explained Chapman.
Stanley Robotics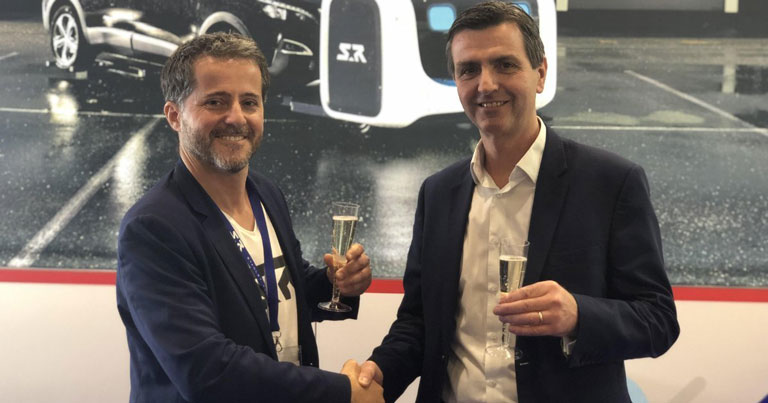 Stanley Robotics, whose autonomous parking robots can be found in Lyon-Saint Exupery Airport, has signed a framework contract with Gatwick Airport. The trial will run from the second half of 2019 to early 2020 and passengers will simply leave their car in a parking station close to Gatwick Airport's South Terminal entrance and, without handing over keys, the driverless robot will gently lift up the car and transport it for storage in a secure car park. The system will also be connected to real-time flight information, so the robot simply returns the vehicle to the parking station at the correct time. The customer then receives an SMS that the vehicle is ready and waiting for their arrival. The trial will see 270 parking spaces being managed by three robots. Stéphane Evanno, COO of Stanley Robotics, outlined the main benefits of the service for airports. The valet robot technology can optimise space to create up to 50% extra parking spaces and its deployment is quick and needs little construction. It also provides a simplified and convenient experience for passengers. "At Lyon we have 500 parking spaces managed by four robots. So, it is really tangible and that's why the interest from the airport industry is very strong. We are expanding quickly and aiming to hit over 1,000 spaces at Lyon. The end-goal is to operate 20 robots managing 6,500 parking spaces."
Aurora AI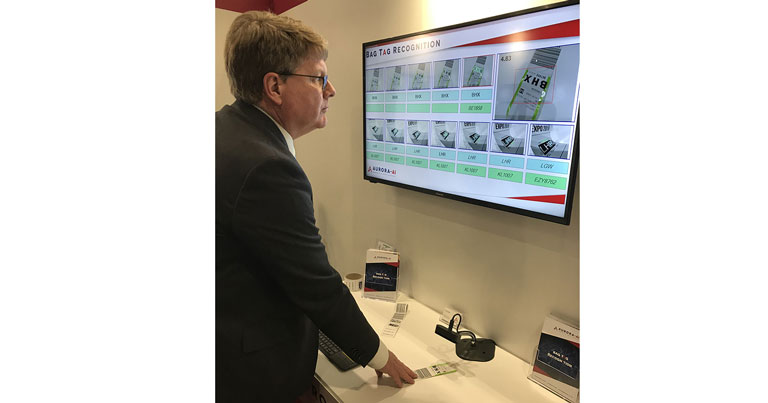 Aurora AI showed FTE a range of its artificial intelligence (AI) solutions that make use of deep learning technology. Among them was a bag tag recognition solution, which uses optical character recognition (OCR) AI to enable accurate reading of the text on labels. For instance, the letters "BHX" are quickly recognised as meaning Birmingham Airport. As Dr Nick Whitehead, Head of Strategic Partnerships, explained, this solution supports airports in the management of baggage handling either to enhance read rates or to act as a fully functioning back-up when systems that rely on barcode reading are compromised. Among the other solutions offered are Bio-Q face recognition queue measurement and predictive analytics using AI.
bagchain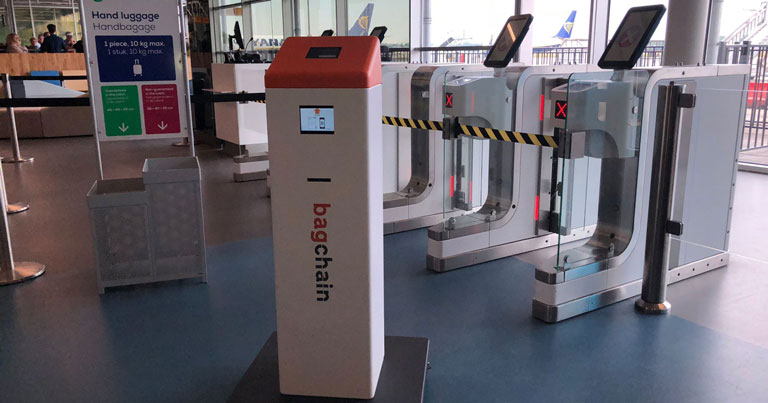 bagchain showcased its latest products, which help to bring simplicity and convenience to the airport environment. Among the solutions on show was the second generation of the bagchain gate kiosk and a new version of the bagchain print kiosk. The former helps to simplify the gate experience by enabling agents to quickly and easily print and issue bag tags when necessary during the boarding process. bagchain's products can already be found in various locations, including Amsterdam Airport Schiphol.
Amadeus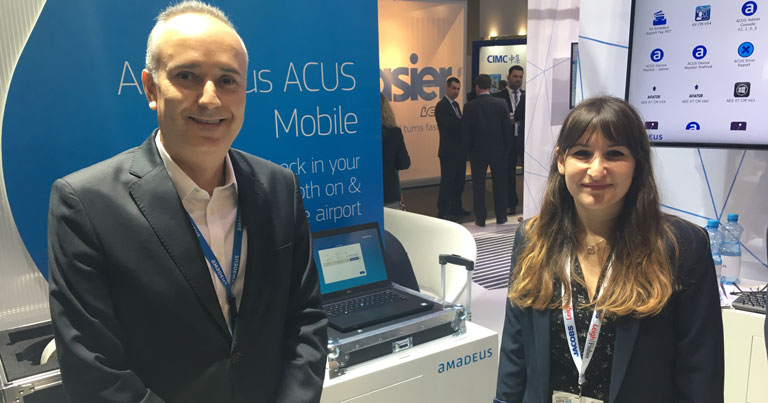 Amadeus showcased its latest common use concept, which aims to reduce the complexity of the back-end infrastructure at airports. Iyad Hindiyeh, Amadeus' Global Head of Strategy, explained: "What we are doing effectively is we are taking the common use infrastructure out of the airport and bringing it into the cloud, which means airlines can connect much faster and the airport can service their customer much faster." Another benefit he highlighted is that as part of some ACI initiatives a lot of airports are aiming to be green, so that helps airports reduce the footprint of the electricity they use. Another focus on the Amadeus stand was the baggage reconciliation system, which runs in the cloud. This 'single data source' ensures that up-to-the-minute information on loading, tracking, baggage, passengers and flights is held centrally and can be updated and accessed on demand. Amadeus also displayed its ready-to-buy biometric solution, which Hindiyeh shared was recently tested in Ljubljana Airport. "We have done the test with approximately five airlines and it was very successful. In the next months we will be announcing the launch of this solution." Moreover, Amadeus has announced an agreement for the acquisition of ICM Airport Technics. Commenting on this, Hindiyeh said: "Airports are requiring an end-to-end service from vendors, which includes the software, the hardware and the future services. At Amadeus we have a very strong software, which is cloud-based, so by providing the hardware, especially in the self-service bag drop, we believe the story of Amadeus is complete."
ICM Airport Technics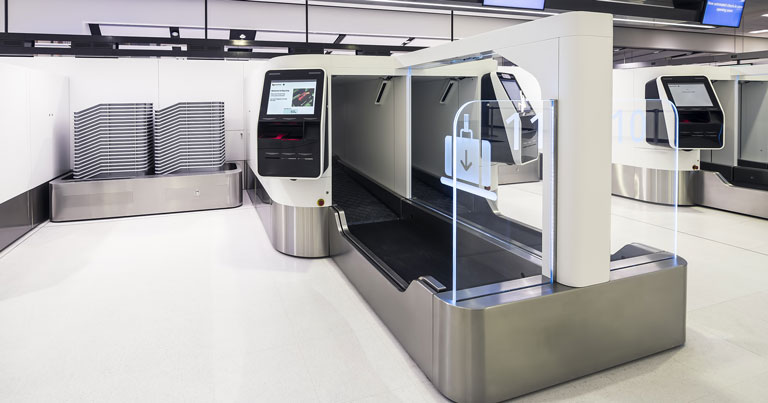 Following the announcement of the agreed acquisition, FTE also caught up with Richard Dinkelmann, CEO of ICM Airport Technics, to find out what this partnership means for ICM. He explained: "By combining ICM's market-leading self-service and passenger processing solutions with Amadeus' global reach and complementary product offering, we are now in a unique position to offer even better technical solutions to our airline and airport customers, and we can do so faster. We are excited about the future, as we share similar values such as strong innovation, reliability, and an uncompromising commitment to improving airport efficiency, as well as passenger safety and security." ICM also showcased its next-generation check-in kiosks, which feature the same design as its self-service bag drop solutions, creating consistency across the entire check-in and bag-drop process. "What it does differently, is that it puts all of the future features into the machine, including biometric recognition camera for facial recognition, disability access pad and payment," explained Dinkelmann.
Panasonic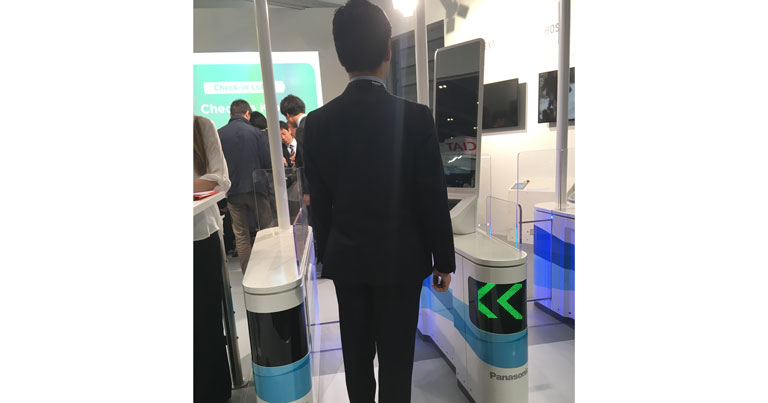 Panasonic also highlighted its vision of how biometrics will transform the passenger experience. As Shusuke Aoki, Head of Business and Industry Solutions at Panasonic demonstrated, the One ID solution for fully automated curb-to-gate airport services is powered by facial recognition technology, which includes check-in and immigration screening, robot assistants to provide directions to boarding gates, digital signage providing personalised flight information, and self-boarding gates. While the automated check-in and security tracking solutions are already in use at airports in Asia and Europe, this was the first time the company showcased the full end-to-end One ID solution.
Vanderlande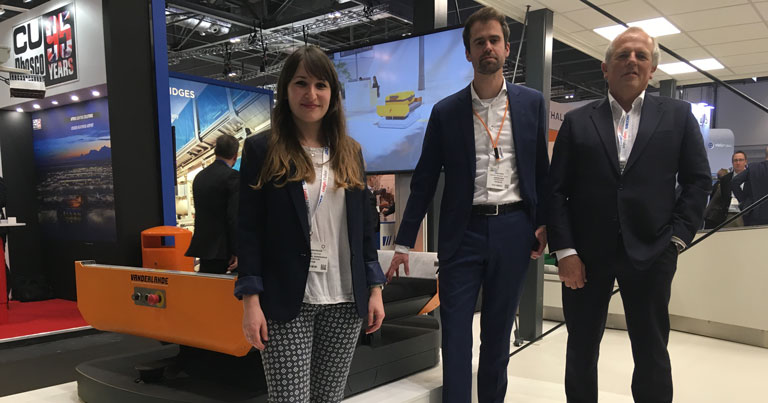 At an exclusive press briefing, Koen Evers, Manager FLEET at Vanderlande and Ron Louwerse, Director at Rotterdam The Hague Airport, shared the initial results from the revolutionary baggage handling FLEET project, which was launched last year. Highlighting the benefits of FLEET for Rotterdam The Hague Airport, Louwerse said: "For us it was important to have a system which was flexible, efficient, sustainable that could be scaled up and down as needed. We needed a new baggage system because the current one was very outdated, but we needed it to be flexible enough to manage future growth. FLEET gave us the opportunity to trial a system that was independent of the actual number of bags." Evers added: "For us it was about proving the system in a live operational environment and learning more about how the users interact with the system, and that is one of the key learnings of the trial that was very positive." So, what's next for FLEET? Louwerse revealed that the trial is entering its second stage, and he is already looking beyond the baggage handling capabilities inside the terminal, extending for instance to the tarmac. Vanderlande also announced that before the end of summer, there will be four systems up and running at airports in various locations, including the US and Europe.
SITA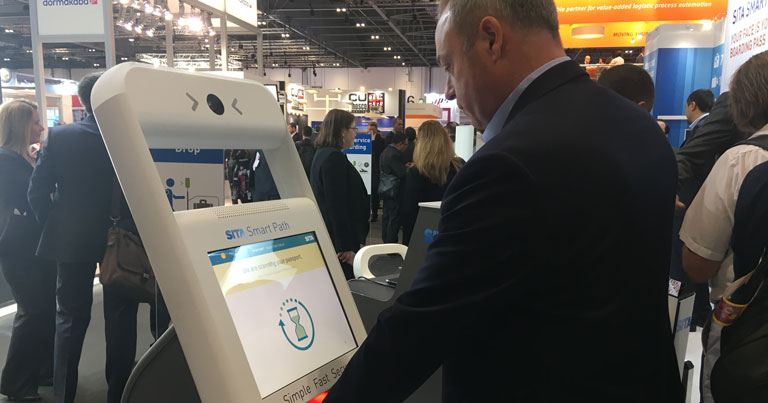 FTE also caught up with SITA's Product Development Lead Stephen Challis. "Our customers have already got kiosks and e-gates, so what our skills and experience allow us is to add things on top of that to deliver extra value. This idea of leveraging the investment our customers have already made is very important for us." Challis demonstrated the SITA Smart Path, which uses digital biometric ID management technology to automate the travel journey from secure check-in to on-time boarding. A key benefit of Smart Path is that the technology can be integrated with the airport's existing common-use check-in kiosks and boarding gates, making the solution both cost-effective and available to multiple airlines. During the event, SITA also announced that Athens Airport has become the first airport in Europe to trial its Smart Path solution, joining Brisbane, Doha, Muscat, Orlando, Miami and Boston airports while numerous other airports in Europe and the US are expected to implement the solution in 2019. Manchester Airports Group (MAG) has also selected the IT provider to implement further passenger self-service across the group's three main airports – Manchester, London Stansted and East Midlands airports. SITA has also been selected to carry out an upgrade to Manchester Airport's baggage reconciliation systems, enabling the airport to better track bags at key points throughout the journey.
AOE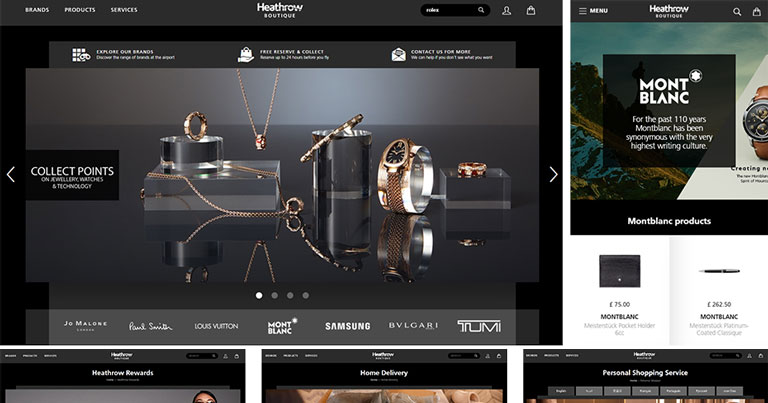 To strengthen non-aviation business, digital transactions are becoming increasingly important for airports. In fact, one year ago Heathrow Airport announced the implementation of AOE's digital marketplace that includes flight information as well as a Reserve and Collect service. Much of the revenue at the airport has been generated by high-end luxury fashion goods. FTE caught up with Kian Gould, CEO and Founder of AOE, who explained that this emphasis on luxury goods is reflected in an average basket value, which is about five times Heathrow's retail average. So, what's next? Gould shared: "The next step would be to launch payment, so that the items selected by the consumer could be prepaid and not just reserved. The OM3 platform is also being utilised by Frankfurt and Auckland airports, as well as by Lufthansa, Avianca and Singapore Airlines. Looking ahead, Gould said: "My view of the future is that in five years' time there will be two kinds of airlines – the ones that will become real e-commerce players, and there will be the ones that will decide that inflight retail is not completely feasible, so they would soon stop offering it. If they do stop it, they would have the potential to become traffic sources for the airport e-commerce platforms, so that when customers want to buy something they are directed to the airport's e-commerce platform."
Materna Intelligent Passenger Solutions (IPS)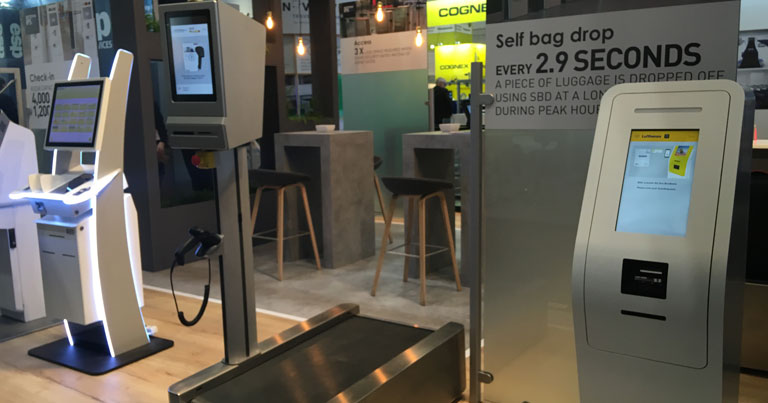 Materna showcased its portfolio of innovative solutions for check-in, automated bag drop, biometrics and monitoring. One of the main highlights was the hybrid self-service bag drop solution. Suitable for both self-service and agent service baggage drop-off, it gives airports maximum flexibility when deciding how the bag-drop station is used, according to capacity, queues and peak times. FTE met with Holger Kennke, Sales Director, Materna IPS, who took us into a virtual environment where we were presented with various self-bag drop solutions. The virtual tour showcases the entire passenger journey from check-in to boarding and could help airports visualise where best to position the solutions in the terminal.
CrowdVision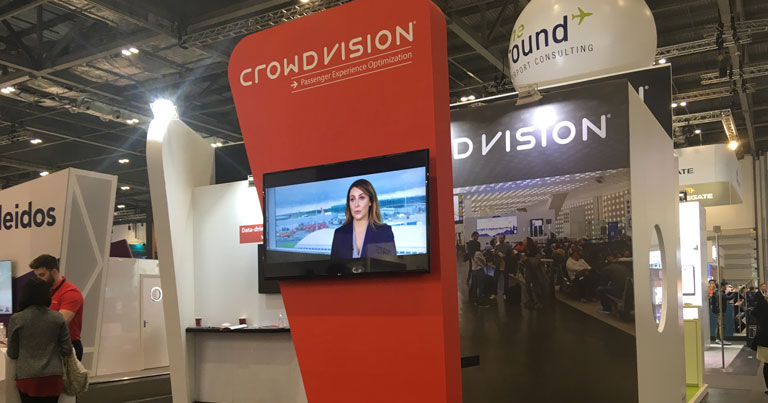 The latest version of CrowdVision's solution is focused on optimisation. As Fiona Strens, CEO, CrowdVision explained, it provides aviation planners and operators with highly accurate and actionable data to optimise all aspects of the airport in a passenger-centric way. "Our key message is to focus on optimisation and the consequence will be reduced wait times and seamless passenger journeys." As passenger numbers continue to rise, pressure on ageing infrastructure is a major concern for many airports. According to Strens, CrowdVision's data can help optimise the constrained terminal space and capital investment. Among some of CrowdVision's success stories are London City Airport and Chicago O'Hare International Airport.
IER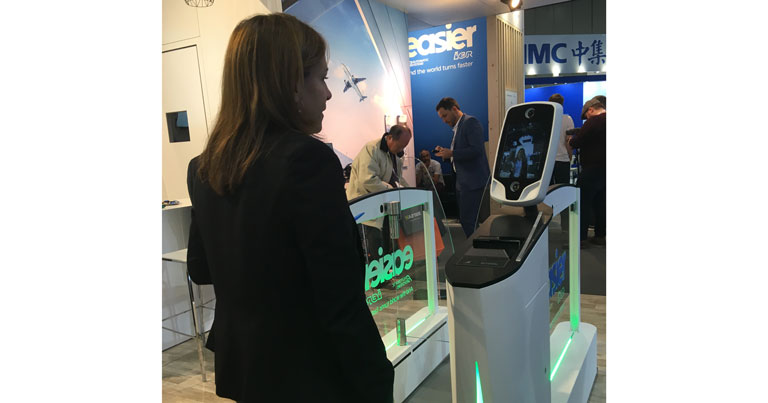 IER showcased its latest self-service solutions that help airport and airlines provide an enhanced passenger experience. Among some of the solutions on display were the i920 self-service check-in kiosk, the i820 retrofit bag drop and a brand-new e-gate for all airport touchpoints. IER also took the opportunity to unveils its new entity of IER and Automatic Systems Passenger Solutions, called EASIER. As Catherine Kokar, Marketing & Communications Manager, IER, explained, EASIER will leverage the best of the two companies and will provide customers a more comprehensive product range for airports and airlines.
McLaren Deloitte Alliance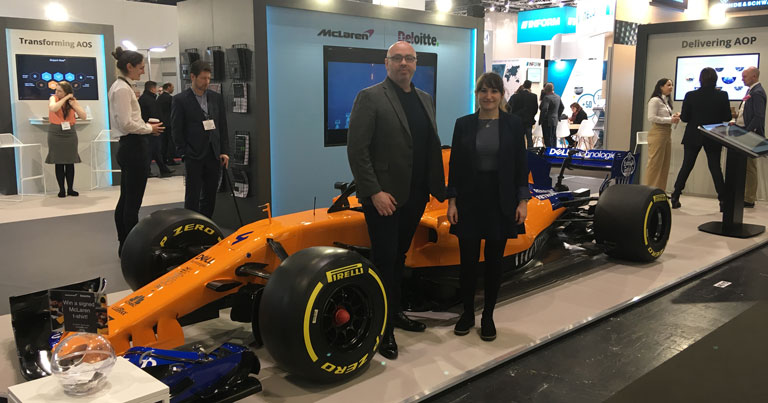 FTE also spoke to Martin Bowman, General Manager, Aviation Products, McLaren Deloitte Alliance, who outlined how Deloitte and McLaren are applying Formula 1 thinking to aviation. He said: "At the highest level, the idea is to tap into that approach and understanding as used by McLaren around the role of data and modelling and simulation to support tactical decisions. That is the fundamental idea. There is a culture of not necessarily looking back and learning from the past. Everything has happened before, but yet we take it as a new challenge. So, what we are trying to do is a detailed historical analysis so that we can learn from the past and we can provide a better understanding of what is effective." Through simulation and mathematical models, and applying them to support airports, airlines and air traffic control (ATC), the company can enhance airports' and airlines' operational efficiency. Bowman also shared that McLaren Deloitte is starting a new innovation partnership with Avinor. "It is a very interesting collaboration where we use Avinor, and in particular Oslo Airport, as the testbed for new ideas." Essentially, the project will use prediction simulator and machine learning tools from Formula 1 applied to the airport's flight data. The result will generate an Airport Operation Plan (AOP), a concept that is coming to many airports in Europe as part of the SESAR programme.
OneBagTag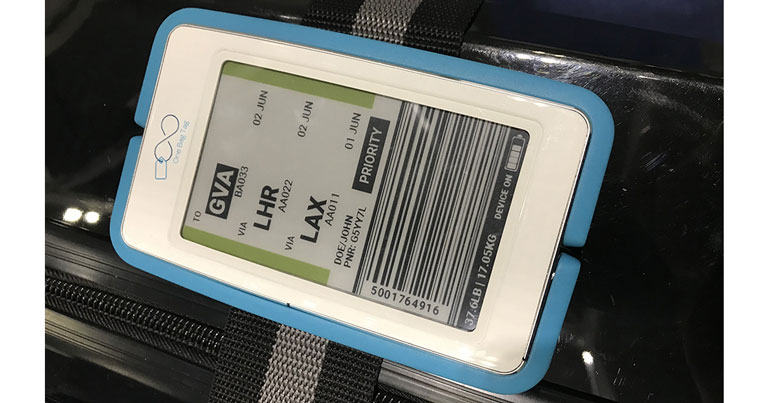 E-tags, or permanent electronic bag tags, have been touted as the future of baggage tagging for a number of years already and they are slowly gaining traction as the industry continues to embrace more modern solutions. FTE had a close-up look at OneBagTag, one of the players in this space. As Eli Ostreicher, Founder & CEO, explained, the e-tag includes a global tracker, a built-in weight scale, on demand alert ringer, and a 30-day battery life with USB-C rapid charging. So how does it work? The product has been designed to allow passengers to check-in on their airline's app as usual, receive a PDF of their luggage tag along with their boarding pass, and then sync this digital tag with the OneBagTag E-Ink display via Bluetooth.
Innovative Travel Solutions, Vancouver Airport Authority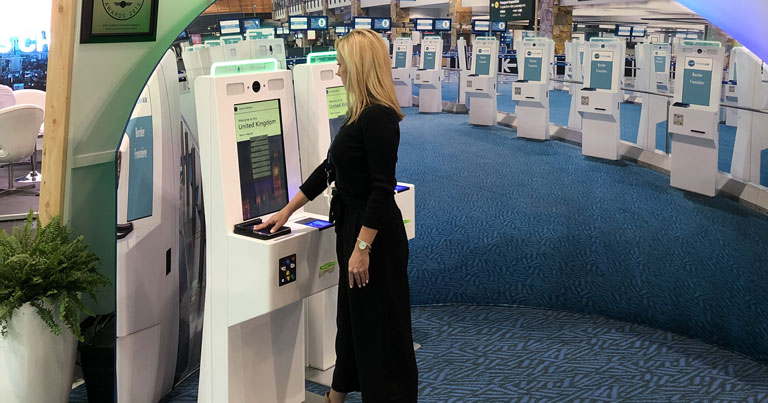 As passenger traffic continues to grow, it is crucial for airports to future-proof their facilities. The automation of passenger processing using border kiosk technology is one way in which progressive airports are doing just that. The BORDERXPRESS technology developed by Innovative Travel Solutions, an independent business unit of Vancouver International Airport (YVR), had, as of the end of 2018, processed almost 250 million passengers at 42 airport and seaport locations around the world. Significantly, the first implementation of BORDERXPRESS in Europe took place at Pafos and Larnaka airports in July 2018, with the installation of 74 kiosks. BORDERXPRESS uses self-service, biometric-enabled kiosks in a two-step process to expedite border clearance, and is said to reduce passenger wait times by more than 60%. "This leads to overall operating efficiency and space savings of more than 50%, because it allows airports to expand passenger traffic without having to add additional space or staffing resources," explained Chris Gilliland, Director of Innovative Travel Solutions, Vancouver Airport Authority. "The kiosks also allow border officers to focus on maintaining the safety of the border, which is of paramount importance to airports and a condition of governments when considering automation."
Mark your diary for Future Travel Experience's 2019 events, where you can demo the latest products and services in the exhibition and learn how to future-proof your organisation and ensure it is ready for the next wave of technologies and trends in the premium conferences. You can find out more on the event websites: FTE EMEA and FTE Ancillary (18-20 June, Istanbul); FTE Global (4-6 September, Las Vegas); and FTE Asia EXPO (12-13 November, Singapore). Contact us here to discuss sponsorship and exhibiting opportunities.