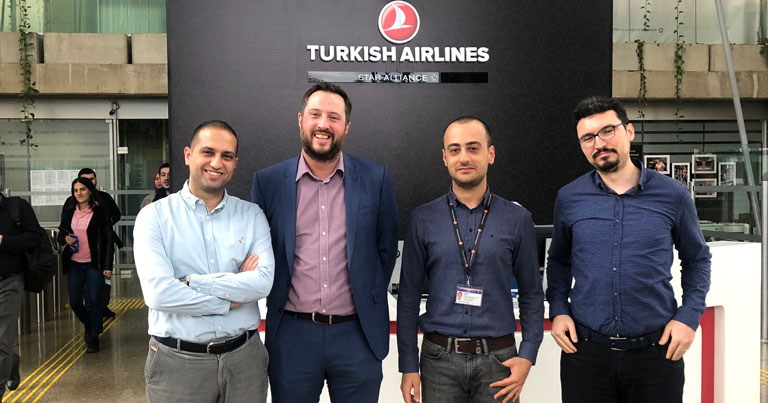 Turkish Airlines (TK) concluded its eagerly anticipated move to its new mega-hub, Istanbul Airport, from Atatürk Airport on 6 April 2019. İlker Aycı, Chairman of the Board and the Executive Committee, Turkish Airlines, pronounced it "the biggest move in aviation history". Indeed, with the move representing one of the most significant milestones in Turkish aviation history, Turkey's flag carrier has successfully undertaken the gradual move to Istanbul Airport that started following the official opening of the airport on 29 October 2018. The main part of the process, labelled the "Great Move", started on 5 April at 03:00 and the last transfer of equipment was finalised 12 hours ahead of the projected 45-hour schedule.
Istanbul Airport is now capable of processing 90 million passengers, later rising to 200 million. With the successful move to its new home completed, Turkish Airlines has entered a new era of development, innovation and growth.
Getting accustomed to the new airport
Eager to find out what new technological advancements will be available for passengers at the airport, FTE spoke to Seyda Tartar, Digital Innovation Manager at Turkish Airlines. "We are fully on board to enrich the passenger experience through technology," he stated.
Tartar, who will be presenting at the Future Travel Experience EMEA show in Istanbul, 18-20 June (which will be co-located with FTE Ancillary and The New Airport Show Istanbul) reveals that the installation and integration of services at the new Turkish Airlines hub was completed way ahead of the transfer. In fact, TK together with İGA, the operator of Istanbul Airport, had been testing the services for the past six months to ensure the smooth transition. "We as Turkish Airlines IT had to test everything to make sure it all works from baggage operations to check-in, and we are extremely happy with how everything turned out.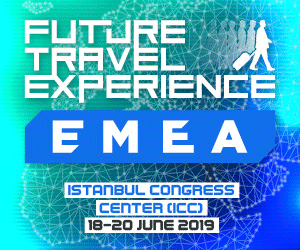 "There has been a massive organisation behind this move," he continues. "More than a hundred Turkish Airlines employees from all over the company got involved with the ORAT (Operational Readiness and Airport Transfer) programme. We call it the 'Great Move', and it really is a huge move. In our case, we started our ORAT programme more than two-and-a-half years ago, which is a very aggressive timeline considering the scale of the move, making it more successful than any other move."
From a digital innovation perspective, one initiative that proved instrumental during the transfer is a digital airport map with an indoor navigation service designed in partnership with local startup Mihmandar. This helps not only passengers but also employees find their way in the mega-hub, which includes the largest airport terminal ever built. "This solution has a lot of benefits to help familiarise our passengers and employees with our mega-hub, especially during the transfer from Atatürk Airport to our new hub."
Tartar adds: "Another critical solution that we have implemented is the extended RFID baggage tracking project, which informs the customers right after their baggage is dropped on the particular carousel so that they can enjoy their time in other facilities such as duty free shops or coffee shops instead of waiting for baggage claim. The same technology is also integrated with the Lost & Found system. It is super easy for the agents to identify the owner of lost baggage. We renewed our self-service devices such as kiosks and self-bag drop devices in accordance with our renewed brand identity at Istanbul Airport. In order to enable our passengers to complete their transactions in the shortest timeframe, we have carried some of the transactions performed by our sales offices to the counter, such as excess baggage and sports equipment operations. We will also be providing our Braille boarding card service for our visually impaired guests at more points to provide a more accessible service at Istanbul Airport."
Turkish Airlines' agile innovation strategy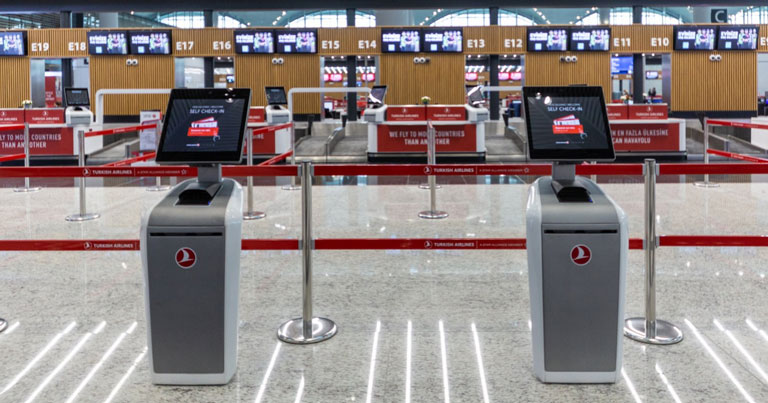 While TK is adjusting to its new home, the carrier is continuing its digital journey that it embarked on in 2016 in order to strengthen its competitive position in the digital era. The airline's innovation team is at the core of this transformation and has adopted a truly agile strategy firmly focusing on testing prototypes and creating an open innovation ecosystem through collaboration and strategic partnerships.
While digitalisation is high on the agenda of most airlines, the challenge lays in keeping up with the rapid development of technology. To overcome this, Turkish Airlines has turned to the startup community to achieve innovation from the outside in.
"Partnerships play a crucial role in information technology in order to provide service with high quality standards," Tartar explains. "You need to choose your partners wisely. Today, technology centres and startups are also strategic partners in providing new technologies to corporates. They are agile, responsive, cost advantageous, and it is more fun to work with them." Indeed, TK's innovation team has collaborated with startups, as well as with universities and other stakeholders to bridge the gap between the startup community and the airline's established corporate model.
"We are also working hard to make our partnerships stronger, so that together with startups we can implement proof of concept and prototype projects in a very short timeframe. On the other hand, they receive mentorship support from our SMEs, and can access acceleration programmes via our partnerships. We also share our APIs from our developer portal, and make their pitches available via our Invest on Board (IoB) platform." He explained that Invest on Board is a truly unique concept that gives investors, flying with Turkish Airlines, the opportunity to access startup pitches via the IFE system while onboard. Currently, the platform has around 50 video pitches, and the airline has received a lot of positive feedback from startups.
However, Turkish Airlines' vision doesn't stop with the opening of the new airport. Looking ahead, Tartar shares that the airline already has a clear technology roadmap, which includes initiatives from the launch of a new AI-powered chatbot which will serve as a personal assistant, to the implementation of blockchain technology to improve the cargo messaging system, and VR technology for maintenance projects.
The opening of the new Istanbul Airport serves as a fresh start for Turkish Airlines and it has provided the opportunity to create one of the most modern passenger experiences in the world.
Hear from Turkish Airlines and see the new Istanbul Airport at FTE EMEA, 18-20 June 

Turkish Airlines' Seyda Tartar will present on "The digital journey of Turkish Airlines" at Future Travel Experience EMEA, which will be co-located with FTE Ancillary and The New Airport Show Istanbul at the ICC in Istanbul, 18-20 June. Register today for your Free or Premium Pass.
Premium Pass holders will have access to the exhibition, Premium Conferences, guided tours, 1-2-1 Meeting System and a unique social and networking agenda, including a Gala Evening hosted by Turkish Airlines.
Visit the website for more information >>