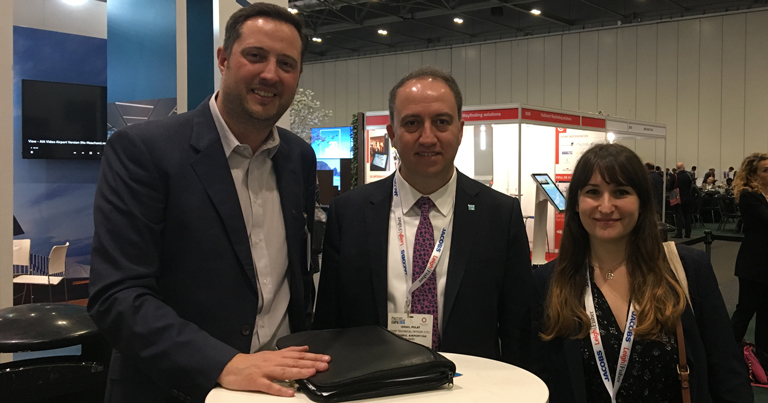 Turkey's aviation sector is rapidly growing. When Atatürk Airport reached its full capacity, Istanbul faced an urgent need for a new hub. During four years of planning and construction, the new Istanbul Airport gateway was built, covering a whopping 76.5 million square metres. Following the move from Atatürk to the new airport, FTE caught up with Ismail Polat, Chief Technical Officer of İGA Airport Operation, to find out more about how the project took shape from initial design phase through to operations.
During the construction of the airport, Polat – who will speak in the conference at the upcoming The New Airport Show Istanbul, which will be co-located with FTE EMEA on 19-20 June in Istanbul – was responsible for all technical matters. He explains: "My role started with master planning of the airport, then the design of the airside, covering all technological issues from aviation to terminal operations. In the operations side, I am Chief Planning Officer. Now that we have the infrastructure, we need to plan for the future and create our contingency plan and procedures, and make changes to our master plan when necessary."
Back in 2015, İGA started a comprehensive ORAT (Operational Readiness and Airport Transfer) programme, allowing trial of all systems, processes and procedures, as well as helping staff and stakeholders familiarise themselves with the airport.
The real test, however, took place during the Official Grand Opening of the airport on 29 October 2018, when İGA welcomed more than 3,000 guests. "This was a very good lesson for us; a very good trial and the feedback we got during the day was very supportive," Polat says.
The "personal touch"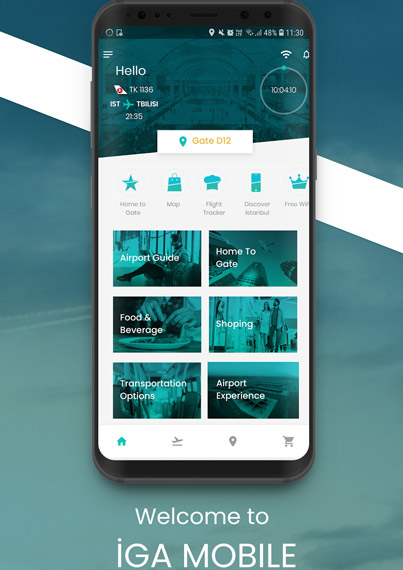 FTE had the privilege of experiencing the new airport first-hand during the opening back in October 2018, and while the new terminal covers 1.4 million square metres, it is indeed very intuitive and easy to navigate.
"From an information point of view, we have info kiosks where passengers can talk live to the airport staff. So, when the passenger scans their boarding pass, an airport agent comes up and can immediately inform the passenger where their gate is, how long it will take to get there, what shops and services they can explore. We have a lot of services from a spa to a hotel to shopping within the terminal area and we want to guide our passengers and respond to their needs the best we can. The info gates are a great tool to achieve this. And after all, we wanted to have this personal touch."
The size of the terminal has also allowed İGA to offer a wide range of services from check-in to gate, including self-service check in and bag drop, and e-gates. In addition, the airport's brand-new app aims to provide a "stress-free" experience for passengers, offering various features, such as real-time journey information, indoor navigation, access to Wi-Fi, information on shops and food & beverage outlets, as well as detailed information on transport options.
Polat also shares that İGA Systems, the infrastructure and IT provider for the new mega-hub airport, is currently working on developing additional services, such as robots to assist passengers and autonomous passenger transfer vehicles.
"Operating an entire transportation ecosystem"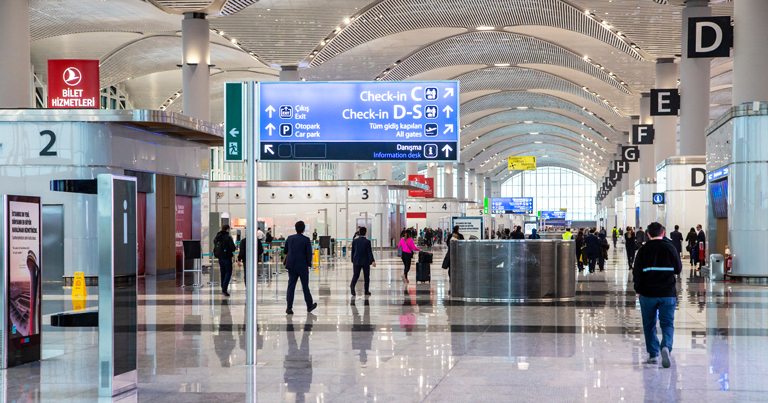 Polat highlighted that "flexibility is the backbone of the new mega-hub". Up to 90 million passengers can be handled in the first phase, and once fully completed, including four phases with six runways, the airport is set to serve 200 million passengers annually. Indeed, at full capacity, Istanbul Airport will become a global aviation hub with flights to over 300 destinations around the world. "We planned everything to be quite flexible and having control of over 76 million square metres gives you a lot of advantages as an airport operator. Together with Turkish Airlines, and our stakeholders and regulators, we addressed potential capacity issues and we tried to figure out what could happen in the future and how we would be able to adjust the infrastructure without any major changes. So, we have designed our infrastructure to host future expansion projects, as well as a subway and train system. We are not just operating a terminal, but an entire transportation ecosystem."
Next phase
During a two-week timeframe following the move from Atatürk to the new airport, Istanbul Airport reached 1,200 flights per day. As the airport continues to grow, the challenge is to ensure a high level of customer service and sustainable operation. "The third runway is already under construction. The planning of the rest of the phases has also started, so when the time comes we want to be ready to take action."
With the experience obtained through the years of building and developing the airport, Polat says that the long-term vision is to be able to share the lessons learned with other airports. "We have gone through a tough, but very successful journey. So, we want to use and share our experience through İGA Systems with other airports in the future."
Ismail Polat, Chief Technical Officer, İGA Airport Operation, will lead a panel discussion with key stakeholders involved in the design, construction and delivery of the new Istanbul Airport mega-hub at the upcoming The New Airport Show Istanbul, which will be co-located with FTE EMEA in Istanbul on 19-20 June. The panel will share insight on how the new airport was approached, the challenges that were overcome along the way, and the lessons learned. Premium Pass early bird rates end on Friday 3 May. Register to attend here >>