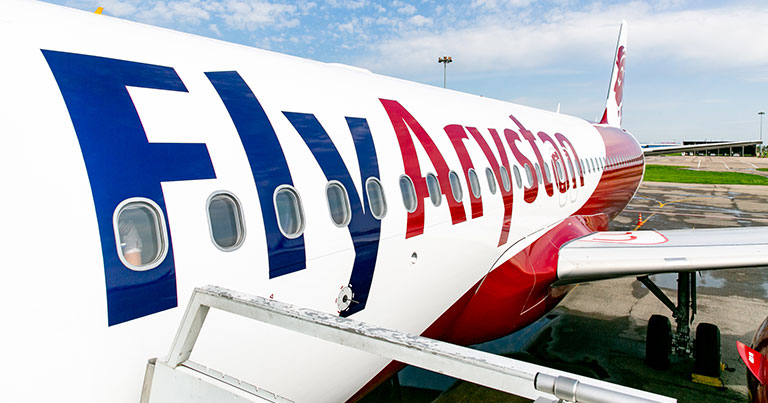 Known for its mosques, mausoleums and other sites linked to the Silk Road and an ancient trade route between China and Russia, The Republic of Kazakhstan is the largest landlocked country and is home to an abundance of architecture dating back to the 15th and 17th centuries. On 1 May 2019, however, the country made aviation headlines with the spotlight shining on the nation's largest airport, Almaty International Airport, which has become hub to the market's newest entrant and country's first low-cost carrier (LCC), FlyArystan.
Inspired by profitable LCCs including AirAsia and easyJet, FlyArystan is launching its first flights from Almaty International Airport in Kazakhstan, with the aim of reaching "a new generation of travellers". Painted in the red and white FlyArystan livery, the carrier, which is wholly-owned by Air Astana, will be starting six domestic routes to Taraz, Shymkent, Pavlodar, Uralsk, Nur-Sultan (Astana) and Karaganda, with Air Astana supplying the airline with an initial two Airbus A320 aircraft from its fleet under its air operator's certificate (AOC). A further two A320 aircraft will be delivered to the airline in the last quarter of the year, by which time FlyArystan aims to be operating at least 12 routes and will be looking at obtaining an AOC in its own right.
Through the support of Air Astana, FlyArystan has had its aircraft retrofitted with 180 new blue leather Recaro 3530 slimline seats, featuring red headrests. The airline's state-of-the art seats complement the stylish and sleek cabin crew uniform designed by a local fashion house. Customers travelling on the LCC will have a seat pitch of 29 inches, but thanks to the ergonomic design the airline says the pitch will feel more like 31 inches, owing to the curve of the seat and high positioning of the seatback pockets. This will enable the LCC to benchmark itself amongst many leading LCC brands in Europe and Asia, which it has been inspired by.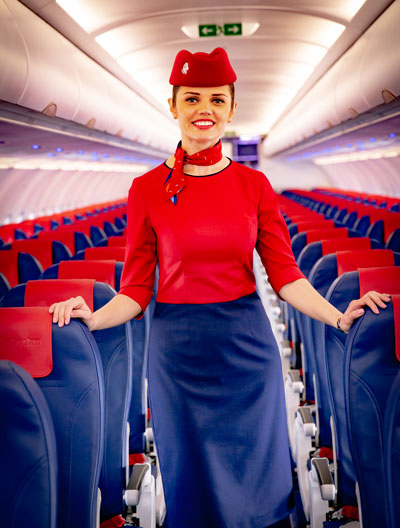 Passengers travelling with 5kg of hand luggage will not be charged an additional fee. Travelling with 10kg of hand luggage, however, will incur a cost – dependent on whether the route is deemed short, medium or long. Onboard, passengers will find the FlyArystan café, with a variety of refreshments and snacks including hot and cold drinks, local beer, baguettes and other snacks all available on the carrier's six domestic routes.
FlyArystan's corporate identity is a lion, a popular animal in Kazakhstan and central Asia. This symbolises a "brave and courageous" low-fare approach, according to Tim Jordan, Head of FlyArystan.
Jordan further enthused: "With this exciting new airline we are courting a new generation of travellers. People who typically get around our large country using the train or bus, or those who don't travel at all. We are pitching FlyArystan at the visiting friends and relatives market, primarily. In turn, this will stimulate the leisure market as a second strand, together with an element of business travel. A number of destinations handed over to us by Air Astana will suit a different, more price-conscious demographic. Accordingly, we aim to introduce some purchase options giving flexibility for business flyers, including offering refunds or the ability to change tickets, albeit at higher tariffs."
According to OAG Schedules Analyser, between 2017 to 2018 there was a slowdown of -3% in passenger numbers to Almaty, which was reported by the country's dominating full-service carrier Air Astana. Despite this, the initiation of FlyArystan is vital for connections from Almaty to major cities across Kazakhstan as preliminary data for 2018 shows that over 8.3 million people visited Kazakhstan, an increase of 10.2% in comparison to 2017, and an upturn of 32% compared to 2015. A large proportion of visitors arrived from the UAE, Poland and India.
Meanwhile, the country's head of state is optimistic that tourism in the country will grow by one million by 2020, a forecast that FlyArystan should be well positioned to support.