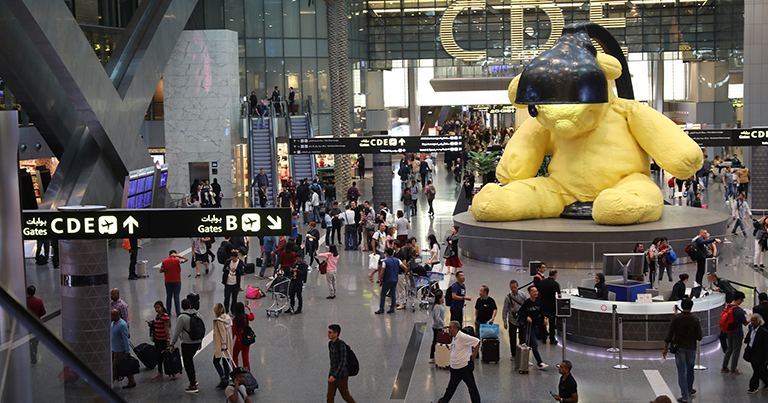 Having recently celebrated the fifth anniversary of its official opening, Hamad International Airport (HIA) has shared more information about how it plans to use technology to continue to enhance the passenger experience.
HIA has grown from having 28 million passengers during its first year of operations to more than 34 million passengers in 2018, with a total of 26 airlines now operating at the airport. Currently, it has the capacity to handle more than 30 million passengers a year and is undergoing further expansion to accommodate more than 50 million passengers by 2022. In short, HIA's goal is to be "one of the most operationally efficient airports in the world putting the passenger at the heart of the airport's strategy".
Smart Airport
At the heart of this plan is the Smart Airport programme. HIA successfully completed the first major phase of its Smart Airport programme in 2018, enabling home carrier Qatar Airways to process more than 25% of its passengers using self-service check-in and bag-drop facilities. This was accomplished by commissioning 62 self-service check-in kiosks and 12 self-service bag drops spread across the departures check-in hall. A mobile Automated Visa Document Check was also implemented to enable ground services agents to check passengers' visa documentation.
The airport is now launching the second phase of its innovative Smart Airport programme, which will introduce facial recognition technology across all key passenger touch points. Currently, under trial, the system is a central piece of the airport's digital strategy and combines passengers' flight, passport, and facial biometric information in a single electronic record at the self-check-in kiosk or mobile app. HIA's adoption of smart technology, automation, and self-service options aims to offer passengers a seamless airport journey that is both faster and more convenient.
"Throughout its operations, HIA has remained at the forefront of innovation, with strong investment in technology over the years to ensure that we are constantly pushing the boundaries that distinguish us as the airport of choice for millions of passengers around the world," stated Engr. Badr Mohammed Al Meer, Chief Operating Officer at Hamad International Airport.
Planning for the future
HIA now plans to continue pushing the boundaries of technology through the implementation of robotics for passenger facilitation; blockchain technology for rapid and secure sharing of data across stakeholders; and the use of augmented and virtual reality for operational concepts. The next phase of HIA's expansion plan is already in progress to accommodate over 53 million passengers annually by 2022.
The construction of the Airport City will also provide future investment opportunities including a free trade zone, office and business complex, and hotels. A new cargo terminal will also be constructed, increasing HIA's capacity to 3 million tonnes per year and accommodating the expected surge in freight traffic.
These infrastructure developments play a key role in Qatar's preparations to host the 2022 FIFA World Cup, where the country will witness a spike in tourists and visitors to experience the global sporting event. HIA is working closely with its stakeholders and the Supreme Committee for Delivery and Legacy on implementing these developments.
Clearly, HIA is not planning to slow down anytime soon and is committed to ensuring that the passenger experience is memorable for all the right reasons.