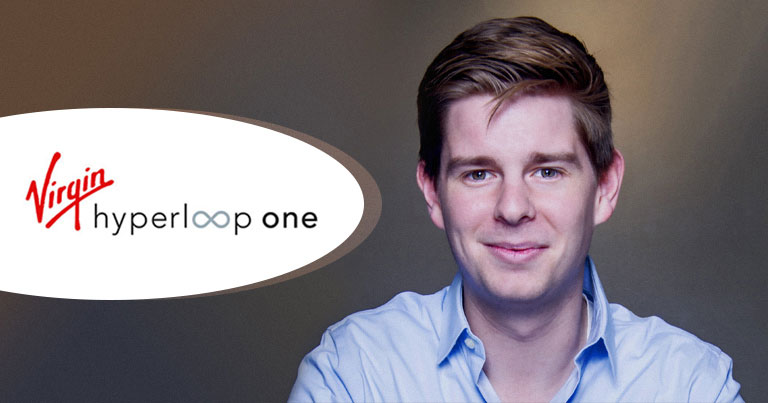 The story of hyperloop goes a long way back to when sci-fi writers and visionaries dreamed of ways to travel at high-speeds through low-pressure tubes. Today, this vision has come a lot closer to reality with the actual development of hyperloop ­– the brainchild of serial entrepreneur Elon Musk.
FTE spoke to Ryan Kelly, Head of Marketing and Communications, Virgin Hyperloop One, ahead of his address at the upcoming Future Travel Experience Global 2019 (Las Vegas, 4-6 September). Kelly shared the latest milestones in the development of hyperloop – the high-speed technology concept that is reinventing transportation to eliminate the barriers of distance and time.
So, how does it work? Passengers or cargo are loaded into the hyperloop vehicle and accelerated gradually via electric propulsion through a low-pressure tube. The vehicle floats above the track using magnetic levitation and glides at airline speeds for long distances due to ultra-low aerodynamic drag.
Although associated with the founder of SpaceX and Tesla, hyperloop technology has been explicitly open-sourced and others have been encouraged to take the idea further and develop it. One such company is Virgin Hyperloop One (VHO), which is leading the way in these efforts and is working on exciting projects in the Middle East, Europe, India, Canada and the US.
Recently, the Government of Maharashtra deemed hyperloop a public infrastructure project, setting it up to be the first ever operational hyperloop system in the world, connecting Pune and Mumbai in under 35 minutes, as opposed to 3.5 hours. "This is a landmark announcement for building the Pune-Mumbai hyperloop transportation system, recognising hyperloop technology alongside other more traditional forms of mass transit," Kelly told FTE.
Redefining the end-to-end passenger experience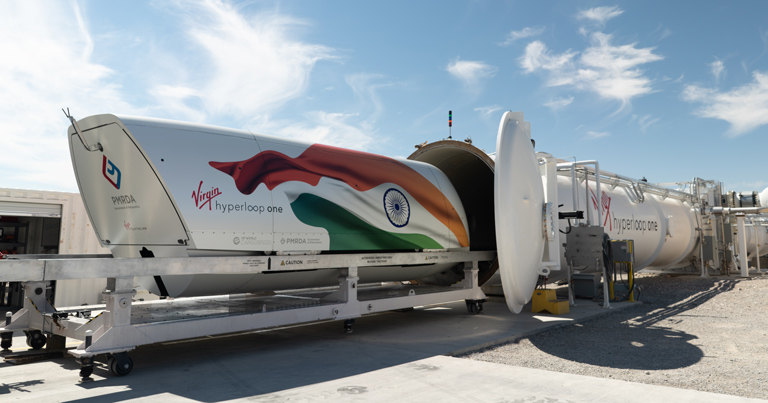 While today on-demand travel is still novel, tomorrow it will be an expectation. "On-demand, direct, autonomous – the VHO system is a mass transportation solution that can meet the consumer demands of the coming century."
Kelly continued: "Rideshare companies have already disrupted traditional transportation by providing on-demand service in a matter of minutes. This convenience is indisputable, but it is still built around the limited capacity of automobiles. Imagine this kind of service integrated into mass transit: no traffic, no delays, and no direct emissions," Kelly explains.
From a passenger experience viewpoint, hyperloop is expected to enable a faster and smoother experience. In the future, journeys would start by travelling to a hyperloop airport check-in portal located in the heart of cities. At the hyperloop portal, travellers would check-in for their flight, including dropping off their bags and undergoing security checks. "Hyperloop portals could feature cutting-edge security features already being installed in some advanced airports around the world, which would allow for a hassle-free security screening," adds Kelly.
VHO's vision goes way beyond the passenger experience. By connecting two distant airports, hyperloop can effectively create one mega airport. Kelly points out: "This is powerful when you consider that several large metropolitan authorities are building new secondary airports or expanding regional airports to meet demand, often well outside cities."
Moreover, short-haul flights worldwide produce more than 170 million tonnes of CO2, while hyperloop could significantly reduce these emissions with faster-than-air travel times and zero direct emission.
Opportunity or threat?
So, what does hyperloop mean for the aviation industry? It is likely that hyperloop is going to disrupt short-haul and domestic routes. But Kelly insists that the opportunities hyperloop can create are what the industry needs to focus on. "We see hyperloop as a way of augmenting and improving air travel – helping airports expand capacity by connecting regional airports into one mega airport and improving the experience of travelling to airports."
And with hyperloop expected to launch full passenger operations by 2029, airlines and airports have a decade to come up with a contingency plan and further explore the synergies that could be created by this new mode of transport.
You can hear more from Virgin Hyperloop One's Ryan Kelly at Future Travel Experience Global 2019 (Las Vegas, 4-6 September), where he will deliver one of the keynote addresses. Visit the FTE Global website to find out more >>