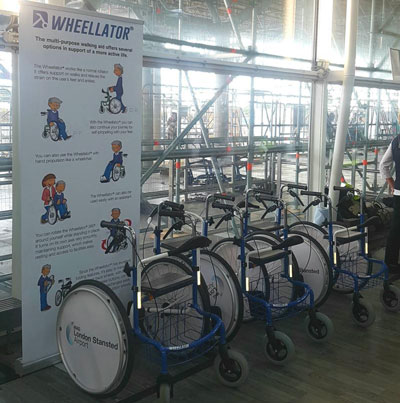 London Stansted Airport has partnered with assistance service provider OmniServ to trial a new mobility solution, called the Wheellator. The solution combines the benefits of a wheeled walking frame and a light-weight wheelchair.
Passengers with low to medium level mobility issues can use the frames as walkers and regain some independence, as well as get vital exercise. If they get tired, they can turn the frames round and use the Wheellator as a seat for a short rest. Or, if necessary, the Wheellator can be pushed by a relative, friend or assistant as a wheelchair, or can be moved by the user themselves.
On the decision to trial the Wheellator, Lucy Martin, Passengers with Reduced Mobility (PRM) Manager at London Stansted Airport commented: "It's important that every passenger, regardless of any disability or assistance requirements, can travel confidently, easily and conveniently through London Stansted and we're delighted to support OmniServ in offering this innovative new way to move more independently through the airport.
"We are always striving to improve the experience of travelling from London Stansted and this gives passengers another choice of assistance, if they require it, so they can relax and enjoy their time at the airport and the wide range of destinations on offer."
Samantha Saunders, Head of Innovation & Regulatory Compliance at OmniServ, added: "OmniServ is committed to delivering the best possible experience for all passengers at airports, including people who find it difficult to make their own way through the terminals. The great thing about the Wheellator is that it provides passengers with mobility issues the option to define and adapt the support they need, allowing them to maintain their independence."